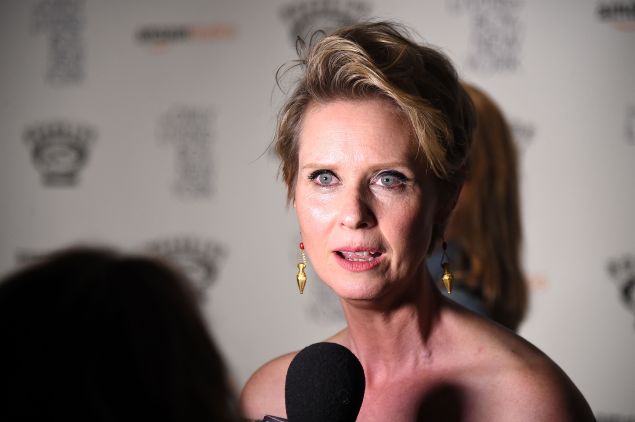 New York City Mayor Bill de Blasio's worst fear isn't a new federal indictment or the re-election of President Donald Trump—it's New York Gov. Andrew Cuomo becoming the 46th president of the United States.
The longstanding feud between de Blasio and Cuomo is a jarringly personal and bitter tête-à-tête, a rivalry that has played out in the tabloids and on local TV ever since de Blasio assumed office. The mayor has accused the governor of insincerity and vindictiveness. Cuomo has retaliated in kind, and, as New York Daily News suggested, "Close observers of both men wonder if Cuomo will not rest until he has buried de Blasio politically."
It is only in the context of de Blasio's and Cuomo's dogfight that New Yorkers can truly understand Emmy award-winning actress Cynthia Nixon's entrance into the New York State Democratic gubernatorial primary. Shortly before she announced, Observer writer Bradley Tusk, who managed former Mayor Michael Bloomberg's campaign, warned Nixon "to be careful not to become a pawn in the Cuomo-de Blasio feud." But by this point, the ink on the Nixon-de Blasio deal was already dry.
The storyline here is quite compelling. Imagine a pitch in a boardroom in Beverly Hills where a producer spins the following yarn: "A household name celebrity and lesbian mother of three jumps into New York's governor race to take on a presidential contestant, aided by his archenemy."
Sold!
This is the role of a lifetime for Nixon—and probably the most challenging acting assignment of her career.
Nixon has had a long, storied career on Broadway and in television and film. She is best known for her iconic Miranda Hobbes character on the HBO series Sex and the City.
Yet her name recognition is both her biggest asset and greatest liability. "Cynthia Nixon's got tremendous name recognition, which is the first thing you need," said former Bloomberg aide Ester Fuchs. "But that doesn't translate into support—and she may have confused that."
Until Nixon's entry into the race, Cuomo was sitting pretty. In a recent filing, he had over $31 million of cash on hand, there were no name-brand Republicans who seemed eager to join the race, and Cuomo thought he would benefit from the chaos being stirred up by Donald Trump in the White House. As one of only a handful of seasoned Democratic governors across the country, in addition to his experience running the Department of Housing and Urban Development for the federal government, Cuomo was close to cinching a third term for governor, which would nicely position him for a 2020 run for president. If so, he would finally go one step further in his political career than his famous father, former Gov. Mario Cuomo, who toyed with but ultimately decided to not enter the presidential fray.
The ease with which Cuomo was positioning himself for re-election, and ultimately into a position to run for president, was gnawing at de Blasio. Just a couple of years ago, shortly after his sweeping mayoral win in 2013, he believed Albany was in his political future. But de Blasio's scandal-plagued first-term—which put him in the cross hairs of federal investigators, thereby earning him the media sobriquet of "Worst Mayor in America"—all but wiped away his gubernatorial aspirations.
If he couldn't get ahead, he could at least get even. But he needed a pawn. A shill. A secret agent to do his bidding.
As it happens, de Blasio knew such a person: Cynthia Nixon.
Nixon's and de Blasio's relationship goes back years. When de Blasio secured his mayoral primary victory over frontrunner Christine Quinn, he thanked two people whom he called the "architects of this campaign."
The first was George Gresham, a powerful city union leader. The other was none other than Cynthia Nixon.
Nixon and de Blasio became BFFs in the early 2000s, when they bonded over their opposition to then-Mayor Michael Bloomberg's education initiatives. Since then, de Blasio has hung tight to Nixon, as the relationship gives him a guest pass into the rarified world of Hollywood celebrities.
Their friendship went into overdrive in 2013 when de Blasio decided to run for mayor in a crowded field of Democrats looking to take back City Hall after a 20-year hiatus.
"There are weeks where four or five days in a row, I'm doing something with Cynthia," de Blasio bragged at the time. "She's that fully involved with the campaign."
Now it's time for Nixon to play spoiler. While technically her goal is to win the Democratic primary, her director, de Blasio, has charged his star with a secondary and probably more important missive: force Cuomo so far to the left in the primary that he becomes unappealing to the state's moderate conservatives in the general election. This would open the door for a Republican to eke out a victory in November.
De Blasio has even gone so far as to lend his top political minds to Nixon's campaign.
"My problem with Cynthia Nixon's candidacy is that she's making political corruption a central issue while being tied to the hip to Bill de Blasio—the poster boy for pay to play," former City Councilman and Democratic mayoral contender Sal Albanese told Observer. "I suspect that Bill de Blasio's interest in propping up the Cynthia Nixon bid for governor is 99 percent about getting under Andrew Cuomo's skin."
If Cuomo fails to win re-election for a third term, his shot at running for president in 2020 is all but over.
De Blasio's plans for Nixon are not solely contingent upon her winning the Democratic primary. With Cuomo's strong connections to organized labor, Democratic moderates upstate, and Latinos, ethnic Catholics and Orthodox Jews in New York City's outer boroughs, it's highly unlikely that Nixon can beat Cuomo. This explains why de Blasio vigorously worked the phones of the leadership of the Working Families Party (WFP) to secure their endorsement for Nixon. The WFP base was already itching for a more progressive candidate than Cuomo, and now, thanks to de Blasio's lobbying on her behalf, their party line ensures that Nixon will appear on the final ballot in the general election, regardless of the outcome of the primary. If she can peel away enough progressive voters from Cuomo, there might be enough daylight for a Republican to win. It's a different strategy, but it will have the same result: Cuomo's presidential aspirations will come to a screeching halt.
So far, despite a huge gap in the polls, Nixon is proving that she can keep her name in the media. With a scorching summer heatwave a few months ahead—and likely another round of massive subway delays as well—there is a chance Nixon will try to close the gap the in the polls by pinning the MTA's perennial woes on Cuomo.
Regardless of what happens, New Yorkers must never forget that Nixon is an actress playing a role in de Blasio's "Made in NY" production.
Arick Wierson is a six-time Emmy® Award-winning television executive, filmmaker, and former adviser to former New York City Mayor Michael Bloomberg.