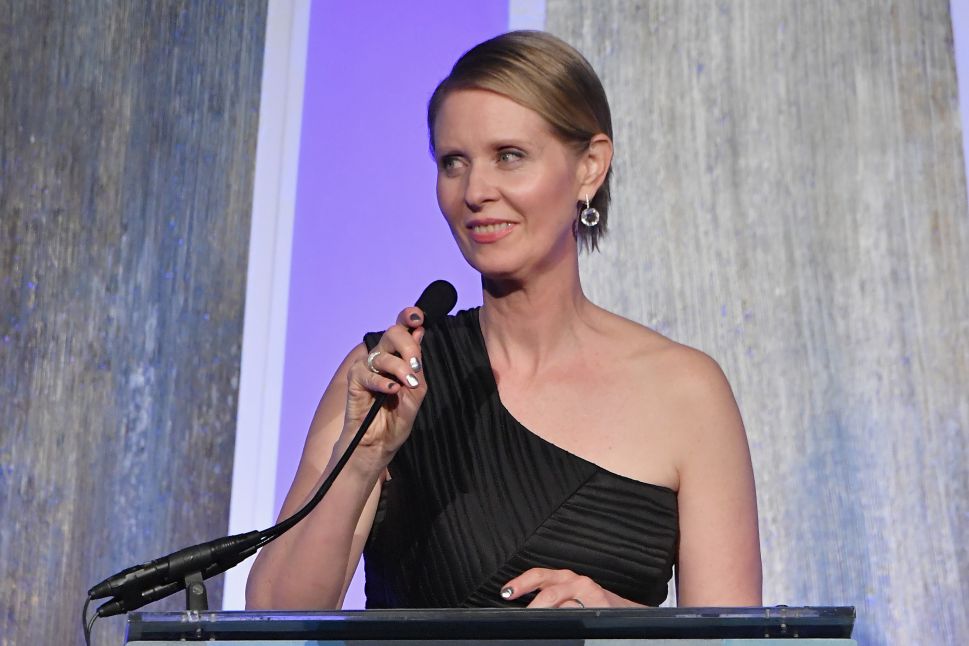 Actress and education activist Cynthia Nixon, a gubernatorial candidate challenging Gov. Andrew Cuomo, says legalizing marijuana is vital to "ending a key front in the racist war on drugs" and will help raise additional revenue for New York State.
During her first national TV appearance as a gubernatorial candidate in an interview with Wendy Williams, host of The Wendy Williams Show, Nixon announced her support for legalizing marijuana, saying the state should "capture some of that revenue."
But in a nearly two-minute long video posted to her Twitter page, Nixon went further and argued that New York should join a nationwide movement to legalize pot. Colorado, Oregon, California, Washington, Alaska, Nevada, Maine, Massachusetts, Vermont and Washington, D.C. have all legalized recreational marijuana.
She pointed to the racial disparities in the enforcement of the marijuana policy and the fact that it puts undocumented immigrants at risk of deportation.
In 2017, roughly 86 percent of individuals arrested for marijuana possession in the fifth degree—possessing less than two ounces in a public place—were people of color.
"There are a lot of good reasons for legalizing marijuana, but for me, it comes down to this: we have to stop putting people of color in jail for something that white people do with impunity," Nixon said. "Eighty percent of the New Yorkers who are arrested for marijuana are black or Latino, despite the fact that whites and people of color use marijuana at roughly the same rates. The consequences follow people for the rest of their lives, making it harder to get jobs, or housing and for non-citizens, putting them in the crosshairs for deportation."
She said legalization would help put an end to the "war on drugs" that targets minorities and help raise money for other purposes.
"In addition to ending a key front in the racist war on drugs, regulating and taxing marijuana would generate hundreds of millions of dollars of tax revenue for our people and create important agricultural opportunities for our state," Nixon continued. "In 2018, in a blue state like New York, marijuana shouldn't even be an issue. If there was more political courage coming out of Albany, we would have done this already."
She added that marijuana has been essentially legal for white people and should therefore be legalized for all other individuals.
"The simple truth is for white people, the use of marijuana has effectively been legal for a long time," Nixon added. "Isn't it time we legalize it for everybody else?"
Albany is currently considering the Marijuana Regulation and Taxation Act (MRTA), a bill sponsored by Manhattan State Senator Liz Krueger that would legalize, supervise and tax marijuana.
Mayor Bill de Blasio, who opposes marijuana legalization, and the NYPD have been criticized over the NYPD's marijuana enforcement policy because it disproportionately targets black and Latino New Yorkers. The racial disparities continue even though the city revised its policy in 2014 in order to mitigate the impacts on people of color.
And police reform advocates have assailed de Blasio for continuing to embrace "broken windows" policing, a policing method that targets smaller crimes to stave off larger ones. Activists noted that the policy targets people of color and puts undocumented immigrants at risk of deportation when they are arrested for low-level offenses.
In the video, Nixon does not explicitly talk about the NYPD or de Blasio or his continued support for broken windows policing. And she seemed to place most of the blame on Cuomo.
Nixon's campaign did not immediately respond to a request for comment on Wednesday.
In a recent interview with The Breakfast Club, de Blasio doubled down on his opposition to legalization, but First Lady Chirlane McCray said she supports it, although she cautioned that it "should be highly regulated."
In January, Cuomo, who is against legalizing recreational marijuana, announced a study that would evaluate the possible effects of marijuana legalization in nearby states, like New Jersey, on New York. Despite his opposition to marijuana legalization, in 2014, he did sign into law the Compassionate Care Act, which created a medical marijuana program for the state. De Blasio has expressed support for the recently announced study.
Neither the mayor's office nor a campaign spokesman for the governor immediately responded to requests for comment on Wednesday.
But at a press conference on Wednesday, Cuomo insisted the state is ahead of the curve, pointing to the study he commissioned to look into the impact of legalization.
"I think we're actually ahead on it," he maintained.