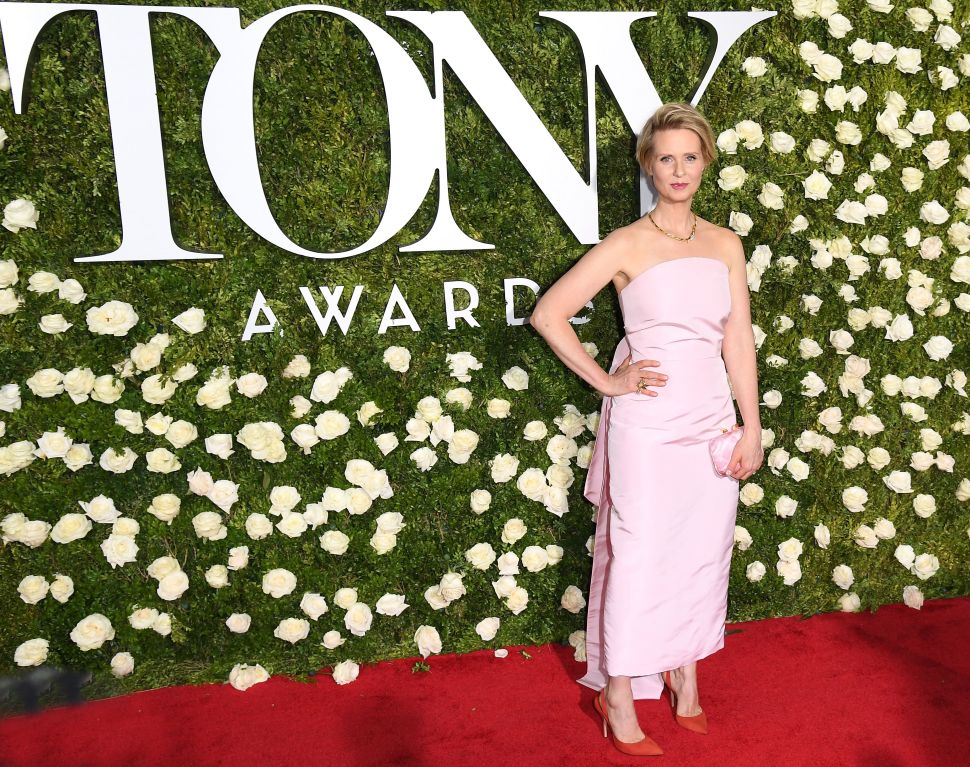 Actress and education activist Cynthia Nixon, who is challenging incumbent Gov. Andrew Cuomo, declared her support for legalizing marijuana amid a nationwide movement to legalize cannabis.
During her first national TV appearance as a gubernatorial candidate—an interview with Wendy Williams, host of The Wendy Williams Show, a talk show that draws a large black female audience—Nixon said she supports legalizing pot. There is currently legislation under consideration in Albany that would legalize, supervise and tax marijuana.
"I am absolutely for the legalization of marijuana," Nixon said during the interview on Wednesday morning. "Let's capture some of that revenue."
Cuomo, who has opposed legalizing recreational marijuana, recently called for a study that would look into the potential impacts of marijuana legalization in nearby states, such as New Jersey, on New York. But in 2014, he did sign into law the Compassionate Care Act, which created a medical marijuana program for New York.
Mayor Bill de Blasio, who also opposes marijuana legalization, has said that he supports a study.
De Blasio and the NYPD have come under fire over the police department's marijuana enforcement policy because it disproportionately targets black and Latino New Yorkers. The racial disparities persist despite the fact that the city updated the policy in 2014 to address it.
Campaign spokespeople for Nixon did not immediately respond to a request for comment on Wednesday seeking more specifics about her proposal to legalize marijuana and her stance on the NYPD's marijuana enforcement policy.
But attendees at Nixon's recent private fundraiser told The New York Times that if she becomes governor, she would work on legalizing pot and tax it in order to raise funds for the state.
During the interview, Williams also asked Nixon to weigh in on police shootings of unarmed African-American individuals, pointing to the recent shooting of Stephon Clark in Sacramento, Calif.
Nixon noted that the Clark case is one of many police brutality cases but that it is "still shocking and horrifying and devastating in the same way"—even if it is no longer surprising that it happens. And she agreed with Williams that this is a "black man thing."
"I was impressed with what Stephon's brother Stevante said that how proud he was of Sacramento, of his city, how people turned out and made this case a national one and brought attention because I think too often, our elected leaders, they will talk about things when it's a lot of children in a school, but when it's young black men of color who are being shot by the police unarmed… I think if we're gonna say black lives matter, we have to mean it, and we have to implement change," she continued.
Nixon also said that she would push for more stringent gun laws, noting that while New York has good laws, the state could go further.
And she weighed in on the role of black women in the Democratic Party. When asked by Williams how black women could help her become governor, she called black women the  "backbone" of the Democratic Party and said the party needs to let them lead.
She referred to the role they played in the victory of now-Alabama Sen. Doug Jones, as well as their support for Democratic presidential nominee Hillary Clinton "in a way that white women didn't at all."
And she pointed to the fact that Senate Democratic Leader Andrea Stewart-Cousins, who is African-American and leads the mainline Democrats, was not included in negotiations for a revised sexual harassment policy. Stewart-Cousins is poised to become the leader of the Democrats in the state Senate if a Democratic unity deal proposed by Cuomo is finalized on Wednesday.
"Black women are gonna stop showing up for the Democratic Party if the Democratic Party doesn't start showing up for them," Nixon added. "It can't just be that we remember the importance of black women on Election Day and forget it the rest of the year. We can't have that."