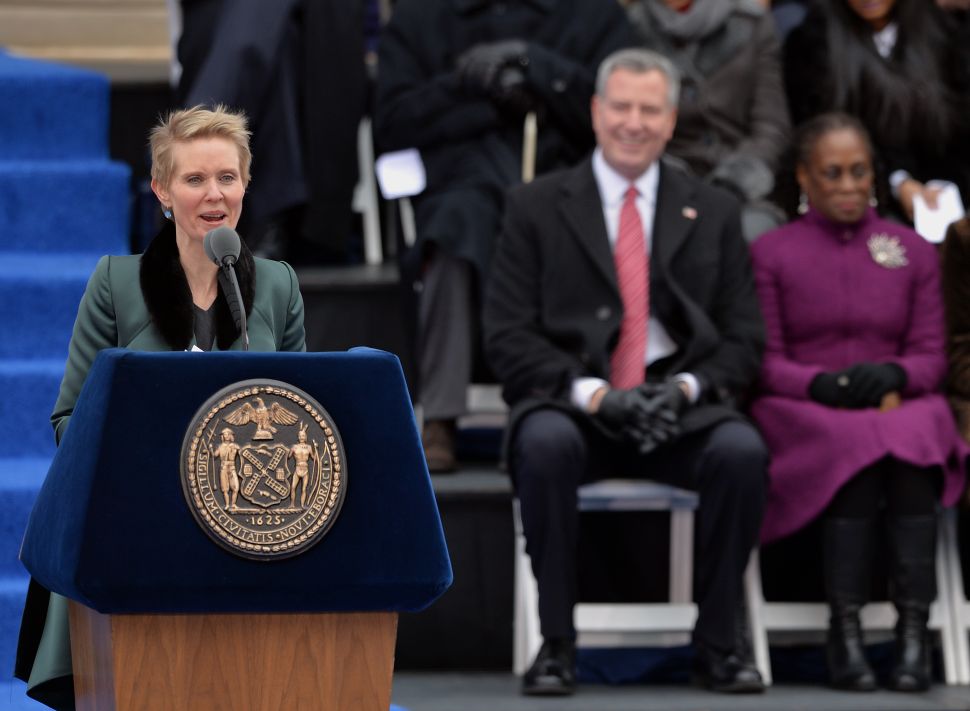 Mayor Bill de Blasio, an ally of actress and education activist Cynthia Nixon and foe of Gov. Andrew Cuomo has been silent on the Democratic gubernatorial primary. But now that the left-leaning Working Families Party (WFP)—whom he convinced to back Cuomo in 2014—has endorsed Nixon, will he follow suit?
A day before the vote, 32BJ SEIU and CWA District 1—two key Cuomo-aligned unions—left WFP. 32BJ SEIU and CWA District 1 did not respond to requests for comment.
And as of Thursday night, a group of labor unions that have funded WFP and affiliated groups, like New York Communities for Change (NYCC), Citizen Action and Make the Road New York, are reportedly considering creating their own ballot line. Bill Lipton, WFP's New York State director, alleged that Cuomo threatened unions or individuals who give money to groups supporting Nixon.
On Friday evening, Cuomo said he would no longer seek the WFP line at the May convention.
De Blasio has not endorsed anyone yet but has critiqued Cuomo's handling of the now-dissolved Independent Democratic Conference (IDC), a group of breakaway Democrats.
"[I have] a lot of respect for the Working Families Party, long, positive experience with them, but I'll make, of course, my own decisions," de Blasio told Observer on Tuesday afternoon.
He cautioned against conjecturing when asked if he's concerned a Republican nominee could win the race because it's a "long way away" but predicts a "pretty strong Democratic year." And when asked about alleged threats against community groups, he said he "wasn't in the room" but that organizations shouldn't be threatened for their political views.
"That's the kind of thing that happens in dictatorships, not in democracies," the mayor continued.
On Tuesday, Cuomo said he did not threaten anyone.
"What's happening is, there has been a division, fight, split in the Working Families Party that was started by organized labor… I stand with the unions who are the working men and women," Cuomo said, according to The New York Post.
WFP, a progressive political party founded in 1998 in New York by labor unions and community organizations with chapters nationwide, takes advantage of New York's fusion voting laws—which allow small third parties to cross-endorse Democratic and Republican candidates. WFP also endorsed Cuomo in 2010.
If Nixon remains on the WFP line, there is a possibility the vote could be split between her and Cuomo and potentially help the Republican nominee. Nixon has not committed to remaining on the WFP line.
On Tuesday, Lipton said he believes Nixon will win and insisted WFP will not help Republicans. If Nixon loses the Democratic primary, he said, Nixon will meet with WFP leaders to make a decision.
"We will not be a spoiler," he said, according to ABC News. "In 20 years, we have never been a spoiler."
Lipton could not be reached for comment.
Dr. Christina Greer, associate professor of political science at Fordham University, told Observer that de Blasio could endorse the governor for the sake of the party and continuity or break with a sitting governor over his "principles of being a progressive."
"She [Nixon] definitely campaigned hard for him," Greer said. "He would be a help for her downstate just because he does have a base. He got reelected twice so clearly people like him—to a certain extent."
Strategically, Greer said, it is unclear which direction he should take: the situation could worsen with Cuomo if he backs Nixon, but if he supports Cuomo, it could be the "beginning of an olive branch"—the two of them "possibly working together."
As to the WFP endorsement of Nixon, she is unsure of how it will influence the mayor's decision. WFP endorsed him for his two mayoral bids.
"Keep in mind, he still has to work with the two big unions who left," Greer continued. "Yes, the WFP is largely responsible, I would argue, for a large part of de Blasio's success and his career, but at the same time de Blasio has to think about him working with the unions, period."
Cuomo is still leading Nixon among registered Democrats—by a 58 percent to 27 percent margin, according to a new Siena College poll, though it is a drop from 66 percent to 19 percent in March.
A number of progressive groups have endorsed Nixon.
Nixon has backed marijuana legalization. De Blasio and Cuomo are opposed, but Cuomo said the state will study the legalization issue, which de Blasio supports. Nixon also blasted racial disparities in marijuana enforcement as the mayor and the NYPD face criticisms for persisting disparities.
Nixon also criticized the mayor's timeline for fixing New York City Housing Authority (NYCHA) heaters and boiler systems and NYCHA Chairwoman Shola Olatoye's handling of the lead paint scandal. And she maintained she would disagree with the mayor at times but would not get into the "pissing contest" between Cuomo and de Blasio.
A recent Quinnipiac University poll found that 60 percent of New Yorkers disapprove of the mayor's handling of NYCHA and housing issues overall.
A spokeswoman for Nixon did not respond to a request for comment. But Rebecca Katz, a de Blasio campaign veteran and Nixon's adviser, said Nixon is charting her own path.
"This is her race, and she has made that very clear," Katz recently told POLITICO.
Greer said Nixon has to be her own candidate.
"Without starting an all-out feud, I think she's just pointing out areas where she and the mayor diverge," she said.
And she pointed to WFP's frustration over the IDC. She noted de Blasio may be in a position to gain more from a sitting governor, policy-wise and financially, referring to de Blasio's assertion that Cuomo's budget doesn't help the city.
"If I were him, I would hold out just a little bit more because it seems like this Nixon candidacy is not going away and there might be a point where the governor might have to eat a humble pie and come to the mayor and request certain things," she continued.
Bertha Lewis, head of the Black Institute, co-founder of WFP, a former de Blasio ally and supporter of the IDC—which Nixon has opposed—endorsed Nixon. She noted Cuomo created the Women's Equality Party (WEP) in 2014, seen as an effort to divert votes from WFP.
"Every single time that Cuomo has tried to get the line, I have been opposed to it, but it was the mayor's fault and he was a big influence last time," Lewis said, urging him to do the "right thing."
WFP and other groups "he is now attacking" helped with Cuomo's progressive achievements, she argued.
Jonathan Westin, NYCC's executive director, argued the portrayal of Nixon as a "stand-in" for de Blasio "has been really sexist."
"I think what we're finding is that we have a governor and a mayor that have been bickering back and forth with each other, and we have a rational woman who has been pushing substantive policy positions beyond any of these two men," Westin said.
Westin said Nixon's focused on voters, especially black women and other women of color and that de Blasio will be influenced by "the last four years of how Cuomo has treated him."
"As much as the governor wants to coercively go after people to get them to do things on his behalf, at the end of the day, he only cares about his donors and himself," he continued, saying that he will do whatever it takes to win, including "dismantling anti-poverty organizations like he's trying to do."
George Albro, co-founder of WFP and statewide co-chair for the New York Progressive Action Network (NYPAN), a grassroots organization and affiliate of WFP, said WFP and NYPAN have supported the mayor.
"He's helped tenants," Albro said. "He's helped union members. He negotiated fair contracts after 20 years of Republican rule, and I think he stands in sharp contrast to the governor who, despite the mayor's aid, turned on him for whatever reason probably because he's sees him as a rival or something."
While he lauded accomplishments like marriage equality, he blasted Cuomo over the IDC and pointed to lack of progress on the Dream Act, electoral reforms and campaign finance reform. He insisted it is "very unlikely" de Blasio will endorse Cuomo.
Jumaane Williams, whom WFP also backed for lieutenant governor, has had brief conversations with Nixon but none with de Blasio. He anticipates de Blasio won't back Cuomo.
"I do know that everybody you're speaking of, whether it's myself, whether it's Cynthia or the Working Families Party or the mayor all have a similar message in terms of a lack of leadership on the issues that affect New York," he said.
Michael Mulgrew, president of the United Federation of Teachers (UFT), said Lipton is "misguided and delusional" if he thinks WFP still represents labor and working people. A UFT spokeswoman referred Observer to Mulgrew's comments.
Cuomo's campaign noted achievements like a $15 minimum wage, marriage equality, gun safety legislation, banning fracking, ending finger printing for food stamps and $27 billion in education funding.
"After nearly a decade of discord, we have a united Democratic Party, and the governor is 100 percent focused on maintaining that unity to fight Trump in Washington, take back the House and win the state Senate," Abbey Fashouer, a campaign spokeswoman for Cuomo, said in a statement.