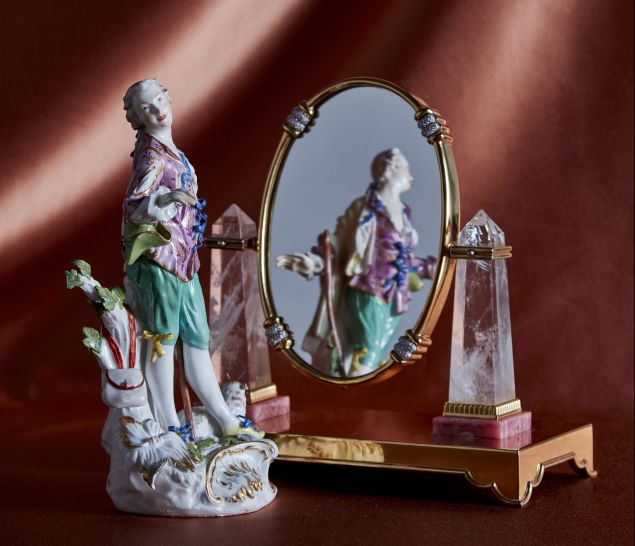 It was apparently the 1997 unveiling of the billowing, bombastic Guggenheim Bilbao Frank Gehry-designed building that made Rafael de Cárdenas, then working as a fashion designer at Calvin Klein, throw it all away and go back to school for architecture. Now, 12 years after he started his own Manhattan-based firm, Architecture at Large, he's built a reputation for himself as a boundary-crossing designer unafraid to merge myriad styles from numerous eras into a single environment. His zeal for bringing the unusual together can be seen in his projects that encompass layouts for major urban biennials to theatrical sets for product launches, and of late has attracted clients ranging Nike to the makeup startup, Glossier. Last year, he finished his first ground-up build by adding a modern pool house—replete with slides—to an English countryside manor.
Given his penchant for mixing the historical and the contemporary, it makes sense that Christie's tapped Cárdenas to breathe fresh life into their spring Collector sales, happening on April 10 at Rockefeller Center. Featuring 315 decorative art objects hailing from the 17th to the 19th centuries, the auction house is hoping to entice a new type of collector: one who may not otherwise be familiar with the design precedents behind these storied pieces, but has money to spend and a house to fill, and suddenly could see that 18th century gilded porcelain candelabra looking great paired with their 1950s Saarinen chairs. 
"Rafael's vision to reframe these pieces in a new non-traditional context appealed to us," said Bliss Summer, the vice president of the auction houses' decorative arts department. "His work often focuses on materials and new approaches to display, so he presents these pieces in a new context." Cárdenas's elegantly contemporary staging of these ornate pieces will be on view to the public in an exhibition open April 6.
To make sure the artfulness of the objects could be readily seen, Cárdenas said he was careful not to undermine the design of the original artists by heaping on loads of his own frills. "I kept the plinths quite clean and machined, in sharp contrast to the baroque quality of most of the works," the designer explained. But striking a balance between a modern feel for these antiques was a challenge, too. "I didn't want it to feel overtly contemporary;" instead the overall effect of the installation is meant to be "sublime" more than anything, he said.
Christie's often works with designers and interior decorators in their exhibitions to place furniture and decorations and fine art in the context of an imagined interior space. But, according to Summer, Cárdenas's approach to the objects in the Collector sales is a departure from these previous collaborations. In creating an environment that can feature the objects as individual pieces or in very small collectives, "the artistic value of each piece comes to the fore over its practical functions," she explained, a challenge when presenting wares once designed for everyday use.
Removing these pieces, such as an early 18th century Meissen porcelain centerpiece valued at $7,000-9,000 or a mid-19th century Thomas Webb & Sons glass vase estimated to sell for $2,000-3,000, from a traditional decorative interior context allows their materials—gilt bronze, marble, silver cameo glass and pâte-sur-pâte porcelain—to command a viewer's attention and stand alone without consideration of purpose. "In essence, this allows the pieces to exist outside their original era of creation and culture and speak to a new viewer who is uninformed or unconcerned with art historical references," said Bliss. 
In other words, match them up with whatever you want. Just because your table comes from Ikea doesn't mean it can't bear the weight of this late 19th century cobalt blue tea and coffee service—heck, even the Royals are doing it these days.