DJ Khaled has become one of social media's most famous influencers, with over 23 million followers across his online platforms.
But a new investigation has revealed that over 300 of Khaled's posts promoting alcohol brands violated federal laws on branded content because he didn't disclose when these posts were paid advertisements. The promotions were doubly problematic because many of Khaled's followers are minors.
The nonprofit watchdog Truth in Advertising (TINA) partnered with advocacy groups including Mothers Against Drunk Driving on the study. They surveyed Khaled's social media platforms from June 2017 to March 2018.
Over 200 of the questionable posts were on Instagram, with another 100 on Snapchat and a smattering on Facebook and Twitter. Khaled's snaps alone regularly garner over two million views.
TINA notified Khaled's lawyers of their investigation last month. Since then, the record producer has not actively promoted any alcohol brands. He's also added #AD to over 150 Facebook and Instagram posts, while deleting more than a dozen promoted tweets.
Bonnie Patten, TINA's executive director, told Observer that the investigation started as a more general look at advertising on Snapchat before zeroing in on Khaled alone.
According to Federal Trade Commission (FTC) law, anyone who has a material connection to a product, service or company must disclose that connection in promoted posts.
"It was readily apparent that DJ Khaled wasn't following that on his social media platforms," Patten said.
The posts in question included a snap in which Khaled celebrated a bestselling record by adding Belaire sparkling wine and Ciroc vodka to a bowl of Cinnamon Toast Crunch and an Instagram photo that featured Khaled and Jay-Z with a bottle of Ciroc Blue Dot.
Khaled's other favorite brands include Bumbu rum and Bacardi's D'Usse cognac.
The record producer likely violated these social networks' terms of use by posting alcohol advertising without a disclaimer.
But there are also moral issues at play here, because Khaled's potable posts are likely having an outsized impact on young people.
According to the research firm Statista, nearly half of all American teens list Snapchat as their favorite social media platform—another 25 percent list Instagram. And Digiday reports that 22 percent of Snapchat users are between the ages of 13 and 17, while 90 percent of Instagram users are under 35.
That means many of Khaled's posts are being viewed by minors. While he's added messages to "drink responsibly" to many of them, he's also flat out deleted several especially problematic ones.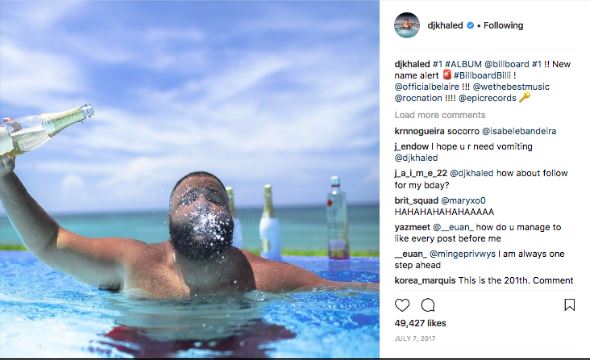 The fact that Khaled is national spokesperson for the educational nonprofit Get Schooled makes his love for alcohol-soaked posts even stranger.
These ads aren't just Khaled's problem, however: the alcohol brands are also at fault.
The Distilled Spirits Council of the United States, which counts Bacardi and Ciroc among its members, bans alcohol ads from appearing on platforms where at least 28 percent of the audience is under 21.
Diageo, which owns Ciroc, no longer advertises on Snapchat after one of its marketing campaigns improperly targeted minors. But Khaled has still posted snaps featuring Ciroc.
And while Bacardi claims it never had an agreement with Khaled to promote D'Usse, he has referred to himself as "the D'usse Don" on social media.
"Brands bear a large responsibility for these ads," Patten said. "They ignored that when it came to DJ Khaled."
Bacardi spokesperson Amy Federman told Observer the company had done everything it needs to do as a responsible advertiser.
"Bacardi takes its responsibilities as an advertiser very seriously," she said in an email. "Bacardi has never had an agreement with Mr. Khaled. We did not ask or pay Mr. Khaled to make any social media posts , nor did we authorize or approve any of the posts. We reached out to Mr. Khaled and requested that he remove any posts featuring the D'usse brand and they have been removed."
"We have a rigorous marketing code and take our role as a responsible marketer and these types of assertions very seriously," a Diageo spokesperson added. "We have a strong commitment to comply with the FTC's standards on advertising and robust policies in place to ensure compliance. We are working to ensure any issues are appropriately addressed."
While TINA's investigation focused strictly on Khaled's alcohol ads, he's also gotten in trouble for other types of social media posts.
For example, in September Khaled plugged a cryptocurrency called Centra without using the #AD marker.
"Appropriate disclosure was lacking in all instances," Patten said. "He should be using the same legal compliance with all his material endorsements."
Investors later discovered that Centra has no product or CEO, and last week its founders were arrested and charged with fraud.
Despite these violations, TINA has no plans to file a complaint with the FTC. But Patten said that will change if Khaled posts any more ads without disclosure.
Khaled's attorneys have not responded to Observer requests for comment.