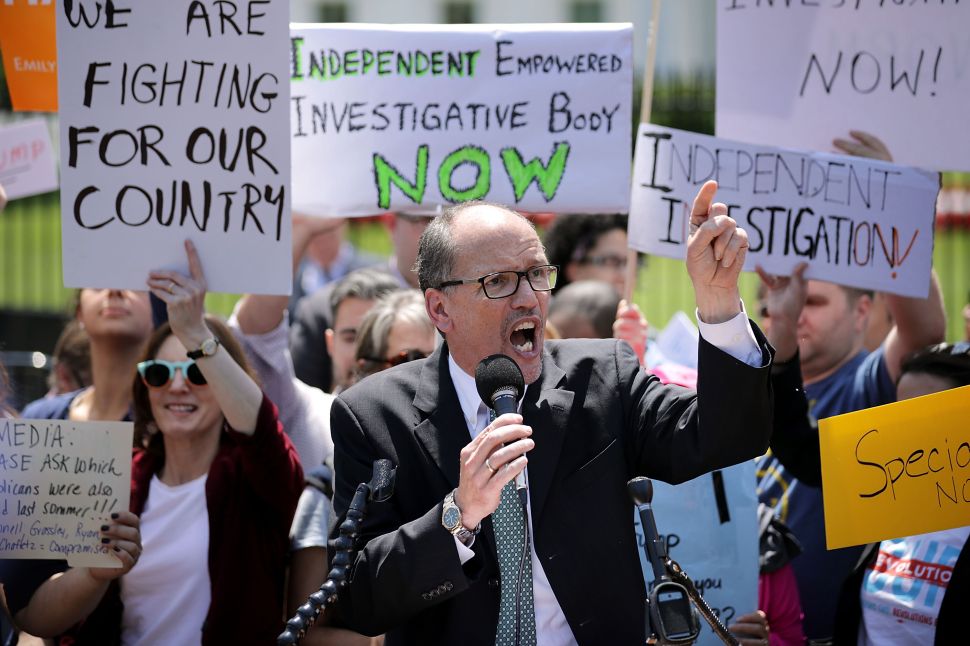 Republican and Democratic darlings, enmeshed within a news cycle of porn stars and disinformation, swung passively at their shared punching bag—the Democratic National Committee (DNC)—after the organization filed a lawsuit on Friday against the Trump campaign, Wikileaks and Russia.
Joining President Donald Trump and Congressman Devin Nunes (R-Calif.) in dismissing the lawsuit as a partisan "scam" was former Obama White House advisor David Axelrod. The operative on Twitter called the DNC's play one of several "sideshows" abetting Trump's "strategy of portraying a sober and essential probe as a partisan vendetta."
"Everyone should chill out and let [Special Counsel Robert] Mueller do his job," added Axelrod on Friday.
Representative Jackie Speier (D-Calif.) and Senator Claire McCaskill (D-Mo.) reaffirmed Axelrod's sentiments. Speier called the lawsuit "ill-conceived" during a CNN interview on Sunday, while a spokesperson for McCaskill castigated the lawsuit as "a silly distraction" shortly after it was filed on Friday afternoon.
But rather than reserve course, DNC Chairman Tom Perez is galvanizing support with a media offensive à la ousted FBI Director James Comey.
"I believe it's critically important here to seek justice and to expose the truth in the civil justice system," Perez told ABC's George Stephanopoulos on Sunday. "This isn't going to be a kangaroo court with Devin Nunes. This is going to be an article III court, where facts matter and justice is served."
"We don't know when Director Mueller is going to act," said Perez on Monday, addressing concerns that the DNC's lawsuit would overshadow the special counsel's Russia investigation. "I'm worried about these midterm elections."
When pressed about the financial specifics of a lawsuit filed against the President of the United States and the Russian government, Perez's swagger diminished in a cloud of vague buzzwords.
"I don't know the amount of money this will take," admitted the chair. "You can't put a price-tag on preserving democracy."
Last year, the DNC raised $67 million—roughly half of its RNC counterpart. Its October total was the lowest in 15 years.