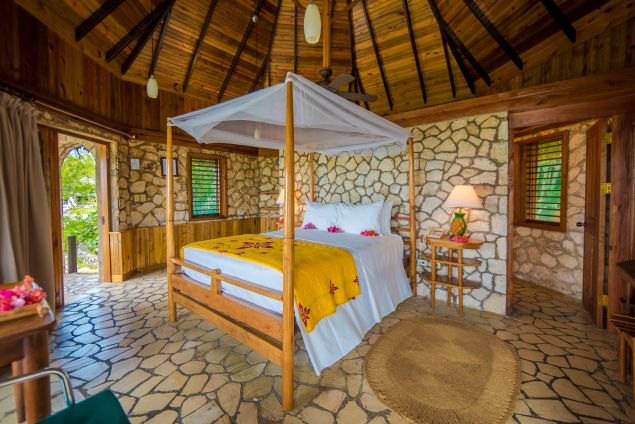 If you're one of Emily Ratajkowski's 17 million Instagram fans, then you're probably pretty aware that she has spent the past few days luxuriating in a tropical paradise. The model/actress/designer is always jetting off to picturesque locales—at least according to social media—and each destination inspires a serious case of wanderlust. Her recent jaunt to Jamaica's Rockhouse Hotel was no different.
She was there along with her new husband, Sebastian Bear-McClard; the couple tied the knot in February 2018, in a surprise New York City Hall wedding that reportedly took place after just a few weeks of dating. Ratajkowski and Bear-McClard were accompanied by a few pals, including director Josh Safdie, who was one of the few guests at the couple's nuptials.
Based on her latest batch of Instagrams, Ratajkowski and her crew are really embracing the Jamaican lifestyle. That includes smoking a rather large joint (by the way, marijuana has been decriminalized on the island, but isn't actually legal), lounging on a boat with a Red Stripe beer in hand and dressing in the traditional Rastafarian colors of yellow, green and red.
The model has been rather dedicated to that exact color scheme throughout the trip; in one snap she posed alongside Safdie in matching yellow, red and green striped tank tops.
And, of course, Ratajkowski shared a photo from her Jamaican villa. It looks like she and Bear-McClard were staying in one of the Rockhouse's premium rooms, which are "perfect for honeymooners," per the site. The luxe lodgings are perched atop a cliff, and have a private wraparound terrace with views of Pristine Cove. The accommodations are entirely ideal for capturing Instagram bait, as Ratajkowski kindly demonstrated.
Not that the rest of the 34 rooms at Design Hotels' Rockhouse are shabby, at all—they're famously constructed from local materials, including timber, stone and thatch. The eight-acre retreat was originally developed back in 1972, and was one of the first hotels on Negril's West End. It's located an hour away from the Round Hill Hotel in Montego Bay, where Prince Harry and Meghan Markle attended a wedding in March 2017.
It's easy to see why the Rockhouse has won multiple travel awards—the spa area is composed of treatment rooms on a cliffside spa, a spa pavilion and a bathing pavilion that looks out over the sparkling Caribbean Sea. There are also enough water activities to impress even former president Barack Obama, whose kitesurfing competition with Richard Branson will live forever in the Internet world. In addition to paddle boarding, there's also snorkeling and diving.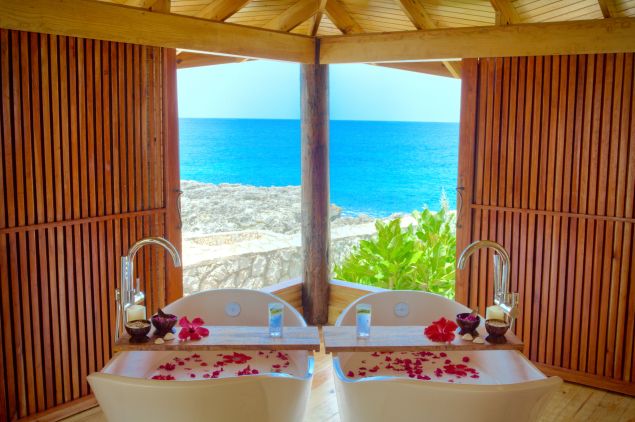 Ratajkowski did, however, mix some business in with her leisure time—she made sure to use her vacation to promote her swimsuit brand, Inamorata Swim, which launched in November 2017. Basically, she wore her own skimpy bikinis as often as possible and shared a few of her uploads onto the company's Instagram account.
While the hotel was clearly happy to have Ratajkowski join them for a stay, which they made clear in a dedicated Instagram post, it's not like the resort isn't used to having famous guests. Early visitors back in the '70s included Bob Dylan, the Rolling Stones and Bob Marley, while Jude Law and fashion designer Nanette Lepore are among some more recent guests.