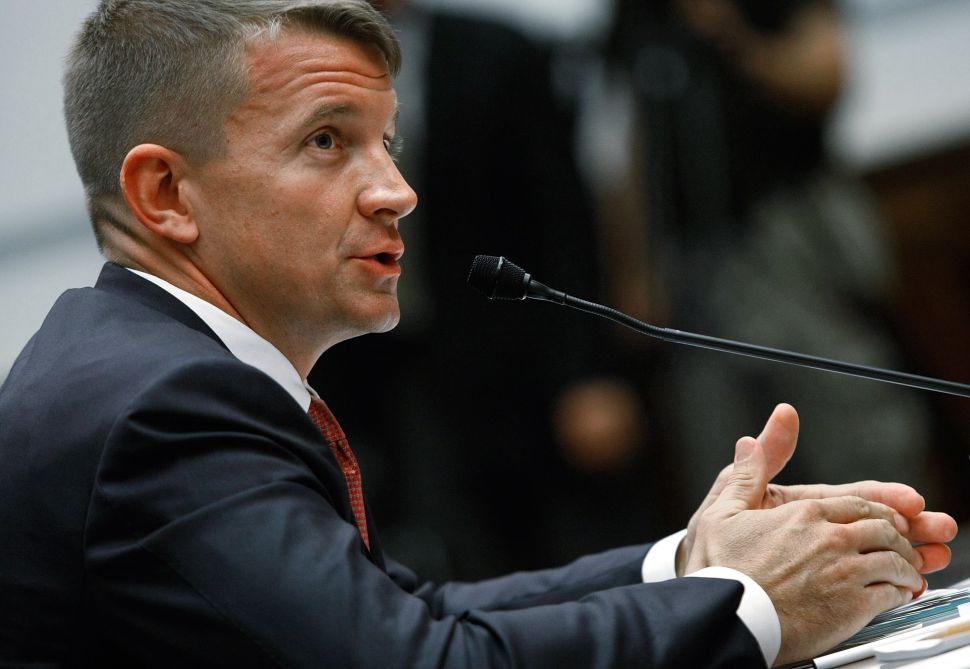 Emerging from the murky backchannels of the United Arab Emirates, paramilitary emperor Erik Prince is expanding his kingdom under President Donald Trump's administration.
The newest shakeup at the White House—in which incoming National Security Advisor John Bolton and Secretary of State Mike Pompeo are expected to push hawkish military strategies overseas—presents Prince with new opportunities to architect mercenary warfare in Afghanistan.
After spending $250,000 on Trump's campaign, and seeing his sister Betsy DeVos installed as education secretary, Prince parlayed back to Washington, D.C. with influence—a stark contrast to his UAE exile during the Obama years. He has since pushed a controversial plan for Afghanistan wherein a mercenary army led by an American viceroy assumes full responsibility of pacifying the region.
The "MacArthur Model for Afghanistan" has been almost universally rejected by the military establishment but has interested one powerful leader: Trump.
"He actually had the most cogent argument, much more than the guys who were 'stay the course,'" ousted White House strategist Steve Bannon told Forbes. "Prince's voice is only going to get stronger, not weaker, because everything he said was going to happen [in Afghanistan] has happened."
Prince benefits from the arrival of a new national security advisor and secretary of state, according to military officials, especially at a time when the White House seems to lack a coherent grand strategy toward Afghanistan and the Middle East at large.
"Prince and his allies think the changes are really positive for him and bode good things for his Afghanistan proposal. H.R. McMaster and other people who were previously in the administration are not fans of Erik Prince or his work," Forbes reporter Noah Kirsch, author of a recent profile on Prince, told Observer.
"Most people I've talked to who are entrenched in these issues say they don't think there's any chance a complete privatization will happen in the likes of what Prince proposed," added Kirsch, "but they do think elements of it are up for consideration and probably more so that Bolton is coming in and likely Pompeo."
While Prince enjoys access and power—last October it was reported he was considering a Wyoming Senate run with Bannon's political counsel—he is marred by controversy and PR disasters.
The military-industrial capitalist is reportedly under investigation by the Justice Department for attempting to broker military services to foreign governments, while Special Counsel Robert Mueller is looking into a Seychelles meeting between Prince and allies of Russian President Vladimir Putin.
Rather than hide from the Russia controversy, Prince doubled down: Last month, he hosted a fundraiser at his sprawling Virginia estate for controversial Rep. Dana Rohrabacher (R-Calif). Rohrabacher is also a target of the special counsel, given two separate meetings during the 2016 election with a Kremlin lawyer in Moscow and Wikileaks' Julian Assange in London.
Long before Prince turned mercenary warfare into a multi-billion dollar industry, he interned at the California Republican's office.