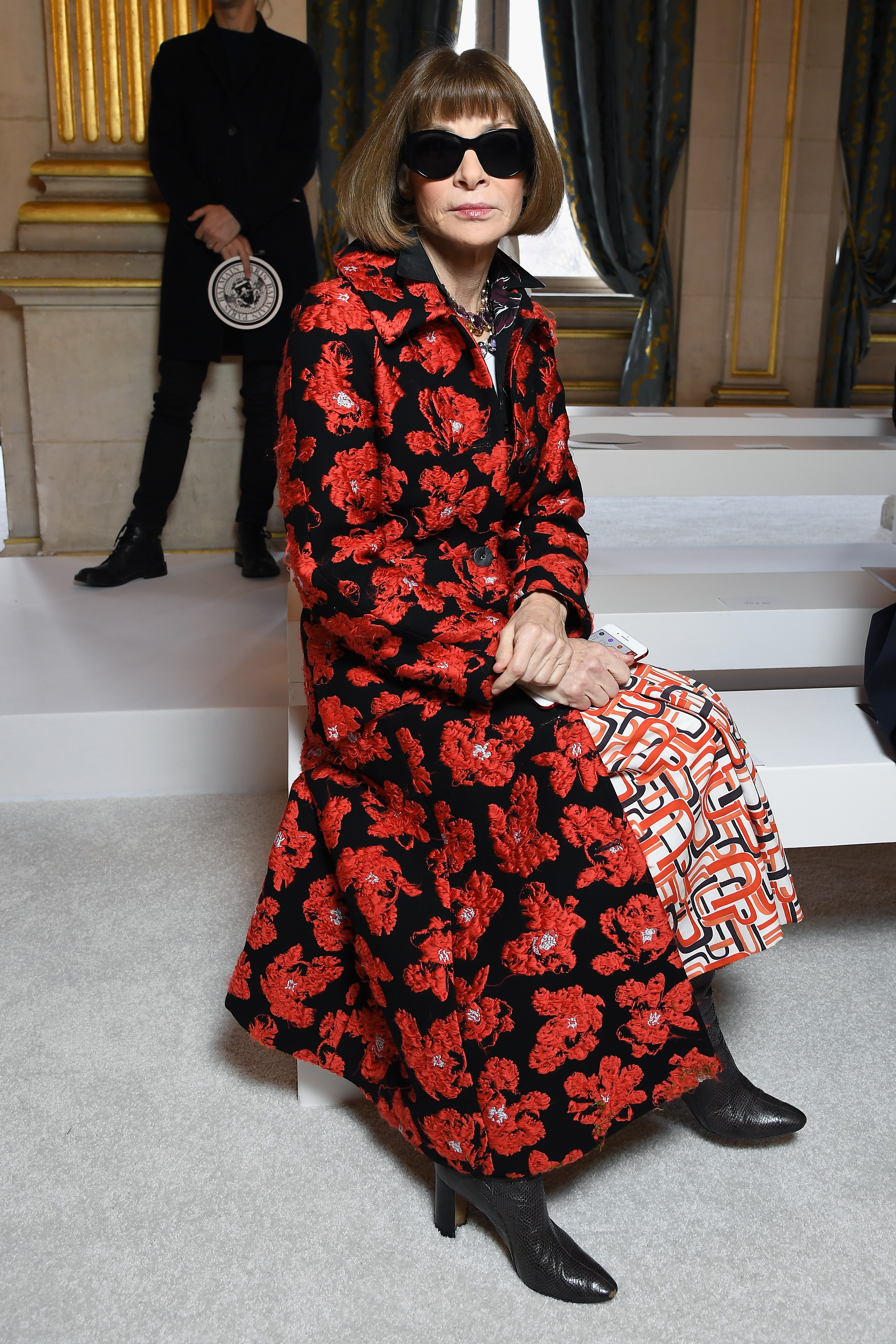 It looks like the inevitable is happening at Vogue: Anna Wintour is reportedly on her way out.
At least that's what it seems like, based on anonymous sources who shared the news with Page Six. Following a 30-year run, Wintour, who serves as the editor-in-chief at Vogue and artistic director at Condé Nast, will reportedly be stepping down sometime this summer. She will stay in place just long enough to host the Met Gala in May, close the infamous September issue and watch her daughter Bee Shaffer tie the knot with Francesco Carrozzini, the son of late Vogue Italia editor, Franca Sozzani.
Condé Nast vehemently contests the claims that the iconic 68-year-old editor-in-chief is moving on. "We emphatically deny these rumors," a spokesperson for Vogue told Page Six.  They also told The Cut: "There's zero truth to the story."
But other clues might prove otherwise.
Her alleged departure does fall in line with an array of other high profile exits at Condé Nast. Most recently, Graydon Carter left Vanity Fair after 25 years, and Cindi Leive stepped down from Glamour following a 16-year tenure. Both editors-in-chief were replaced by younger, more digitally savvy editors, with Radhika Jones, the former editorial director of the books department at The New York Times, stepping in for Carter and CNN's Samantha Barry selected as Leive's successor.
Wintour's absence was duly noted at Vanity Fair's legendary Oscar party this year, which was the first one hosted by Jones. The Vogue editor hasn't gotten on so well with Vanity Fair's new leader, having famously snubbed her for wearing fox covered stockings during a meeting at One World Trade.
Despite the editor swaps—and the spate of print closures for titles including Self, Teen Vogue and Details—it's rumored that Condé Nast posts annual losses of around $100 million. Back in 2005, New York Magazine reported that Wintour's salary was around $2 million, and that was before she was promoted to the artistic director role at Condé Nast in 2013. So, no doubt, the media company would be saving a pretty penny with her departure.
And while Wintour might be a print stalwart, it seems she's been a bit slower to adapt to media's evolving role in the digital age.
"When I became editor of Vogue in 1988, if you had told me about everything that was to come in digital, that we would be coding our content, not to mention that [Condé Nast] would also be doing film and books and television, as well as events, podcasts and more, I would have had a heart attack," she said during the Cannes Lions festival in 2016. "I was struggling to get the magazine on the newsstand every month."
Wintour's possible exit raises quite a few questions. Most notably, who would be able to fill her very fashionable—and often specially designed by Manolo Blahnik—shoes? It appears Condé Nast is considering hiring from within, with an eye towards Edward Enninful. The current editor-in-chief at British Vogue was previously at W, before he was chosen to replace Alexandra Schulman at the fashion glossy in April 2017.
Finally, what would Wintour be doing, post-Vogue? It looks like she could be spending more time with Queen Elizabeth, as she just might defect from New York to take the top role at the British Fashion Council. It would certainly mark the end of a very fashionable era at Condé Nast.