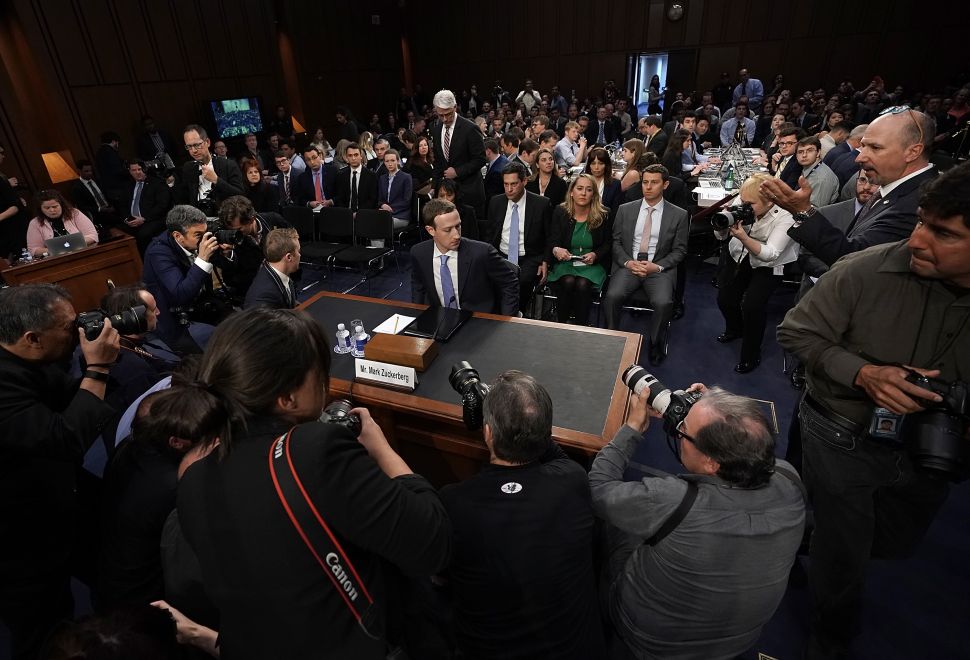 Battered Facebook CEO Mark Zuckerberg appeared on Capitol Hill for two days as D.C. lawmakers tormented him with notes prepared by their aides.
When Silicon Valley's controversial oligarch wasn't deferring questions on user privacy to future "follow ups" from his "team," he was praising Artificial Intelligence (AI) as the salvation to terrorism, Russian disinformation campaigns and online hate speech.
"Today, 99 percent of ISIS propaganda, our AI tools shoot down," boasted Zuckerberg on Tuesday, claiming AI will evolve significantly over the next five to 10 years while also curbing extremism.
In describing a world governed by AI, Zuckerberg touted a future dominated by Facebook's mastery of its intricacies—a catch-22 wherein Facebook's AI algorithms exist as both the problem and the solution.
"AI has an intrinsic bias based on the data scientists that created it," big data strategy consultant Evan Rosen told Observer.
Although lawmakers are entertaining bipartisan regulation to Silicon Valley behemoths like Facebook, whether through imposing transparency laws or limiting third-party access, world order's dependence on AI, and its algorithms contained within, creates hurdles for Congress.
"These companies are advancing to the point where they can connect the dots, and that's where people don't understand how they work, which is by design," explained Rosen. "They're never going to share under the hood the secret sauce of the AI algorithms based on what they think you will like."
As the key moneymaker for giant tech companies, AI's algorithms evolve as massive teams of data scientists build them out. Since these corporations depend on AI, and since AI is constantly changing, while appearing to solve global problems, any regulations will likely happen on the surface level, such as changes in transparency, without altering the core structure.
While many lawmakers—such as Senator Cory Booker (D-N.J.)—have pointed to the breakup of telecommunication monopolies as historical context for what to do with Silicon Valley's corporations, the 2008 Financial Crisis provides a more ominous warning.
After the global economy was upended over a financial crisis rooted in the reckless trading of mortgage backed securities, lawmakers bailed out the banks responsible and installed the Consumer Financial Protection Bureau (CFPB).
Today, unregulated micro-second trading in the financial industry is custom, while the CFPB's scope has been limited by officials within President Donald Trump's administration—in the 135 days since White House Budget Director Mick Mulvaney took control, the consumer watchdog agency has not recorded a single enforcement action against banks, credit card companies or financial institutions.
When world order falls on corporations, whether tech companies in Silicon Valley or banks headquartered from downtown Manhattan, pre-existing power structures become entrenched through Washington.
Today, Mark Zuckerberg testifies before lawmakers over Facebook's massive violations of trust.
Tomorrow, they may answer to him.