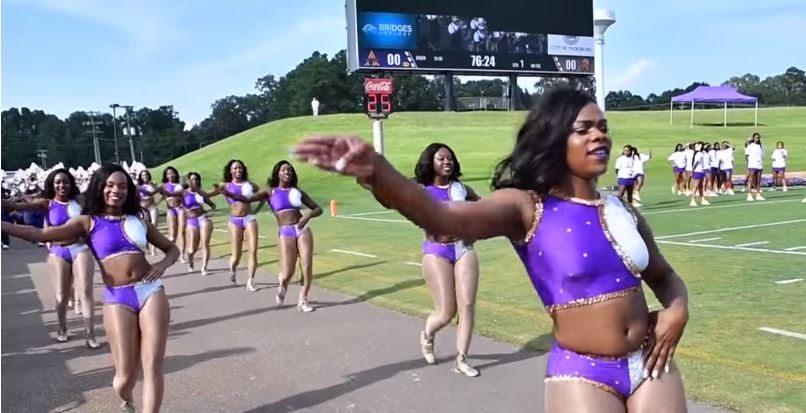 Thunder only happens when it's raining, and memes only matter when they're viral.
Exhibit A: For the last couple of weeks, the internet has been captivated by this Twitter video of a college color guard getting down to Fleetwood Mac's "Dreams."
The clip already has almost seven million views.
Many news outlets took it on faith that the troupe was actually dancing to Stevie Nicks. In fact, "Dreams" reappeared on Billboard's "Hot Rock Songs" chart this week solely on the strength of the meme.
But (as often happens on the internet) the story was too good to be true.
The dancers in the video are part of the Golden Girls, an all-female dance squad at Alcorn State University in Mississippi. The clip in question is from the football team's opening game in September.
But the troupe wasn't performing a Fleetwood Mac medley. They were actually dancing to a marching band arrangement of "Stay," a 1993 hit for British girl group Eternal which has become a Golden Girl staple.
"It's something we do traditionally," team captain and Alcorn State senior Elexis Wilson told Observer.
Wilson said she didn't know much about Fleetwood Mac before her friends started tagging her in the video.
"I didn't think they were so big that our school would be a meme," she said.
The "Dreams" remix was the brainchild of 19-year-old meme creator Mark Villasana, who told The Washington Post he was a Fleetwood Mac "superfan." Villasana did not respond to an Observer request for comment.
Some commenters on Twitter have called the video "digital blackface," referencing an online trend in which people who aren't black use videos and GIFs of black people to express their emotions.
This cultural appropriation has been compared to minstrelsy, and celebrities like Meghan McCain have gotten in trouble over it.
But Wilson said the remix didn't offend her, because her troupe performs to many different types of music.
"A real dancer can dance to any song," she said.
To prove it, Wilson actually performed a routine to "Dreams" and shared a clip with Observer.
Looks like Stevie Nicks has got some competition.