Lindsey Buckingham isn't having the best week. The musician has, once again, exited Fleetwood Mac, a band that has assembled and dismantled more times than we can keep track of. But this time, Buckingham didn't leave of his own volition; he was reportedly fired from the group as they prepare to go on tour this coming fall. Cue the Go Your Own Way and Rumours puns.
"Lindsey Buckingham will not be performing with the band on this tour," Fleetwood Mac announced on Monday evening. "The band wishes Lindsey all the best," remaining members, Stevie Nicks, Mick Fleetwood, John McVie and Christine McVie, added. We're not sure just how much we believe that last part.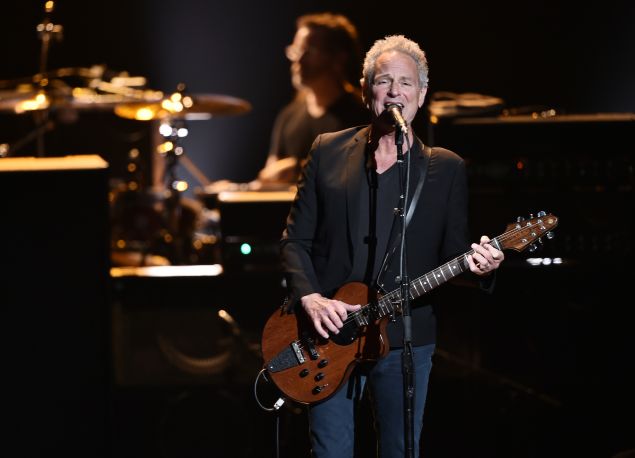 These statements confirmed days of suspicion over the fate of the band, following a tweet from former Fleetwood Mac guitarist, Billy Burnette. "Breaking news: Lindsey Buckingham is out but I'm not in," he wrote on April 4. He subsequently deleted the tweet, but it seems Burnette is still bitter he wasn't chosen to replace Buckingham. Mike Campbell of Tom Petty and the Heartbreakers and Neil Finn of Crowded House will be joining the upcoming tour, instead.
We still don't know why, exactly, Buckingham was removed from Fleetwood Mac—he originally joined in 1975 along with Nicks, his then-girlfriend. He decided to leave the band in 1987 in the midst of some drama, but rejoined a decade later, in 1997.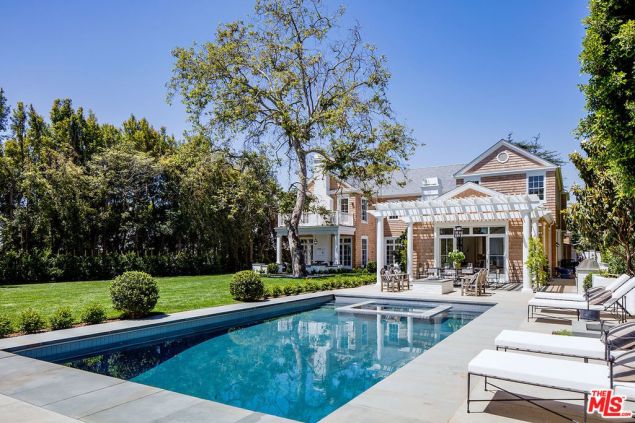 There is some good news for Buckingham! The guitarist finally found a buyer for his custom Brentwood home, which he's been trying to part with for nearly a year. He built this abode from the ground up, after he paid a mere $5.8 million for the property in December 2012 and promptly razed the existing house. He spent four years constructing the current 11,192-square-foot mansion, which he put on the market in June 2017 for a staggering $22.5 million.
Alas, Buckingham wasn't able to catch a buyer, and the shingled six-bedroom, 10-bathroom residence, described as a "Modern Georgian estate" by listing broker David Offer of Berkshire Hathaway, lingered. Buckingham eventually delisted the house in November 2017, before deciding to relist it again in early January 2018. Oddly enough, he didn't change the price tag even a dollar.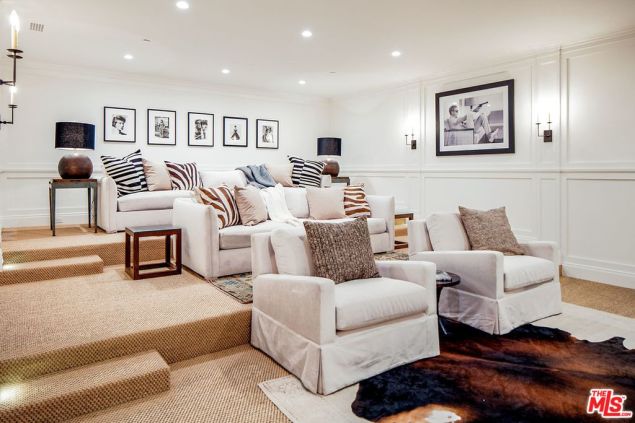 He finally lowered his expectations in February, but not by much—he discounted the price to $19.995 million. That was enough to capture an interested party, as the home appears to have snagged a pending offer in late March.
The house has oversized custom windows and millwork throughout, as well as a formal living room and dining room. One of the entertaining rooms features a grey marble bar, as well as a marble fireplace.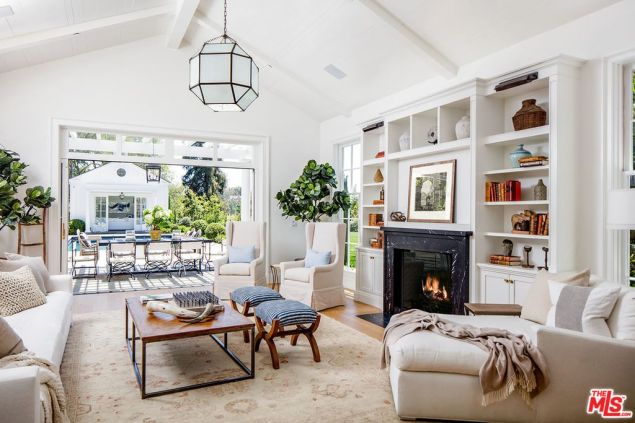 The eat-in kitchen has white tile backsplash and opens to a family room. There's also a separate catering kitchen. A cozy theater space is currently furnished with comfy armchairs, and there's also a library and a gym.
Outside, there's a guest house and a cabana by the pool, which is surrounded by bluestone terraces. In addition, the backyard contains an outdoor fireplace and shower, as well as a fire pit and barbecue.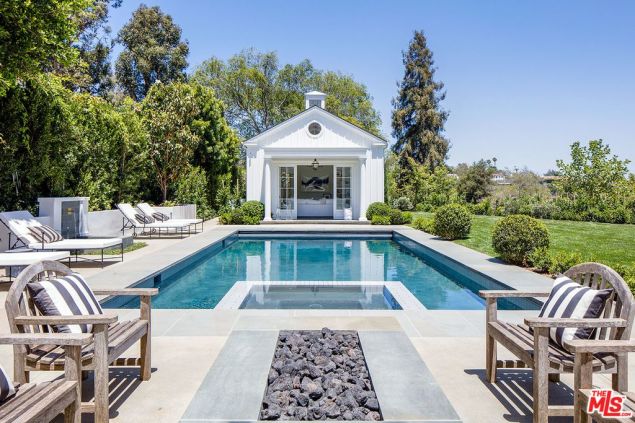 While there's no shortage of luxe attributes, we're surprised there isn't a recording studio. However, it is possible that Buckingham never intended to actually reside in this particular home.
In fact, Buckingham and his wife, Kristen Messner, own a number of properties elsewhere in Brentwood, including an 8,051-square-foot home purchased in late 2005. In June 2014, the couple bought another residence, on the very same street. This could make for some awkward neighborhood run-ins—last year, John McVie also scooped up a $6.8 million house in Brentwood area.