Despite their A-list status, George and Amal Clooney aren't immune to rental laws in New York. The couple is reportedly staying in a Sullivan Street townhouse that has already had its time in the spotlight—but not for a particularly glamorous reason.
The Clooneys, who have been spotted entering and exiting the red brick Soho abode various times over the past week, are thought to be residing in a rental unit in the 19th-century house, per Page Six. However, the actor and the human rights lawyer, who is currently a visiting professor at Columbia University, might be unaware of a few incidents that recently took place at their temporary digs, which were designated a New York City landmark in the 1970s. The owner of the townhouse, Richard Fertig, was accused of four violations by the city last month, including illegally converting the basement apartment for transient use, with citations for the lack of fire alarms and exits. He also didn't have a certificate of occupancy.
Fertig, using Sullivan Street House LLC, bought the four-story home for $5 million in 2007. The LLC is allegedly using 116 Sullivan Street as an "illegal transient hotel" and a Department of Buildings hearing is set for Thursday.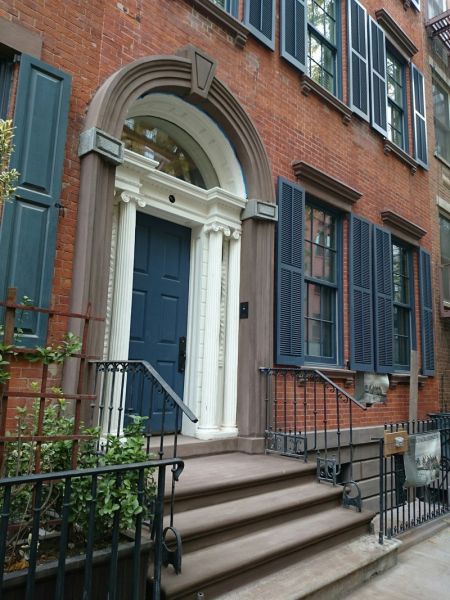 These violations stem from legislation regulating short-term rentals in the city. A 2010 law makes it illegal for owners to offer most short-term rentals (properties listed for a lease for under 30 days) in New York City, unless the landlord lives in the building. A 2016 law built on this, making it illegal to even advertise an apartment rental that is for a period shorter than 30 days.
On his website, Fertig has previously described himself as a "serial entrepreneur" and an "Airbnb super host," though this particular rental wasn't through Airbnb. He seems to be an expert on short-term stays and often provides online advice on how to rent out rooms in a similar manner.
It's not clear which apartment within the house the Clooneys have been residing in, but it could be the same duplex on the bottom and ground floors that John Legend and Chrissy Teigen rented out last month. They were unceremoniously forced to leave after police and city officials came knocking. The Building Department was also on the premises to follow up on a report that the apartment was, in fact, an illegal short-term sublet, per the New York Daily News. The couple then vacated the home shortly thereafter, with a pregnant Teigen wearing a bathrobe and slippers as she exited the property.
Indeed, this incident appears to be the very one that is the focus of the aforementioned "illegal transient hotel" violations. "In many cases, guests are also victims of fraudulent marketing and are being illegally rented units that are not set up for short-term stays, which is potentially dangerous," City Hall spokesman, Patrick Gallahue, told the New York Post.
The duplex does appear to have a few nice qualities, despite its illegal nature. The 1,700-square-foot accommodations are composed of a chef's kitchen with granite countertops and stainless steel appliances, according to a prior rental listing, as well as a living room with a gas-burning fireplace and access to a private patio.
Teigen previously shared snaps of her daughter, Luna, sitting on the stoop of the townhouse, with the recognizable blue door in the background. She also shared a video of Legend and Luna walking down the stairs—the details in the space match up with images from previous listings of the apartment.
But we wonder why the Clooneys would be staying on Sullivan Street in the first place. Maybe it's because they're waiting for their apartment in midtown to be finished. Shortly after confirming they were expecting twins in early 2017, the couple reportedly scooped up a three-bedroom, 3.5-bathroom unit at 100 East 53rd Street, where similar units range in price from $13.2 million to $21 million. It just so happens to be the same exact building where the Clooneys' pals Cindy Crawford and Rande Gerber also bought an apartment, said to be just one floor apart.