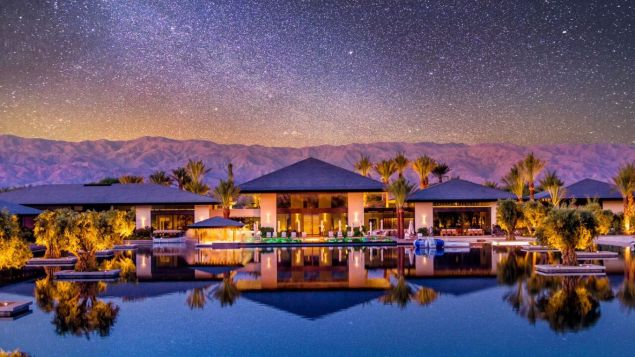 The annual music festival pilgrimage known as Coachella began in full force last weekend, when a flurry of flower crowns, fringed crop tops and body baubles flooded Indio. The second weekend of the festival is now upon us, with a whole new crew (plus the extremely devoted double-attendees) flying into the desert, counting down the minutes until Beyoncé's second performance.
Along with the masses and their artfully braided hair, chokers and general excess of Free People attire, this is also when the famous (ish) faces descend upon Coachella, and this year, the Hadid sisters might have outdone everyone. It's not that their actual Coachella activities were so outlandish—they behaved as all of the Instagram-loving crew does, frolicking around, eating burgers and hot dogs for the camera, donning body chains and attending a few #spon events. Their accommodations, however, were definitely a cut above the rest.
The two models stayed at a 40-acre estate known as Villa Zenyara, which costs a casual $350,000 for just one weekend.
What could possibly warrant such an extravagant price tag? It doesn't include a diamond necklace or a Ferrari— from what we can tell—but the delightfully lavish compound does have a man-made beach!
The 11-bedroom, 11-bathroom property can sleep 24 guests, promises the website, though we can't say for certain that the model sisters invited 22 of their closest pals to come hang at their vacation paradise. They did, however, make it something of a family affair; their father, Mohamed Hadid, posted a few snaps from the sprawling compound, kindly wearing a white "Villa Zenyara" emblazoned cap.
The estate is composed of a number of separate structures that are mostly oriented around an Olympic-sized pool, coming to a grand total of 40,885 square feet of interior space, in addition to 6,223 square feet of outdoor deck space. But the real pièce de résistance is the aforementioned man-made beach and its Caribbean island vibe, right down to the luxe beach bar and swing hanging from rope that looks like peak Instagram bait.
The faux ocean extends off of the pool, and is supplied with an abundance of canoes, kayaks and jet skis, of which we already know Bella is a big fan. There's also a fire pit on the "beach," in case anyone is in the mood for s'mores, as well as an outdoor shower.
The custom-designed main house features floor-to-ceiling windows and doors in the living and dining rooms, a game room and a chef's kitchen. After arriving via private plane, Gigi enjoyed a pre-festival breakfast dining outside and blew a kiss to her Pomeranian trotting across the table.
Bella, thrilled with the extreme privacy granted by the enormous grounds, embarked on bikini photoshoots that include a topless shot.
But even is it Coachella, without a little bit of drama? True to form, the rumor mill went bonkers when it was reported that Bella and the Weeknd piled on the PDA at the Poppy's club pop-up. The model, of course, responded to an E! News Instagram, commenting "It wasn't me" with all the appropriate emojis.
While Bella doubling down on her single status, Gigi might have some boy news of her own—she and Zayn Malik confirmed their break-up via coordinating tweets on March 13, but it appears they're still reconsidering that. Zayn popped by Gigi's Bond Street apartment on Wednesday, leading many overzealous Zigi fans to question whether the two were back on or if perhaps he was coming to pick up his things. Alas, he was then seen participating in the age old ritual of the Walk of Shame, as he wore the same clothes from the night before when he left his ex's apartment the following morning. If a reconciliation is happening, at least Zayn won't have to worry about covering up that creepy tattoo of his former girlfriend's eyes on his chest.