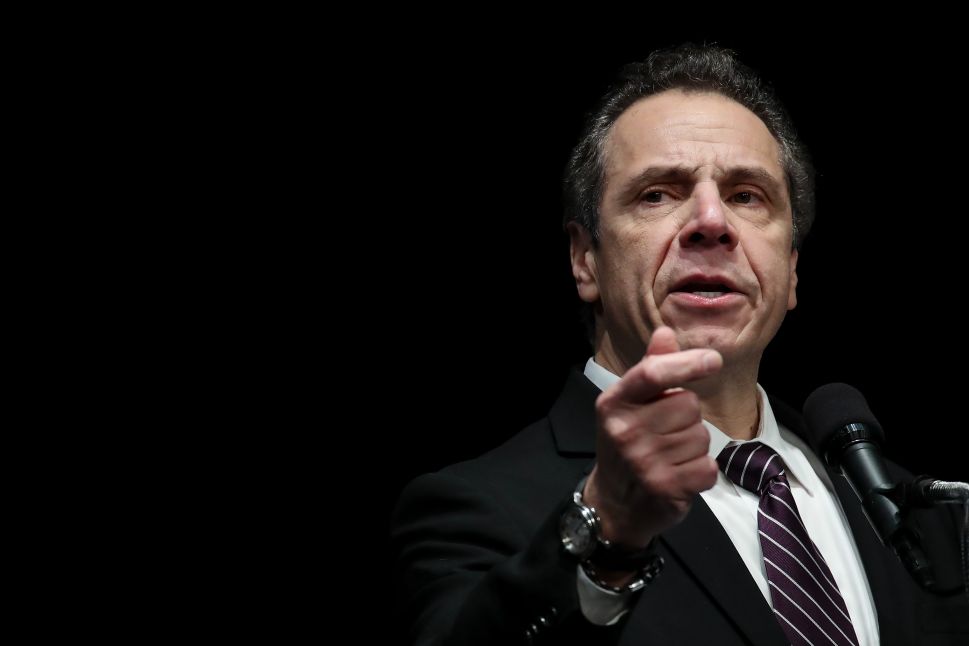 Gov. Andrew Cuomo, who is running for reelection and faces a Democratic primary challenge from actress and education activist Cynthia Nixon, promised to grant 35,000 felons currently on parole in New York State the right to vote.
At the annual convention of Rev. Al Sharpton's National Action Network (NAN) on Wednesday morning, Cuomo said he proposed a bill this past year that would give parolees the right to vote, but was voted down by the Republican-led state Senate. He announced at the convention he would make it a law by executive order.
Cuomo noted the state spends $40,000 on a jail cell and that reentry and alternative programs are always less expensive.
"We try to reintegrate a person into society," he said. "We're trying to find them a job, we're trying to get them re-enfranchised…in this state, when you're released from prison and you're on parole, you still don't have the right to vote. Now how can that be? You did your time, you paid your debt, you're released and you still don't have a right to vote. At the same time we're saying we want you [to be] part of society, we want you to get back into the community."
Parole voting restrictions disproportionately affect New Yorkers of color, with African-American and Hispanic New Yorkers making up 71 percent of parolees who cannot vote, according to the governor.
Former U.S. Attorney General Eric Holder, who also spoke at the convention, told the crowd that President Donald Trump's administration is "being dumb on crime" and pointed to the success of his "Smart on Crime" initiative focusing on violent crime.
He called for restoring voting rights for incarcerated individuals who paid their dues to society, saying there is evidence that former prisoners whose voting rights are restored are less likely to return to prison.
"The formerly incarcerated are frequently deprived of opportunities that they need to rebuild their lives and in far too many places, their single, most basic right of American citizenship, the right to vote, is either a bridge or it is denied," Holder said.
Sharpton also spoke to efforts to suppress voting rights under the Trump administration, referring to the voter fraud commission Trump dissolved in January.
"The Voting Rights Act that Dr. King fought for is being undermined with voting gerrymandering and voting suppression schemes that are being masqueraded over with voter fraud commissions that can't find any fraud because there is none to find," he said.
Cuomo said during his speech the Trump administration is "repugnant" to key values, calling it anti-women, anti-immigrant, anti-equality and anti-environment. But he maintained he does not believe that Trump won the election, but that the Democratic Party made some missteps. He said that the party got disconnected from the middle class and "under-delivered" for minority supporters.
"I don't believe Mr. Trump won the election," he said. "I believe we lost the election…I think we allowed them to get to that point."
And he proceeded to blast the conditions at the New York City Housing Authority (NYCHA), the plan to close the Rikers Island jail complex in 10 years as too long of a timeline—both clear jabs at de Blasio—and said he would like to see an end to cash bail.
At the convention, top New York Democrats outlined their vision for a fairer New York and the way to fight the Trump administration before a 200-plus strong crowd at the NAN convention. In addition to Cuomo and Holder, Mayor Bill de Blasio and Public Advocate Letitia James spoke.
De Blasio said people need to be organized "everywhere all the time." And he pointed to the neighborhood policing initiative that pairs police officers with community residents and the decreased use of the stop-and-frisk policing method—steps he said show the city "got safer by being fairer." He also touted the plan to close Rikers.
"Remember how for years and years in this country, you could not get a conversation started about the horror of mass incarceration," the mayor said. "But a movement over the last few years changed that. It is now on the front burner. It's in all of our consciousness, and it's starting to change. And I'm very proud to say, in this city… the era of mass incarceration did not begin in New York City, but it will end in New York City when we close Rikers Island for good."
Public Advocate Letitia James, a rumored 2021 mayoral candidate, said the country and New York still have "work to do."
James—who backed marijuana legalization on Wednesday—referred to the racial disparities in the NYPD's marijuana enforcement policy, the two black men who were arrested at a Starbucks in Philadelphia while waiting there, a student who was prohibited from wearing a sweater with "Malcolm X" on it and a 14-year-old boy who got shot by a 53-year-old man after he knocked on his door to ask for directions to school.
"When black men are being arrested for small amounts of marijuana, we've got work to do," James continued. "When two black men are simply arrested for sitting at a Starbucks, we've got work to do. When our children are [barred]…from schools for wearing a shirt that basically says Malcolm X on the back, we've got work to do. And when a child gets lost and knocks on a door and simply asks for directions and gets faced with gunshots, we've got work to do."