Back in November, Jennifer Lopez and Alex Rodriguez were rumored to be house hunting together in New York. More specifically, the couple known as J-Rod were spotted checking out sleek apartments in 432 Park Avenue, also known as the tallest residential building in the Western Hemisphere.
It turns out the pair did, in fact, fall in love with a condo in the building, and went into contract on the unit, just one month after they were first seen at the building. Lopez and Rodriguez reportedly decided on a three-bedroom, 4.5-bathroom abode that occupies half of the 36th floor, and used a limited liability company to anonymously dole out $15.32 million for it.
The sale was finalized in late February, so perhaps it was a Valentine's Day gift to themselves—because really, did you expect these two to just settle for a bouquet of red roses and a candlelit dinner?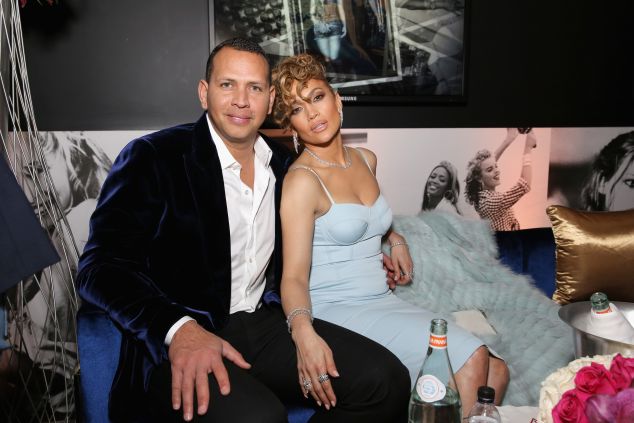 According to Page Six, Lopez and Rodriguez were especially attracted to the building because of its amenities. That includes a private chef and restaurant dining room for the residents, plus private parking, a boardroom and a movie theater.
The 4,003-square-foot apartment is reached through a private elevator landing, which means that the high-profile pair will be safe from prying eyes. The three-bedroom, 4.5-bathroom aerie features oak flooring and ceilings that reach over 12 feet throughout, with a library, a glitzy gallery and a corner living and dining room.
The eat-in kitchen is entirely custom, with a center island, marble floors and countertops and oak cabinetry, in addition to stainless steel Miele appliances, per the listing shared by Douglas Elliman brokers Richard J Steinberg, Sabrina Saltiel, Shari Scharfer-Rollins and J. Roger Erickson. There's also a breakfast bar conveniently situated by the kitchen windows, so Lopez and Rodriguez can sip coffee while taking in New York views.
The couple scored a discount off the $17.5 million that the home was last on the market for, which is more common than one might expect at the supertall. In late 2016, financier Lewis Sanders shaved approximately $16 million off of the listing price for his 88th-floor penthouse in 432 Park Avenue, though the $60.89 million he paid isn't exactly pocket change. The penthouse at the very top of the 96-story building sold for $87.66 million in September 2016, which was a decent amount less than the $95 million it was reportedly hoisted onto the market for. Moreover, a 94th floor unit sold for $8 million less than the $40.5 million ask earlier this year.
But it's not as if the building is struggling financially—in fact, it's just the opposite. As of February 2018, closed sales in the tower total over $2 billion, making it the best-selling building, ever, in New York City.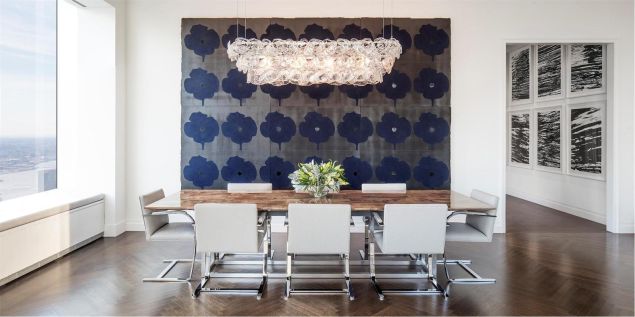 But back to Lopez and Rodriguez's new home. The master suite contains large closets and a separate dressing area, though we can't imagine Lopez is planning on sharing any of the closet space. There are two windowed master baths, entirely bedecked in marble, including the floors, walls and double vanities. The freestanding soaking tub is perched right by the window, for unobstructed vistas while taking a bubble bath, though there is also a separate shower.
As roomy as the couple's sleek new condo is, it's actually a downsize from Lopez's former New York home, a four-bedroom duplex penthouse atop the Whitman, which overlooks Madison Square Park and spans 6,450 square feet. Lopez was evidently ready for a new start, even if it meant giving up the extra 2,000 square feet—in October 2017 she listed that unit at 21 East 26th Street for sale for $26.95 million.