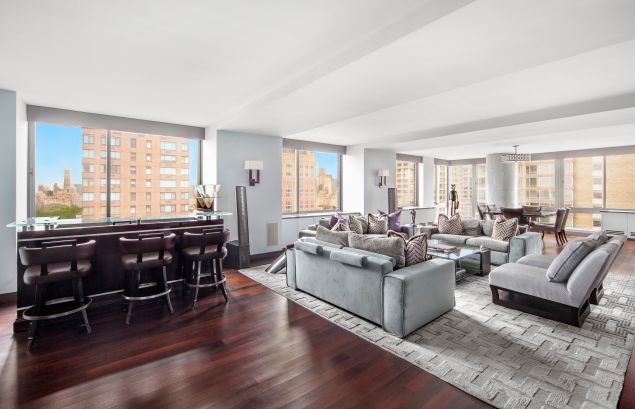 Before Jon Bon Jovi made the move downtown, where he continues to buy and sell multimillion-dollar apartments at a rather rapid pace, he took up residence on the Upper West Side. More specifically, he lived in a condo at 111 West 67th Street, which he bought for $1.83 million back in 1998.
Bon Jovi lived in the 2,727-square-foot Lincoln Square abode for a decade and eventually parted with it for $5.49 million in February 2008. The buyer, David Kuperberg, has lived in the apartment ever since but is now "moving back to California," Corcoran broker Larry Schier told Observer, and as such is listing the home for $8.5 million.
Kuperberg completed major updates upon buying the unit. "It was a pied-à-terre before," Schier explained. "They completely redid and gut renovated the apartment," included adding African wenge wood floors, solid oak doors and woodwork details throughout the library and living room. There's a fireplace in the library, which is also where a rather special guitar is hung.
"Jon Bon Jovi and the rest of the band signed the guitar as a congratulations gift for the owner," Schier said. "We're currently in discussions about whether we'll be including that in the sale!"
Bon Jovi, however, wasn't the only famous face in the Park Millennium—Regis Philbin and Howard Stern both own apartments in the building, and the buyer of this unit will be "sharing a floor with Liam Neeson," Schier said.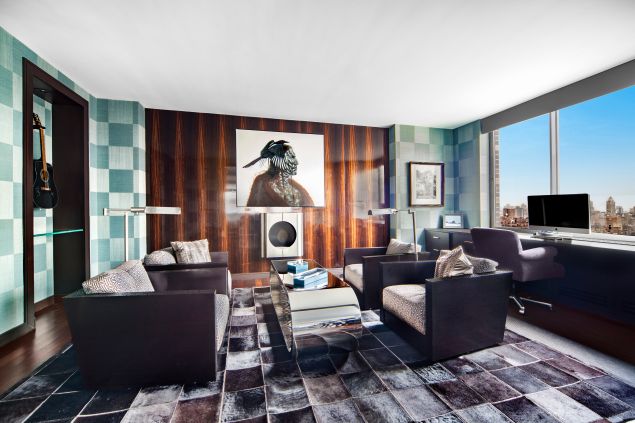 There are other attributes, aside from the proximity to Neeson, of course. "The exposures are unbelievable," Schier added. "Views of Lincoln Center, of Central Park South, and direct east views to Central Park." The master suite contains double closets and a bathroom with a whirlpool tub and separate shower.
St. Charles of New York designed the windowed kitchen, which features white countertops, a breakfast bar and blue cabinetry, and vino enthusiasts should take note of the 260-bottle wine refrigerator.
Actually, Bon Jovi definitely would have appreciated that, considering he recently made the foray into the world of wine—he launched his own rosé, named Diving Into Hampton Water, along with his son and French winemaker Gerard Bertrand, in February. It's a shame Bon Jovi never had the chance to stock a wine fridge like this with the pink drink. Alas, he continued his indecisive real estate shopping spree, upgrading to a far more expansive home.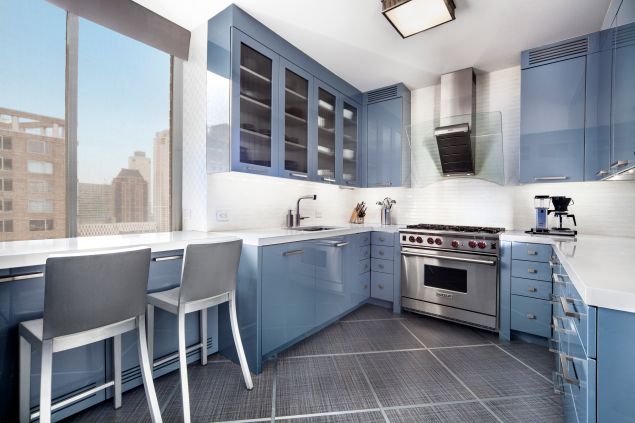 He purchased a 7,452-square-foot Soho penthouse for $24 million in 2007 and tried to sell it for $42 million in 2013. Bon Jovi eventually accepted $34 million for the Mercer Street duplex in 2015, shortly before he doled out $12.88 million for a 10-room spread at 150 Charles Street in the West Village, where he joined the likes of Irina Shayk and Ben Stiller.
Alas, that still wasn't the perfect home, and Bon Jovi tossed it back onto the market for $17.25 million in June 2017; he ended up taking a $15 million offer in early 2018.
Bon Jovi must have liked the neighborhood, as he's staying put in the West Village, at least for now. He paid a hefty $18.94 million for an apartment at 155 West 11th Street, in the Greenwich Lane complex, where he'll be in the company of fellow residents like Michael Kors, Toni Garrn and Tamara Mellon.