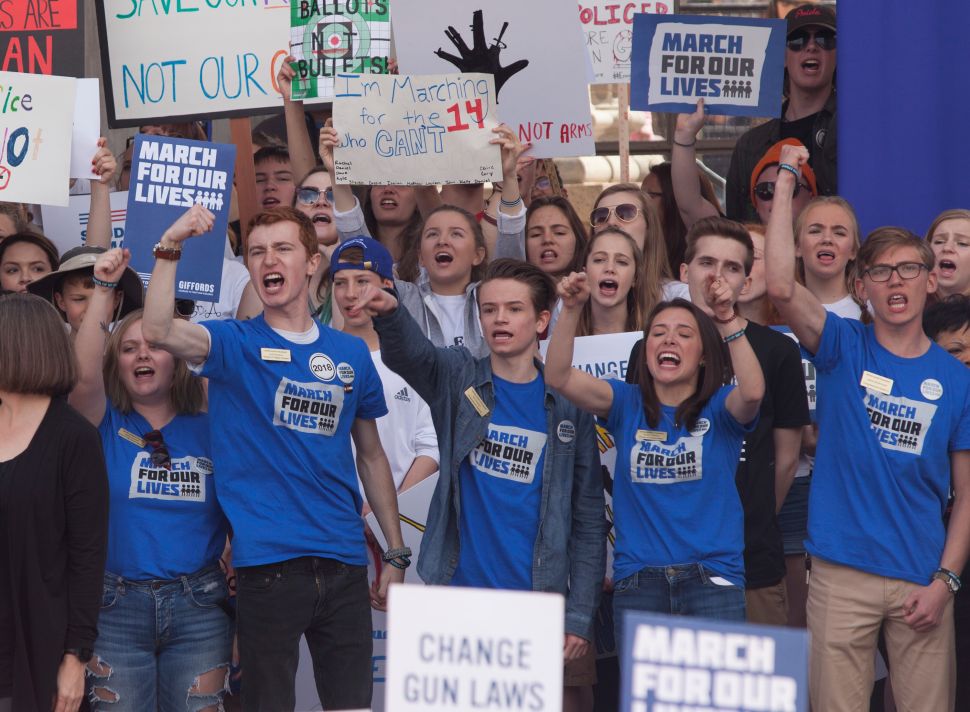 This past year has seen a groundswell of activism thanks to tragic events like the Parkland school shooting and societal shifts like the #MeToo movement, which inspired citizens to protest for global change.
But the journalists who broke those stories also needed to toe the line, impartially reporting on issues like gun violence and sexual assault that naturally inflame readers' passions.
Indeed, while journalism and activism usually have different goals, thanks to recent events, the two disciplines are inextricably linked. And many reporters are embracing this connection.
Rebecca Schneid is one of the editors of the Eagle Eye, the student newspaper at Marjory Stoneman Douglas High School (MSD). Last month, she appeared on CNN's Reliable Sources to discuss covering the shooting and the March for Our Lives that followed.
"I think that, in its own right, journalism is a form of activism," Schneid said. "The partnership of the two is the only reason that we are able to make a change."
Some journalists applauded her take, while other (mainly conservative) reporters said she was exhibiting typical liberal media bias.
But Schneid doubled down during a follow-up interview with Observer.
"Taking a story and elevating it and raising the voices of people who are trying to be advocates is how things get done," she said. "The only way we were able to make strides is because people gave us airtime."
While the Parkland students didn't ask for their newfound celebrity, they vowed not to waste the opportunities it gave them.
In Schneid's case, that meant working with the newspaper's staff on a tribute issue that told the stories of the 17 students and faculty killed in the shooting.
"We made an executive decision to focus on what was being lost and what we were going to do about it," she said. "That could make a change."
Since the shooting, some of Schneid's classmates have been making headlines and appearing on the Time 100, but she said the other MSD students who don't get as much press are just as important.
"There are 3,300 of us, and we all have different opinions," she said. "We know Parkland, and that's what makes us different."
Readers also have a responsibility, however.
"The audience needs to make a decision about what they want or what they believe," Schneid said.
That's sometimes a tough tightrope to walk in Florida, where opinions on gun issues vary wildly—and even some journalists are of two minds.
For example, Sarasota Herald-Tribune news editor Lee Williams runs a website and Twitter account as The Gun Writer. He writes impassioned columns defending the Second Amendment and even hosts a podcast called Think, Aim, Fire.
But at the same time, he edits stories about gun control and Parkland activism.
These dual roles may seem hard to juggle, but Williams told Poynter he sees no conflict.
"Newsrooms have shrunk over the years, and we're all wearing a lot of different hats," he said. "I am entitled to have an opinion."
Williams did not respond to an Observer request for comment.
But Schneid said there are some issues where reporters can find common ground. She made a distinction between gun control, which features activists with multifaceted points of view, and other movements like #MeToo.
"Saying sexual assault is wrong isn't bias, but journalists have to expose issues and show the facts first," Schneid said. "If it wasn't for the Times and New Yorker exposés, this shift would've never gotten started."
The journalists behind those exposés have acknowledged this in their own ways.
The New Yorker's Ronan Farrow, who won both a Pulitzer Prize and a National Magazine Award for his Harvey Weinstein reporting, did not respond to requests for comment.
But Observer obtained a copy of the Pulitzer acceptance speeches reporters Jodi Kantor and Megan Twohey (who also exposed Weinstein) delivered to New York Times staff when they won.
Both women directed their speeches to their daughters and made clear they were reporters first. But they also acknowledged the activism their work had inspired.
"You know that Jodi and I are journalists, not activists," Twohey told her daughter Talia. "But the two of us, and all of the other reporters around the country who worked on these kinds of stories, did so with the hope that girls your age will know nothing but dignity and decency in the workplace and beyond."
"When these girls are much older and mature enough to understand terrible violations and humiliation and pain, we are going to sit them down and tell them the story of our investigation and our team's work and how all of us became part of something much bigger than ourselves," Kantor said. "We will attempt to explain how one day we were working on an incredibly tough story, and then just a few days later we started to see change happening all over the world."
Schneid also saw this seismic change firsthand in her own backyard. And she's committed to both reporting on her classmates' gun control efforts and speaking out for reform in her own way.
"I am a journalist and an activist, but they're two separate parts of my life," Schneid said. "Activists wouldn't be able to make the changes they do without journalists telling their stories."