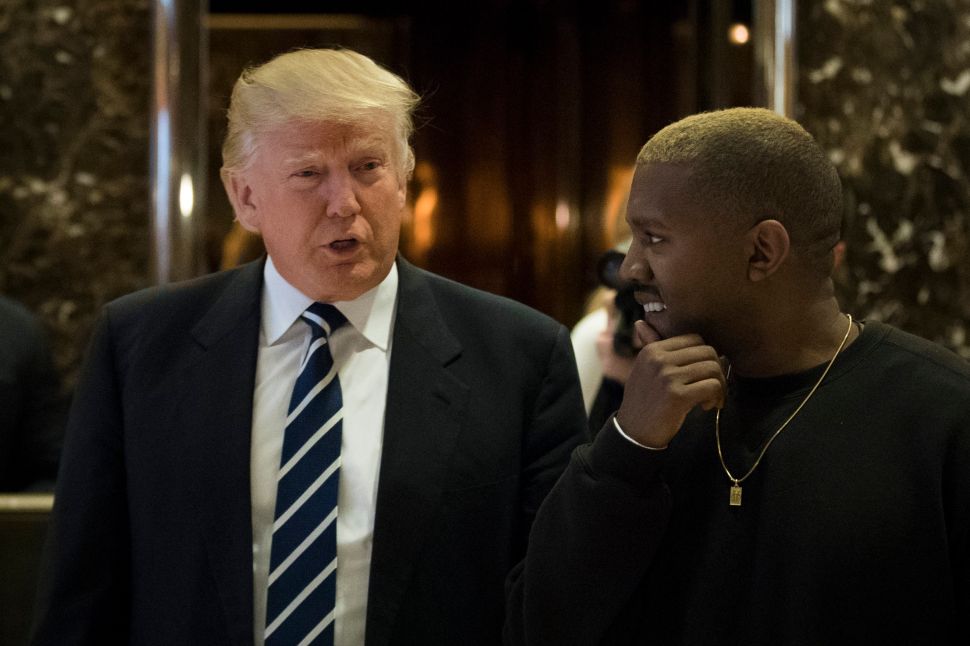 Like President Donald Trump, Kanye West's image is a perpetual metamorphosis.
As Trump shapeshifted from Manhattan real estate mogul to POTUS, West transformed from Chicago rap superstar into an upstart fashion titan. Over the past decade, Twitter documented and enhanced their brand evolutions: Trump used the platform to helm the birther movement and amass political capital, while West similarly doxxed his celebrity enemies online.
The Drunk and Hot Girls rapper's newest persona?
A darling of the 'New Right.'
Nearly a week since his return to Twitter on Friday the 13th, West endorsed Turning Point USA's communications director Candace Owens after the operative shut down a 'Black Lives Matter' protest at UCLA.
Although conservatives decry Hollywood as a bastion of white liberalism—clumping the entertainment industry alongside the media and academia as part of an interwoven class structure responsible for fallout from globalization—New Right figures immediately welcomed the celebrity into their movement, using his tweets to lend them legitimacy.
Turning Point's president Charlie Kirk remarked that West has been "preaching wisdom lately" before his organization subsequently turned the celebrity's tweet into a branded endorsement.
Infowars editor-at-large Paul Joseph Watson said in a video that West's tweet was "a watershed moment for the culture wars."
"Kanye West represents a massive threat to the left because he has an army of adoring fans, and he's clearly done with being a puppet for their divisive agenda. After this, he's going to be relentlessly attacked by the establishment like never before," Watson said. "Get ready."
As West tweeted zingers over the weekend against "thought police," "self victimization" and other phrases combining longstanding conservative mantras with mysticism, more New Right personalities like Mike Cernovich and Alex Jones courted the star.
Ivanka Trump followed West on Twitter, conservative men's guru Jordan Peterson reaffirmed the rapper's online sentiments and Dennis Prager used the quotes as a marketing promotion for his online "university."
West's veiled endorsement of New Right ideology arrives amid a string of PR crises and infighting. Conspiracy theorists associated with the movement face public outrage after pushing fake news about the Parkland, Florida shooting survivors, while figures like Laura Loomer and Sheriff David Clarke take swings at one another in the gutters of Twitter.
The same weekend West became a celebrated figure among the New Right, fading right-wing provocateur Milo Yiannopoulos was cursed out of a Manhattan bar by patrons chanting "Nazi scum get out!"
"A lot of what's happened is that they're fighting with each other. What Kanye's tweet did was provide a much needed unifying point for all of them to gather around. They haven't had that in a while," Jared Holt, a research associate at Right Wing Watch, told Observer.
"It gives them the opportunity to reinsert themselves as legitimate voices in the discourse," added Holt. "Some of the New Right movement existed as a kind of counterculture. Now that Trump is in office and Republicans control all branches of government, it's hard to flip it and go from being counterculture to promoting authoritarianism."
While West occasionally teases a conservative bend—the rapper met with the president at Trump Tower following 2016's election—he also has a history of promoting contrarian views as part of his persona.
In their eagerness to latch onto West's new philosophy, and subsequently associate with a titan of culture, the New Right risks backlash should his shapeshifting views evolve without them.