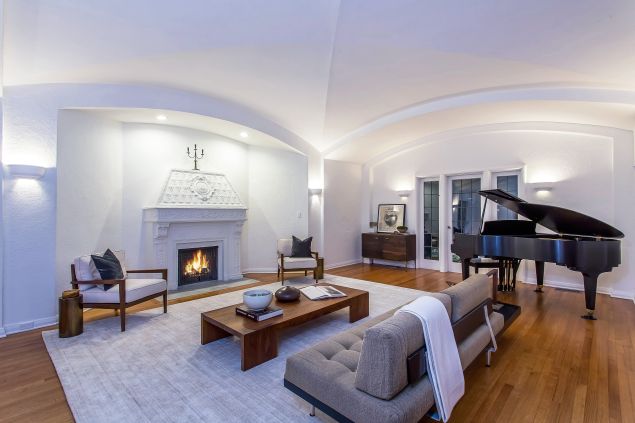 In the midst of his busy model-dating schedule, Leonardo DiCaprio found the time to make a quick real estate transaction. The Academy Award-winning actor recently purchased a Los Feliz house that was sold by none other than Moby, but DiCaprio might not ever live there.
DiCaprio used a trust to pay $4.91 million for the five-bedroom, eight-bathroom house, a decent amount more than the $4.5 million it was listed for.
DiCaprio, however, may have scooped up the 4,644-square-foot residence for an undisclosed family member, per the Los Angeles Times.
It could be that the vape-loving actor just wanted an extra house, because why not? He does already own three homes in Los Angeles, including two in the celeb-filled Bird Streets area, in addition to one in Silver Lake. He also owns Malibu retreat; he listed the Carbon Beach property for nearly $11 million in 2016, but didn't find a buyer and subsequently offered it as a rental. He must have changed his mind, as it is now off the market entirely.
And when he wants to get away on the West Coast, there's his Palm Springs pad—perhaps that's where he and his new 20-year-old model/blogger/actress girlfriend, Camila Morrone, stayed during their Coachella excursion.
DiCaprio's newest real estate acquisition received a total renovation courtesy of the seller. Indeed, after Moby bought the house for $3.4 million in March 2016, he "renovated from the systems up," Sotheby's International Realty broker Gwen Banta, who shared the listing with Patrick Martin told Observer. "He redid electrical and added new light fixtures, and all new wood flooring. He closed off the dining room to make it more private, and renovated the entire kitchen. It's extraordinary, he used nothing but top of the line appliances and fixtures."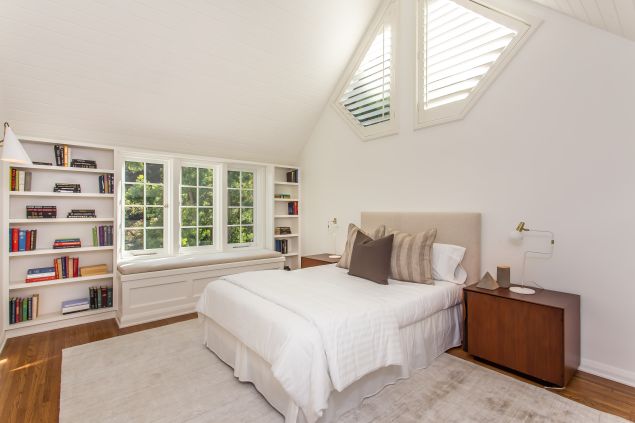 The main entertaining rooms all have high ceilings, and presently, Moby's large piano is situated in the living area. There are three fireplaces throughout the two-story abode, as well as custom white built-in bookshelves in a den and one of the bedrooms.
The airy eat-in kitchen has grey marble countertops and a center island, as well as a separate breakfast nook. There's also an outdoor living room that leads the way to the pool and spa, surrounded by trees.
"Moby is a conservationist," Banta explained. "He's very involved in the green movement and he went in and planted so many fully grown pine trees. It's basically a forest! He made it even more private and lush—you can smell the clean, fresh air. It's not only a respect for nature, but a brilliant use of nature."
Banta declined to comment on the identity of the buyer, but did say they "responded very positively to the trees and nature. The feeling of being out of the city, but also accessible to everything." She confirmed the home received multiple offers, which explains the higher final sales price.
Each of the interior rooms is uniquely configured, such as a guest suite on the lower level, with a secret speakeasy-esque entrance that leads to a full steam room. "He's an artist," Banta said. "He's truly a visionary in my opinion. He can just walk into a room, and see what it was and what it should be. He never loses the original style."
Two master suites are located on the top floor, each with large bathrooms and expansive walk-in closets. One has a loft that Moby added a stairway to, and "now it is a meditation or yoga room," Banta said. "It's just a magical space." That's not particularly surprising, considering Moby released a free download of "ambient" recordings in 2016, all of which were made with a focus on yoga, sleeping and meditation.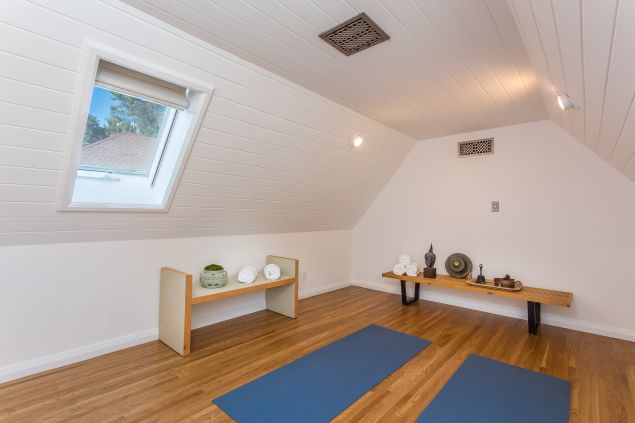 A home with a wellness aspect isn't all that new for DiCaprio, as he previously owned an apartment with features such as a Vitamin C-infused shower and mood-enhancing aromatherapy air at 66 East 11th Street in Manhattan. He didn't fare particularly well with that condo, which he sold at a loss in December 2016. Maybe it wasn't close enough to a Citi Bike station.
DiCaprio does still own two apartments in the eco-friendly Two River Terrace, in Battery Park City. Alas, he's testing out other neighborhoods as of late, as he was reportedly renting a three-bedroom unit at 172 Madison, in NoMad, at the beginning of the year, resting before he starts filming Quentin Tarantino's Once Upon a Time in Hollywood with Brad Pitt. We wonder if Marrone will enjoy that movie more than she liked The Revenant—she wrote on her lifestyle blog that the movie was "overly hyped up," and she "wasn't too impressed." She did, however, say her boyfriend's role was "beyond amazing" and correctly predict that it "may be the year Leonardo DiCaprio finally wins an Oscar!"