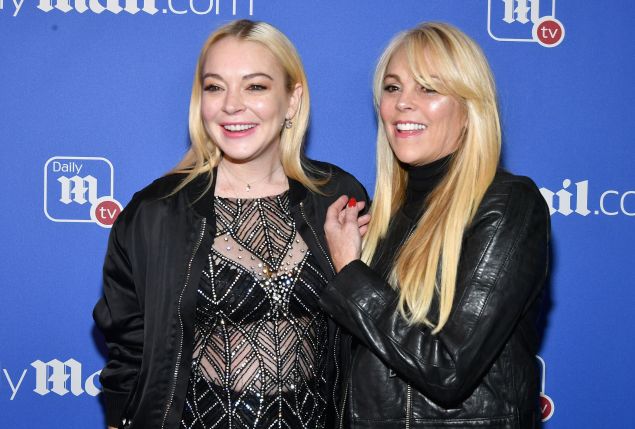 Lindsay Lohan has spent the past few years living in Dubai, far from her previously adopted city, London, and even further from her Long Island hometown.
But Lohan is not going to be able to visit her childhood house anytime soon—because her mother, Dina, lost a years-long legal battle for the residence, which is now in foreclosure.
JP Morgan Chase refiled a lawsuit earlier this year, alleging Dina defaulted on her mortgage, once again. Per court documents obtained by The Blast, a judge in New York ordered the house be sold at auction within 90 days. This final action is due to Dina failing to answer to the foreclosure lawsuit; she simply didn't show up in court to respond to the suit filed by JP Morgan.
As of December 2017, Dina still owed nearly $1.5 million on the property, which was due in October 2017.
Dina has been trying to hold onto the home for years. She managed to avoid losing the two-story house in Merrick in 2012, largely due to Lindsay lending her $40,000, per Page Six. In 2013, JP Morgan Chase sued her for foreclosure, even though a deal was worked out.
https://www.instagram.com/p/BgYaAXbBWOY/?hl=en&taken-by=lindsaylohan
It seems Lilo wasn't able to bail her mother out this time around. While the duo has had their fair share of problems in the past (police were called to the aforementioned house in 2012, when the mother and daughter got into a "verbal dispute"), they appear to be on perfectly fine terms as of late. Lindsay returned to New York for a visit earlier this year, Dina visited Lindsay in the Middle East, and the former Freaky Friday actress and current club owner (yes, she did indeed open Lohan Nightclub in Athens, Greece in 2016) shared an Instagram photo on March 16 with her mother and sister in the Dubai Miracle Garden.
But apart from simply not wanting to hand over more than $1 million as a loan, perhaps the nightclub business isn't quite as profitable as Lindsay hoped. Or, maybe her new gig as the Lawyer.com spokesperson isn't a lucrative endeavor. so we're just going to have to wait and see if she decides to bail out her mom once again.