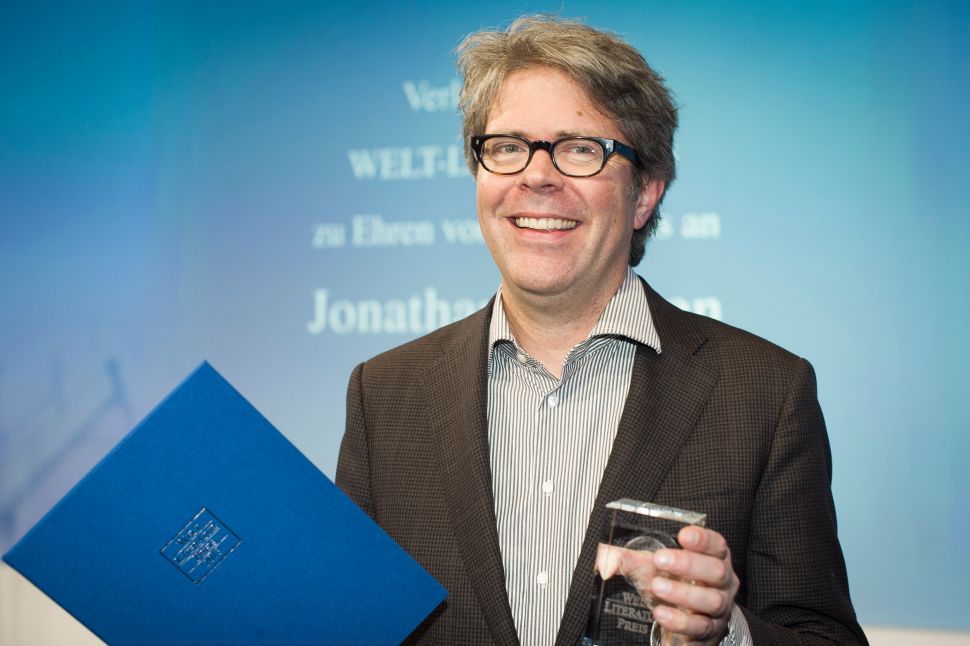 "She was notably larger than everybody else, also less unusual, also measurably dumber."
That's how Jonathan Franzen describes one of the main characters in his 2010 book Freedom.
With the onset of #MeToo, you'd think male authors would be more careful about the words they use to describe women. But this weekend, females on social media proved many men still don't understand the female gaze.
It all started with this early morning tweet from podcaster Whit Reynolds.
Over the past day her challenge has garnered thousands of responses. Here are some of the best.
A lot of these tweets are hilarious, and the thread was definitely a fun weekend time waster. But it also reveals a deeper, more disturbing truth.
"Women feel a lot of frustration with how they're viewed by men," Reynolds told Observer.
Indeed, male authors are often dismissive of female characters, a problem that has persisted for decades. Franzen is the most famous example of this phenomenon—he's such a stereotypical WASP that the URL ciswhitemale.com redirects to his Facebook page.
And Freedom isn't the only tome where he's made eyebrow-raising comments about women. Here's how he describes a character in his 2001 bestseller The Corrections:
"His girlfriend in college and long after, Tori Timmelman, was a feminist theorist who'd become so enraged with the patriarchal system of accreditation and its phallometric yardsticks of achievement that she refused (or was unable) to finish her dissertation."
In light of this, it's no wonder that Franzen called Oprah's Book Club "corporate ownership" and described Edith Wharton as a "sexually ignorant" woman who "didn't look like Grace Kelly."
Many male authors have adopted Franzen's characteristics when describing real people. Several profiles of well-known Hollywood starlets have gone viral in recent years because they were written by leering men.
Last year writer Rob Haskell made waves when he described Selena Gomez as a "doll-like… seven year old" whose body was "bathed in beatific light" in Vogue. The two also cooked together, and Haskell gave their time in the kitchen sexual overtones.
"As I slip an apron over her mane of chocolate-brown hair, for which Pantene has paid her millions, and tie it around her tiny waist, I wonder whether her legions have felt for years the same sharp pang of protectiveness that I'm feeling at present," Haskell wrote.
A Vanity Fair profile of Margot Robbie by Rich Cohen also made waves.
"She is 26 and beautiful, not in that otherworldly, catwalk way but in a minor knock-around key, a blue mood, a slow dance," he wrote. "She is blonde but dark at the roots. She is tall but only with the help of certain shoes. She can be sexy and composed even while naked but only in character."
So it's clear that male authors' fixation with the female body isn't just confined to Twitter. But what can be done about it?
One solution is to show men how their female fan fiction rings false. Meg Elison's McSweeney's article "If Women Wrote Men the Way Men Write Women" does a good job of this.
"There is a particular look about a teenage boy that lets you know what kind of man he'll be," one example reads. "A certain fullness of lips, a frank sensuality in his gaze. We all know what the word for that is, but it's not polite to use it until he's proven he's that kind of boy."
Another, more permanent fix for men writing about women is to emulate the men who do it well already. Young adult authors are especially good at this dichotomy, presumably because they're writing for a more sensitive audience. Roald Dahl, E.B. White and Lemony Snicket have dreamed up particularly strong heroines.
In adult fiction, Jeffrey Eugenides, Kazuo Ishiguro, John Green and Ian McEwan have all been praised for their female-fronted stories. And tattooed computer hacker Lisbeth Salander, one of the 20th century's most enduring heroines, was the creation of male journalist Stieg Larsson.
"When you're writing women, remember that they're people," Reynolds said. "If you find yourself focusing unduly on a female character's appearance, just try to imagine if you'd ever write that way about your male characters."
Given the many great examples out there, it's a shame that male authors keep falling into the same tired tropes. Hopefully, this Twitter movement will inspire some soul searching and make the depiction of women as sexual objects a thing of the past.