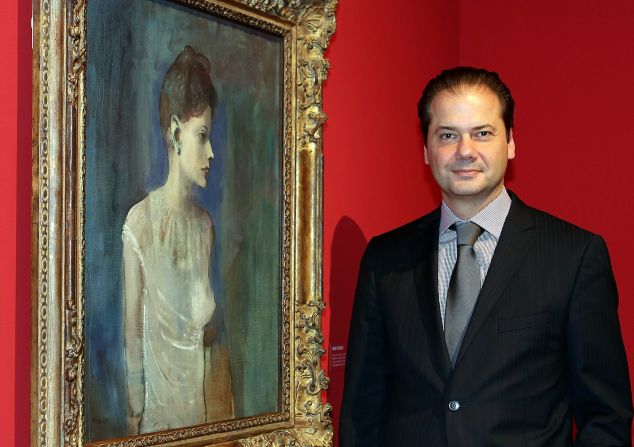 The Metropolitan Museum of Art announced yesterday that it will appoint Max Hollein, currently the Director of the Fine Arts Museums of San Francisco, as the tenth director of the museum since its founding in 1870. In a statistic that will surprise no one, this brings the total number of white males appointed leaders of the Met to…ten.
To be fair, Hollein comes equipped with a pedigree, an impressive resumé and a reputation for progressive vision. The son of Hans Hollein, the Pritzker Prize-winning architect, Hollein began his career at the Guggenheim Museum under the tutelage of Thomas Krens, before moving on to helm all at once three of Germany's most important institutions: the Schirn Kunsthalle, the Städel Museum and the Liebieghaus Sculpture Collection, all in Frankfurt. In only two years as Director of the Fine Arts Museums of San Francisco, he presided over crowd-drawing exhibitions like "Casanova: The Seduction of Europe" and "The Summer of Love Experience: Art, Fashion and Rock & Roll," while also reigning in the institution's unbalanced budget.
Over the past year, the beleaguered Met has weathered its share of scandal and controversy. It was just over a year ago that previous Director Thomas P. Campbell abruptly left his position in the wake of troubles both financial (overextending the museum's funds and leaving plans for a major overhaul of the Fifth Avenue building to rot) and personal (a rumored liaison with another employee). More recently, in an attempt to stanch the fiscal bleed, the Met jettisoned its longstanding and much beloved "pay as you wish" entrance policy for everyone except New York state residents and tri-state area students. Little wonder that the institution wished to bring in a maverick from outside the ranks who might provide both fresh innovation and economic responsibility.
But what a truly maverick position the Metropolitan Museum might have taken if it had bucked its own trend and hired from even farther afield and appointing a woman, or a person of color (or both). Despite its ongoing struggles, the Met remains one of the most renowned institutions worldwide. Selecting someone from outside the legions of white men that already run museums could have been the bold move that encouraged the more diverse, hiring ripple effect within museum administration that the art world claims it longs for but so rarely moves to achieve.
As it stands, a spate of recent dismissals of prominent female museum directors and curators has left many wondering whether the industry is actually just moving backwards. The firing last month of Los Angeles' Museum of Contemporary Art chief curator Helen Molesworth came quickly on the heels of the abrupt departures of both Laura Raicovich, director of the Queens Museum, and María Inés Rodríguez, director of Museum of Contemporary Art (CAPC) in Bordeaux, France just weeks earlier. Variously tagged as insubordinate, demanding, and overtly political by their boards, one can't help but wonder what qualities a female maverick might need to possess in order to keep her job; or even better, what she might do with those outspoken qualities if allowed to foster and cultivate them.
For now, those questions will not be answered by our nation's preeminent museum. Max Hollein will take the reins of the Met when he arrives in New York this summer. Of course, one hopes he'll provide much-needed stability and forward-thinking imagination to the institution. But his tenure will also be a reminder that the status quo is a stronghold, and it generally prevails.