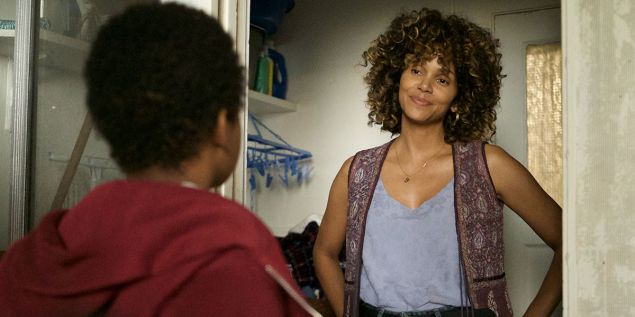 If it's worth saying once, it's worth repeating: good intentions do not always a good motion picture make. So true about Kings, a noisy and confusing train wreck about a hard-working mother trying to hold together a family of eight foster kids of every age during the rampant 1991 riots in South Central Los Angeles (a.k.a. Watts) following the Rodney King beating. Despite sincere work by Halle Berry, Daniel Craig and a lot of unknown youngsters, the film, poorly edited and weakly unfocused by Turkish writer-director Deniz Gamze Ergüven, is a real mess.
Combining the headline-making chaos in the aftermath of both the L.A.P.D. treatment of King and the fatal shooting of innocent 15-year-old Latasha Harlins by a convenience store owner who thought she was stealing orange juice, Ergüven tries to show the forces that conspire to drive frustrated children to violence—children who Windex windshields stalled in traffic, steal groceries, curse authority and do whatever they can to survive. Constantly stopped, searched and harassed by cops, their lives are so compromised that you can almost understand their rebellion. But in the looting and shooting that finally catapults the movie into formless anarchy, incoherence reigns.
---

KINGS ★
(1/4 stars)
Directed by: Deniz Gamze Ergüven
Written by: Deniz Gamze Ergüven
Starring: Halle Berry, Daniel Craig and Lamar Johnson
Running time: 92 mins.

---
Obviously the two sadly wasted stars added the wattage of their names to Kings out of some socio-political need to tell it like it is (or was), but their roles are not defined clearly enough to make their contributions worthwhile. Halle Berry is sympathetic as a mother in danger from the child welfare bureau who bakes cakes for extra money to hold her surrogate family together and teach her wards the meaning of responsibility, but Daniel Craig is oddly miscast as an irritated neighbor who suffers from her brood's constant noise and pandemonium (only until she beds him to shut him up) and they both end up handcuffed to a lamp-post. Their noble efforts at attempted relevance fall flatter than a wet tortilla.
With so many kids running wild around L.A. like headless chickens while Berry tries to round them up and get them to safety, it's hard to keep up with who is doing what, or why. Occasional moments of interest include: children trying to get a friend to the hospital in a stolen convertible before he dies of gunshot wounds, intercut with archival news footage of looters stampeding through the streets with all the merchandise they could carry, hungry children gorging on Burger King sodas and Whoppers.
As the city explodes, so does the movie. That it haphazardly unravels in splinters and shards is annoying but apt, since it's a movie of fragments set in a city of fragments where everything comes at you in sections. The most touching moment: One child tries to figure out why Los Angeles is called the "City of Angels," when there is no sign of an angel anywhere.