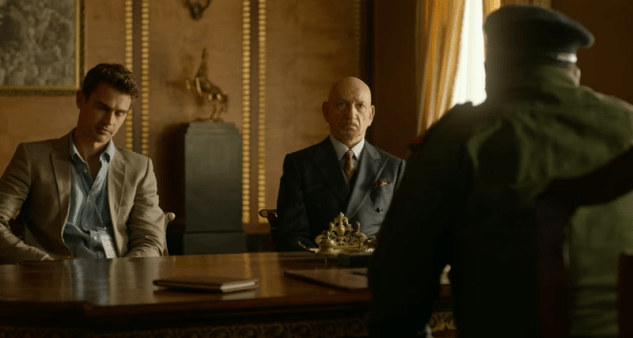 Set in Iraq but filmed in Morocco with Baghdad played by Toronto, Copenhagen and Casablanca, starring a British actor impersonating an American, and lensed by a director from Denmark, Backstabbing for Beginners is something of a mess. A real-life political thriller about the doin's in the ruins of Saddam Hussein's dictatorship between the end of the Gulf War and his execution in 2006, centered on the 2002 scandal that revealed billions of dollars had been stolen from the United Nations' humanitarian program called Oil-for-Food, it involves so much internecine crime that it would be hard to understand under any circumstances, but this film is a drier head-scratcher than it needs to be.
The impossibly movie-star handsome Theo James, British-born and jockeying for position as a Hollywood hunk who can also act, stars as Michael Sullivan, a pseudonym for diplomat-turned-journalist Michael Soussan, on whose published memoirs the film is based. In 2002 he was a 24-year-old idealist hired by the U.N as an assistant to Pasha, the veteran Undersecretary General in charge of the ambitious Oil-for-Food program with a yearly budget of $10 billion. Despite the fact that Michael's father, a respected diplomat, was killed in a U.S. Embassy bombing when Michael was five years old, he wants to follow in his footsteps, worshiping his dad's memory. Since his sister is also married to a government official, diplomacy is part of his family's DNA, so the U.N. job is a dream come true that he sees as a chance to devote his career to helping people and saving the world. He has no idea of the horrors that lie ahead.
---

BACKSTABBING FOR BEGINNERS ★★
(2/4 stars)
Directed by: Per Fly
Written by: Per Fly and Daniel Pyne
Starring: Theo James, Ben Kingsley, Jacqueline Bisset, Rossif Sutherland and Belçim Bilgin
Running time: 108 mins.

---
His first day on the job, Pasha (Ben Kingsley) dispatches him to Iraq to write a favorable report for the Security Council that will keep the Oil-for-Food program going. Almost immediately, he's up to his handsome profile in political intrigue and physical danger, learning things Pasha hasn't told him, including the suspicion that his predecessor, who died in a car accident, was a victim of foul play. The CIA informs him that the Oil-for-Food program is being sabotaged by a massive conspiracy of bankers, businessman and politicians including Saddam Hussein, the Mafia, and even Pasha himself.
In a small, wasted role, Jacqueline Bisset makes a rare appearance as the U.N.'s regional field director who knows what's going on, is sick of the lies, and determined to tell the truth about why the program is failing. She's the obstacle in Pasha's way of milking the program of the profits from medicine and supplies, and he urges Michael to destroy her.
It's a labyrinthine narrative with complex relationships too numerous to keep track of, and when Michael is left behind in Baghdad to investigate further, what he finds is a reign of terror that includes torture, land mines, cluster bombs, nerve gas and chemical genocide. The gigantic loads of information dispensed in every scene are not always easy to follow, and considering all of the corruption, kickbacks, government abuse, bribes, black market crimes and dying civilians, a romance between Michael and his pretty interpreter, who turns out to be a Kurdish spy seeking asylum in New York, seems like unnecessary filler.
It's not much of a surprise when the hero learns he's been a pawn in a global conspiracy in which his boss is a major crook, or proves diplomacy (like everything else these days) is no longer what it used to be. Theo James has the looks, skill and range of an actor on the verge of superstardom, and Ben Kingsley injects some humor into his role as master villain, but the script (by director Per Fly and Daniel Pyne, who wrote The Manchurian Candidate) is too crammed with information that it sounds like historical footnotes. There are so many ideas rattling around in Backstabbing for Beginners that are never resolved, and so many duplicitous characters that are never satisfactorily explained, that the end result is a muddle of confusion and violence that could end the future of tourism in Baghdad forever.