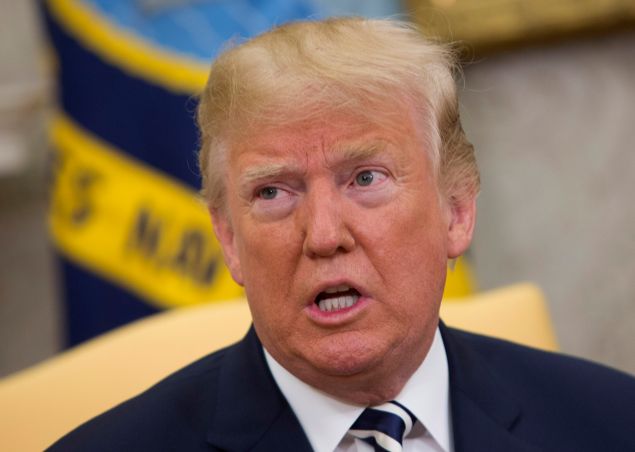 The scandal surrounding President Donald Trump and his reputed secret ties to the Kremlin has swirled around him since before his inauguration 15 months ago. For his entire presidency, just what the commander-in-chief's relationship with Moscow—no friends of ours, no matter how ardently Trump wants the Russians to be—actually it has hovered darkly over the Oval Office, never moving on. It's no wonder the president has rage-tweeted so frequently about the investigation into his Russian links, proclaiming NO COLLUSION! too many times to count anymore.
That said, the public still has no concrete idea of what lies at the heart of the Department of Justice's classified inquiry of Trump's secret ties to the Russians that's led by Robert Mueller, the former FBI director. That investigation, which has access to vast amounts of top-secret intelligence from American and allied spy agencies, has been run with a degree of security seldom witnessed in Washington, D.C., with leaks from Team Mueller being few and far between.
In that incestuous company town on the Potomac, the gold standard for scandal for the last 45 years has been Watergate, the infamous imbroglio that took down President Richard Nixon. In a ham-handed effort to cover up a relatively minor, if embarrassing crime—a black-bag break-in at the Democratic National Committee's office at the eponymous Watergate complex—the Nixon administration tied itself in illegal knots that eventually became unstuck and doomed them. "It's the cover-up that gets you, not the crime," became the pol's mantra after Watergate, leading to suspicions now that Team Mueller will go after Team Trump for obstructing justice before anything else.
This is plausible. It's certainly easier to prove obstruction than unraveling a complex, multi-year criminal conspiracy for a jury. Regardless, there are significant differences between Watergate and Kremlingate that need to be clarified. While Nixon liked to complain about the partisan "witch hunt" out to get him, just like the current Oval Office occupant, Tricky Dick was a skilled political operator, a savvy veteran of Washington wars. In contrast, Reality TV Don is an utter political neophyte who came to the White House with no apparent understanding of how the U.S. government works; worse, he seems to have learned precious little over the last 15 months of increasingly part-time work as the commander-in-chief.
Trump's lazy preference for FOX (FOXA) News over the super-secret President's Daily Brief by our Intelligence Community is well known. He is viewed with undisguised contempt for his venality and stupidity, even by his hand-picked top staff. Trump's own National Security Council chair observed that, during briefings, the president "wasn't absorbing a f*****g thing he said," while his secretary of state called him "a f*****g moron," a put-down the country's top diplomat walked back in an unconvincing, pro forma fashion.
Someone as unmotivated and unskilled as Trump ought to have chosen top people for his administration, but he did not. By and large, the working staff of Trump's campaign-turned-White House consists of fourth-raters deemed too unskilled or simply too dumb to get a job in any administration but Trump's. Therefore, we have shady political hacks considered untouchably unsavory and crooked by Washington's shady political class. There are sub-shop managers masquerading as consiglieri. There are soi-disant academics turned Fox News blowhards. There are deviants in league with foreign intelligence. There are of course wife-beaters and related criminals. While it was once fashionable to deride Nixon's staff as inept bunglers lacking basic ethics, they loom as moral paragons and MacArthur Fellows compared to the doomed crew of room-temperature-IQ wannabes that Trump has collected around himself in Washington.
However, the greatest distinction between Watergate and Kremlingate is the underlying crime. In the case of the former, it was a politically-motivated break-in; with the latter, it appears to be collaboration with a hostile foreign power that may be tantamount to treason. Whatever Nixon's flaws, he was a veteran and former Navy man who was impeccably loyal to the United States. Trump is a draft-dodger who tears down our national institutions, one by one, while possessing a strange unwillingness to criticize Vladimir Putin—whose nasty crimes abroad have increased since January 2017—under any circumstances, for anything.
But is Donald Trump actually a Russian agent? To the eyes of a veteran counterintelligence hand, the answer to that question is: Not exactly. Trump is far too psychologically unstable and personally compromised to be deemed a good fit for clandestine work by the KGB (or any serious spy service). However, Trump gives every appearance of being a longtime agent of influence, to use the proper Chekist term, that is a person (often a high-flyer in business or politics) to be exploited as a conduit for pro-Kremlin propaganda.
Agents of influence are frequently not on the Chekist payroll, strictly speaking, though they are often given sweetheart deals by Moscow as payment for services rendered. The classic American case was Armand Hammer, a son of Jewish immigrants from Odessa made good with an impressive business empire, Occidental Petroleum; in fact, Hammer's start in business was arranged by Kremlin spies, and his KGB sponsorship was barely hidden during the Cold War. He was an unfailing public advocate for Moscow and, embarrassingly, his political connections in Washington, which were substantial, ran through Democratic Senators Al Gore Sr. and Jr., who took significant donations from Hammer that counterintelligence circles believe originated in Moscow. It's best to think of Trump as a markedly less successful and less intelligent Armand Hammer.
This relationship began no later than the summer of 1987, when Trump visited Moscow and Leningrad, at the Kremlin's invite, ostensibly to discuss building hotels in Russia (which, three decades on, have never materialized). In fact, Trump's VIP visit was arranged by the KGB, as all such Cold War sojourns by Western notables were. The KGB invariably assessed whether foreign VIPs might be amenable to secret work for the Kremlin. (Two East Bloc intelligence veterans, one with direct knowledge, confirmed to me that Trump was closely watched for "operational purposes" during his 1987 visit to Moscow and Leningrad.)
Whether the KGB got anywhere with Trump in 1987 remains unknown, but it seems a remarkable coincidence that, barely a month after his return from the USSR, he made a splash by taking out newspaper ads in three major outlets, at a cost of almost $95,000, lambasting America's allegedly free-loading allies. The plus-sized ads demanded that the United States disband the Western security system altogether, which of course was precisely what Moscow wanted. Trump's public attacks on America's allies thus began—and have continued to the present day.
Unfortunately for Trump and whatever deal he may have reached with Moscow, the Soviet Union fell apart four years later, and the KGB disbanded, at least for a while. In the 1990s, when his real estate/casino empire went bust and he desperately needed cash to stay afloat—which no American bank would lend him, knowing his creditworthiness—Trump apparently went to less conventional lenders to make good on his enormous losses. By the end of the 1990s, the Trump Organization was again in the black, though nobody officially can explain how, based on public records. Here Trump's associations with less-than-upstanding biznismen from the former Soviet Union seem to have played a dubious role.
Suspicion lingers that in the 1990s the Trump Organization, which failed as a legitimate business, reinvented itself as a money-washing machine for Eastern organized crime. There's evidence that this is precisely what happened, and it's been hiding in plain sight for nearly two decades. The Treasury Department's $10 million fine levied in 2015 on the now-defunct Trump Taj Mahal casino in Atlantic City for pervasive violations of the Bank Secrecy Act gives hints that there's a lot of unraveling being done by Team Mueller as it gets to the bottom of what the Trump Organization really is.
Nevertheless, the question lingers of what exactly the Kremlin had to do with getting Trump into the White House. It's obvious that, using its intelligence services and fronts like WikiLeaks, Moscow clandestinely inflicted enormous damage on the Democrats and Hillary Clinton in 2016. It's not clear, however, that this was an explicit effort to boost Trump, since the Kremlin seems to have been as surprised as President-elect Trump was himself on the night of November 8, 2016, when he appeared stunned by the realization that he won the election.
Western intelligence has evidence that Trump may have discussed his impending presidential run with Kremlin higher-ups in November 2013, when he was in Moscow for the Miss Universe pageant. That he's hiding something is indicated by the fact that Trump can't keep his basic story straight about that visit. At times, Trump has denied he even spent the night in Russia, as if he magically flew from the United States to Moscow and back, hosting the Miss Universe event for the cameras, without an overnight stay. We've recently learned that Trump in early 2017 informed then-FBI Director James Comey that Vladimir Putin bragged to him, "We have some of the most beautiful hookers in the world"—notwithstanding the fact that Trump had repeatedly claimed he'd never met the Russian president. That Trump's political guru Steve Bannon was test-messaging Putin for campaign purposes back in 2014 now seems more than coincidental.
Nevertheless, the absence of any coherent Kremlin plan that was coordinated with candidate Trump before November 2016 is indicated by the multiple, bizarre interactions between none-too-bright Team Trump figures and Russian operatives in the months before our election. Some of them were alarmingly ad hoc and careless. To take just a few of these strange events, there was the June 2016 Trump Tower meeting between top Trump campaign officials, including family members, and a known Russian senior intelligence operative, ostensibly to discuss international adoptions. There was the mid-2016 employment of Paul Manafort, a man with deep Kremlin connections, including his apparent Russian spy handler to win Trump the Republican nomination. There were the multiple outreaches to the Russian embassy in Washington throughout 2016, which Team Trump sought to conceal. There was even the nutty cold-email sent to Moscow by Michael Cohen, Trump's longtime not-exactly-attorney, suggesting business cooperation between Team Trump and the Kremlin.
True to Trumpian form, now that Cohen is in deep legal trouble, the president has suggested he barely knows him. This sort of bald-faced lie, uttered without concern for its ridiculousness, has worked well for Trump for decades. It will no longer. Now that Team Mueller is getting to the bottom of Trump and his secret life, slowly and meticulously, the president's customary options of lies and more lies, buttressed when needed by background calls to reporters by "John Barron," will no longer suffice to make investigations go away.
What, then, can we say about Trump and the Kremlin? To anyone versed in counterintelligence, particularly involving Russians, Trump seems to have been an on-again, off-again agent of influence for Russian intelligence for at least three decades. We can assume that Kremlin spies long ago took the measure of him and realized he was an erratic figure who could be useful to Moscow, if kept at arm's length. His desire to run for the presidency was likely deemed useful for Putin and his retinue, but they surely considered it as unlikely to succeed as everyone else did. Donald Trump's poetic undoing will be his unplanned winning of the White House. That unanticipated victory is bringing him the deep scrutiny by federal authorities that Trump and his flimflam business empire long needed, but never got. Moscow, too, will likely rue the day that they secretly helped get their man in the Oval Office.
John Schindler is a security expert and former National Security Agency analyst.