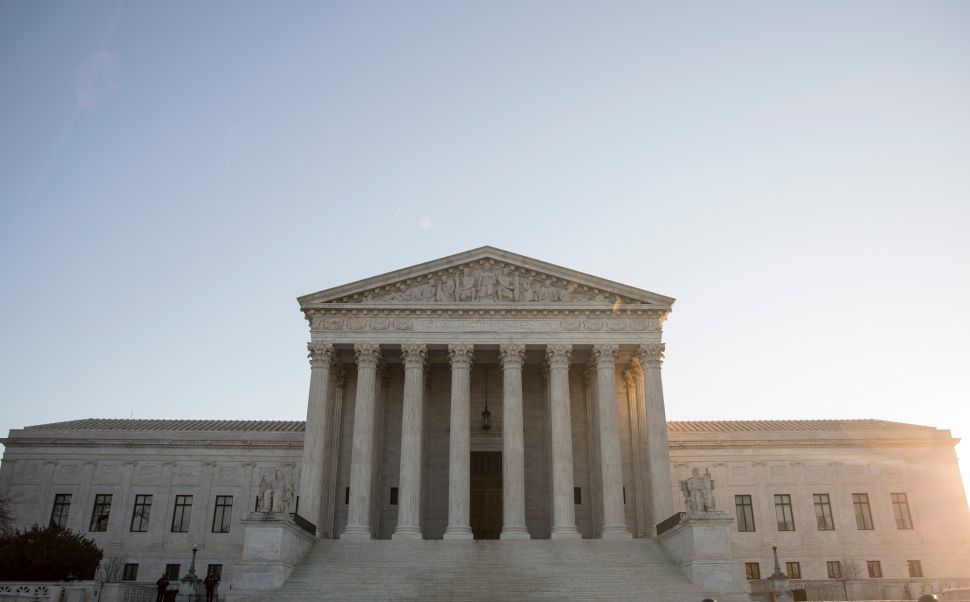 The state of New Jersey has racked up more than $8.6 million in legal bills fighting to legalize sports gambling, a big bet that could pay off if the U.S. Supreme Court sides with the state in its sports wagering case.
Two private law firms with connections to former Gov. Chris Christie combined to bill $8.66 million since 2012, according to invoices and information obtained by Observer through a public records request.
The legal costs are part of a five-year effort by Christie to bring Las Vegas-style sports gambling to the state's casinos and racetracks. The high court could rule on the case as early as this month.
Gibson Dunn & Crutcher has billed more than $7 million to represent Christie from October 2012 to November 2017, according to the state Division of Law. The invoices don't include the oral argument that took place before the high court in December. The firm is now representing Gov. Phil Murphy, who took office in January and supports legalizing sports betting.
The Division of Law initially sent Observer information about Gibson Dunn invoices totaling $5.6 million. But after this story published, records custodian Octavia Frias said the spreadsheet "inadvertently left off five invoices" that totaled more than $1.4 million. The division sent Observer an updated spreadsheet on Friday that brought Gibson Dunn's billings to roughly $7 million.
The Division of Gaming Enforcement and the Racing Commission pay Gibson Dunn's legal bills with fees paid by the casino and horse racing industries, according to the Division of Law.
Gibson Dunn is the law firm that billed New Jersey taxpayers millions of dollars to investigate the Bridgegate scandal at Christie's behest. The law firm produced a widely panned report that uncovered no wrongdoing, yet, at the same time, declared Christie innocent.
Another law firm, Gibbons P.C., has billed $1.5 million to represent the state legislature from December 2012 to February 2018, according to invoices from the Senate Majority Office.
In addition, Gibbons P.C. billed the New Jersey Sports and Exposition Authority $77,000 from November 2014 to January 2015, according to invoices from the authority.
One of Christie's closest allies, Bill Palatucci, is special counsel at Gibbons P.C. Palatucci was general counsel to the Republican governor's 2016 presidential campaign and chairman of Christie's 2013 reelection campaign.
In December, the U.S. Supreme Court indicated that it may side with New Jersey and allow the state to legalize sports betting. A majority of justices hinted they saw merit in New Jersey's argument that a 1992 federal law banning sports betting in most states was unconstitutional because it interfered with the state's ability to pass laws.
Before the high court took up the case, the state lost several legal battles to legalize sports wagering.
Most recently, in August 2016, the Third Circuit ruled that New Jersey's law repealing a ban on sports gambling violated the 1992 federal law, called the Professional and Amateur Sports Protection Act.
New Jersey voters approved a constitutional amendment legalizing sports gambling in 2011, and Christie signed laws in 2012 and 2014 to implement that amendment. Five of the biggest sports leagues in the country, including the NFL and the NCAA, filed legal challenges to strike down New Jersey's law, claiming it would ruin the integrity of their games.
The American Gaming Association estimates that Americans currently illegally wager upwards of $150 billion annually on sports betting. While the case has been fought primarily by New Jersey, a number of other states are supporting the potential change as they eye a potential revenue influx.
Update (April 6, 2018): A Division of Law records custodian said she found five more invoices from Gibson Dunn after this story published. This story has been updated to reflect the new total billings.