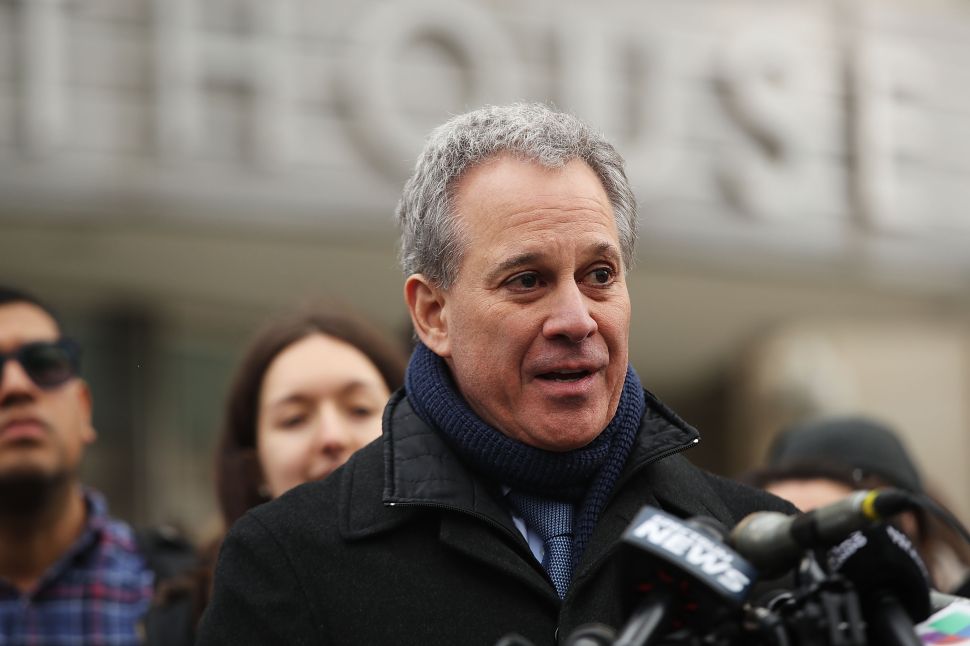 New York Attorney General Eric Schneiderman said he will investigate a shooting in the Crown Heights section of Brooklyn on Wednesday after a 34-year-old black man with mental health issues was shot by officers who mistook a metal shower head he was holding for a gun.
On Thursday, the NYPD released a 50-second video with transcript excerpts—but not the actual recordings—of the 911 calls associated with the shooting as well as surveillance videos. Neither the mayor's office nor the NYPD responded to requests for comment about why the recordings were not included.
At about 4:40 p.m., the NYPD received 911 calls from three different people describing a man, identified has Saheed Vassell, who was in possession of what appeared to be a silver firearm and was pointing it at people on the street, according to the transcript. The video released to the public includes video from commercial establishments along Utica Avenue.
Officers responded to the corner of Utica Avenue and Montgomery Street where they encountered Vassell and he allegedly "took a two-handed shooting stance" and pointed an object at the cops, two of whom were in uniform, according to Terence Monahan, NYPD's Chief of Department. Four officers then discharged their weapons, striking Vassell, who was pronounced dead at Kings County Hospital.
But it turned out that Vassell had a metal shower head in his hand—not a gun—prompting outcry from elected officials and police reform activists.
In 2015, Gov. Andrew Cuomo signed an executive order making Schneiderman the special prosecutor in cases where law enforcement kills a civilian under suspicious conditions.
Following the fatal shooting of 37-year-old Delrawn Small in a Brooklyn road rage shooting in July 2016 by 38-year-old Wayne Isaacs, an off-duty cop, the governor expanded the fiat to grant Schneiderman prosecutorial power over "any and all unlawful acts or omissions or alleged unlawful acts or omissions by any law enforcement officer relating to the death of Delrawn Small." In November 2017, Isaacs was acquitted.
At an unrelated press conference in Queens on Thursday afternoon, Mayor Bill de Blasio told reporters the shooting is a "very painful situation" and a "tragedy by any measure." He also vowed to work "fully and cooperatively" with Schneiderman.
"This is a tragedy because a man with a profound mental health problem, from what we understand so far, was doing something that people perceived to be a threat to the safety of others," de Blasio said. "That's what we know so far, there's still again a lot more to know. But from what we've seen from the images that are publicly available, people in the community thought he had a weapon and was aiming it at residents."
When asked if Vassell had any interactions with ThriveNYC, the city's mental health initiative spearheaded by First Lady Chirlane McCray, he said the city needs to figure out if there was any knowledge of him "that could have led to help for him much earlier."
He noted that one of the elements of ThriveNYC is to provide more mental health services at the community level in places such as schools, community-based organizations and clinics.
"We don't know yet whether he had any connection to any of those services, we need to find out," de Blasio continued. "There's another thing we do which is a focus on folks who have a history of violence and diagnose mental health problems… I don't know of him having had that history of violence that would have put him on the radar screen that way."
When asked whether de-escalation training was implemented and whether it could have helped in this situation, de Blasio said they do not "know the facts fully" yet. Still, he maintained that all officers will have body cameras by the end of the year and that de-escalation efforts have worked in the past.
Last year, he said, officers used their weapons in adversarial situations under 40 times.
"So there's a lot of restraint that's being taught and practiced," the mayor added. "It depends on the individual situation, what the officer's confronted with and again, we just don't know the facts."
He also said the city would have to determine whether community police officers in the area knew about Vassell.
This is not the first time that the city and the NYPD have been criticized for their handling of individuals with mental health issues.
After NYPD Sergeant Hugh Barry was acquitted in the fatal shooting of Bronx woman Deborah Danner, an emotionally disturbed person (EDP), elected officials and advocates urged the city and the NYPD to adopt reforms ending interactions between police officers and EDPs.
Anthonine Pierre, director of the Brooklyn Movement Center, which is part of Communities United for Police Reform, said initial reports falsely claimed Vassell had a gun and blasted the use of new terms like "shooting stance" and the "selective release" of photos and information. She also said Schneiderman's probe should be "swift, thorough and transparent."
"Despite the mayor and first lady touting their mental health initiative, they continue to be silent about the repeated killings of people in emotional distress by police, which now totals at least 11 in the past four years," Pierre said in a statement. "There are solutions to these problems that can prevent these killings, but the de Blasio administration needs to be willing to truly listen to people in impacted communities and take action on their solutions to change the status quo."