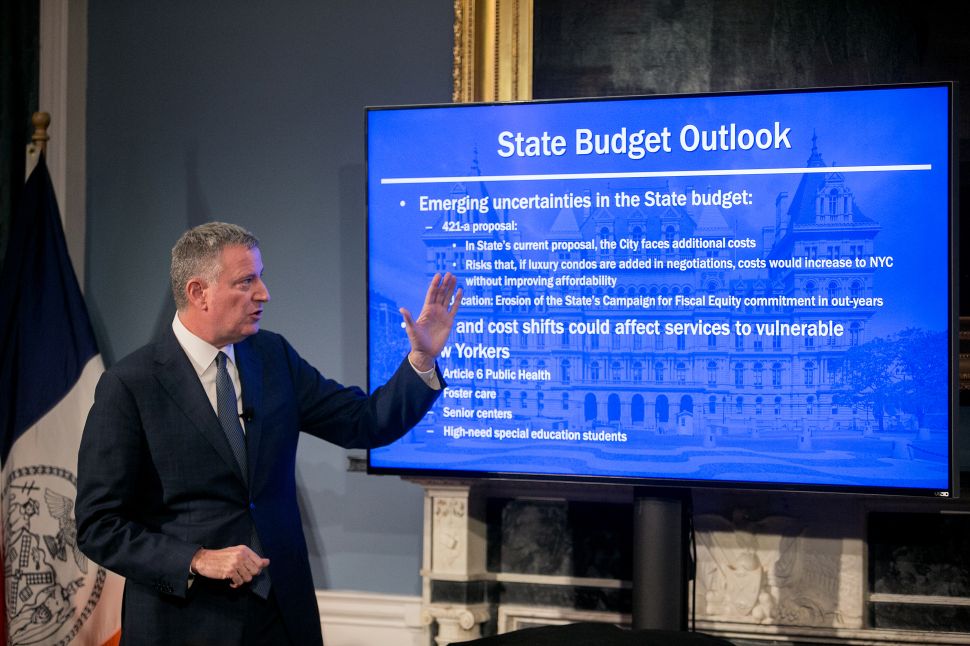 Mayor Bill de Blasio said that New York City was forced to spend $530 million in his $86.09 billion fiscal year 2019 executive budget to compensate for money that Albany required the city to provide to the state, as well as funding the city was expecting from the state but didn't get.
The mayor said the state specifically did not provide sufficient funding for education and juvenile justice initiatives, forcing the city to spend more money to compensate for the cuts. He also said the city was forced by the state to cough up more money to fix the subway system, which is overseen by the Metropolitan Transportation Authority (MTA), a state-run agency.
"So, this is cautionary that we saw this many cuts and cost shifts this year in Albany—about $530 million in hits," he told reporters at City Hall on Thursday afternoon. "That is, to put it in perspective, about 25 percent of all new city spending in this budget. It's because of the need to compensate for cuts and cost shifts that came out of the Albany budget."
The $530 million includes $254 million that the city has to contribute to an $836 million short-term emergency plan unveiled by MTA chairman Joe Lhota to fix the city's beleaguered subway system—which has been plagued by delays and service problems over the last several months—and $140 million less than the city had expected to receive in state aid for city schools.
"The school aid shortfall, I think a lot of observers were really surprised by this," de Blasio continued. "We expected—and everyone is a mature adult here—in an election year, we expected Albany to go further on school aid. We were very surprised they did not."
He also warned that the city will have to spend $108 million to fulfill a measure that raises the age of criminal responsibility from 17 to 18.
And he added that the city is spending $31 million on Close to Home, a juvenile justice program that places city youth whom family courts determine need a period of out-of-home placement in residential programs closer to their families and communities—a program that used to be funded by the state.
Under the program, youth receive therapeutic services in small group homes in or close to the five boroughs where they can easily access resources that can support their treatment and help them transition back into their communities.
"It's a very good initiative," de Blasio added, referring to Close to Home. "I believe in it. But we do not believe it was ever meant to be done without any state support. Unfortunately, the state has walked away from it."
And one major uncertainty, he noted, is an executive order related to the New York City Housing Authority (NYCHA) that Gov. Andrew Cuomo signed recently as part of his fiscal year 2019 state budget appointing an independent monitor who will be chosen by the City Council and NYCHA tenants via a council of presidents.
City Comptroller Scott Stringer will also work with the monitor, who will pick an independent contractor who will oversee projects. De Blasio previously called the state executive order "very unusual."
The steps were taken to address recent problems plaguing the public housing system, including a lead paint scandal and problems with boilers and heating systems that left 300,000 people without heat and hot water during the winter.
He told reporters the executive order is a "very challenging and potentially dangerous element."
"There's some very open-ended language in the executive order, which could result in the city having to recur a substantial additional cost that will not go through our budget process, that the Council doesn't get to vote on, that I as mayor have no control over," de Blasio said.
He vowed to find a way to resolve the matter.
"We are concerned that that creates a very problematic precedent and, in addition, could have many unforeseen consequences for next year's budget," de Blasio added. "We are gonna look to have that modified… that is an X factor in this budget dynamic. We do not know the full ramification of that executive order."
Still, the mayor noted cuts and cost shifts averted include $144 million for charter schools, $129 million for child welfare services and $65 million for special education.
In February, when he presented his $88.67 billion preliminary budget for fiscal year 2019, de Blasio anticipated the city could face more than $750 million in cuts from Albany.
Rich Azzopardi, senior deputy communications director for Cuomo, told Observer that the mayor is misrepresenting the numbers.
"Shockingly, the mayor's math is wrong. He uses political advocacy math instead of numbers, receiving $334 million more—not less—education aid than last year," Azzopardi said in a statement. "And yes, [he] was forced to pay his half for the subway repairs after he delayed progress for nearly a year and left straphangers hanging. He didn't mention that the state paid $6 billion of the city's cost for the MTA Capital Plan which dwarfs all his other complaints."
With respect to NYCHA, Azzopardi noted that the state committed $550 million "with no legal obligations" because the city failed to make critical repairs. And he added that the emergency order only causes the city to pay for repairs that "they are currently liable for."
"The NYCHA order will be adjusted once the federal investigation of the city concludes to see if he is culpable in the NYCHA malfeasance and what penalty the city will be forced to pay on his behalf," Azzopardi continued. "That is the great unknown."
As to threats from the administration of President Donald Trump, de Blasio said Trump's tax law favors wealthy individuals and that it increases the federal budget deficit. He also said the tax law decreases the likelihood of federal infrastructure investments.
But he admitted that the impact from Washington was less severe than expected, though he cautioned that there is a lot of uncertainty in Washington.
"The negative impact on New York City… has been much less than expected," de Blasio said.