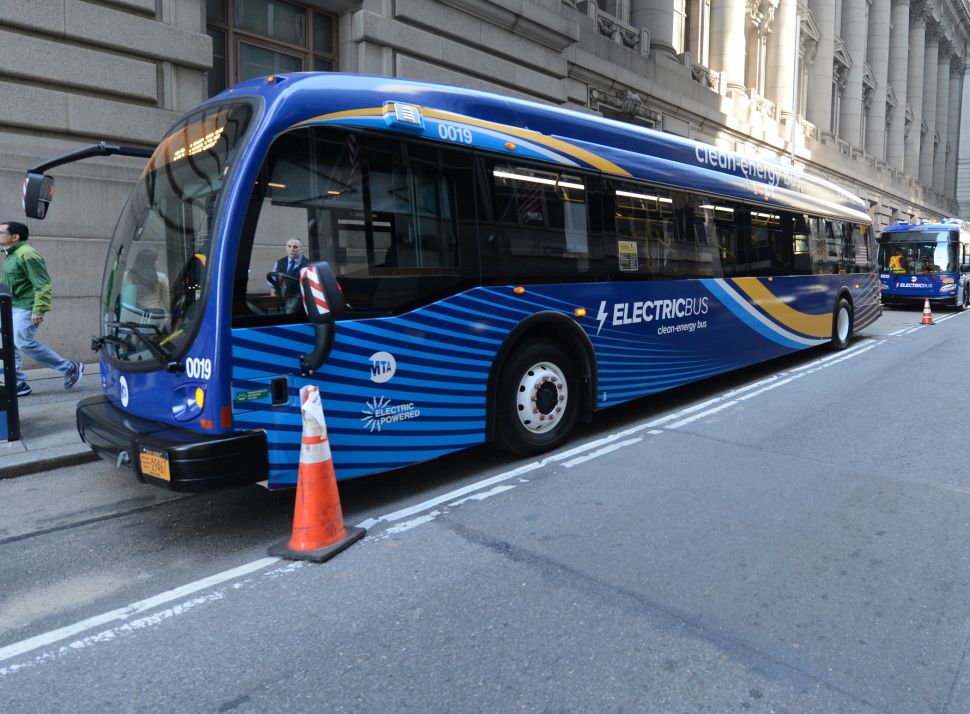 Double-decker buses could be coming to New York City soon as part of a bus action plan unveiled by New York City Transit President Andy Byford on Monday morning.
The MTA will be testing a double-decker express bus on a Staten Island route starting this spring. Another step the MTA will be taking to enhance the bus fleet is using zero-emission, all-electric buses. Earlier this year, the agency started a pilot test of 10 electric buses.
Byford said the MTA is "working tirelessly" to provide New Yorkers with the "world-class bus system" they deserve.
"We're targeting challenges like traffic congestion and enforcement, undertaking bold initiatives like redesigning the entire route network, and pursuing advancements such as the latest computer-aided management, double-decker and electric buses, all-door boarding and improved customer service with more real-time data," he said in a statement. "Our customers will start to see changes this year, and we will never stop improving this critical component of New York City's transportation landscape."
The agency spearheads the largest public bus system in North America, roughly 40 percent bigger than the next-largest bus system—that of Los Angeles, according to the MTA. Every weekday, the MTA provides more than two million rides across 54,000 trips on 326 routes, with a fleet of more than 5,700 buses.
MTA officials presented the double-decker bus that will be tested on the Staten Island express bus route at a press conference in Lower Manhattan on Monday afternoon.
New York City residents expressed enthusiasm over the double-decker bus.
Sally Velez, 45, who lives in the Riverdale section of the Bronx, told Observer the idea is "exciting" and that she likes double-decker buses, referring to the double-decker bus in London as one of her favorites.
"It's spacious and [has] more leg room and it looks modern to me," Velez said, referring to the bus shown to reporters.
Henry Silvie, 54, who lives in the East Flatbush section of Brooklyn, told Observer that he can see the double-decker bus working as an express bus but not as a local bus.
"It's interesting," Silvie said. "I don't see it anywhere in Brooklyn 'cause I could see with the steps alone, someone's gonna fall and I could see that happening."
He also said it could pose an issue for anyone who is more than six feet tall. But he expressed optimism that the double-decker bus will work, calling it "interesting."
"The bus seems comfortable," Silvie continued. "I could see it working. You see double-deckers anyway in the city as tour buses even though it's open ceiling, but still, I could see it working. I could see it working."
The bus action plan, first reported by amNew York, also includes a completely redesigned bus route network and transit signal priority (TSP) technology, a technology used to coordinate transit vehicles and traffic signals to reduce the time buses are stopped.
It also includes a new Bus Command Center and GPS-based displays of bus locations to allow bus operators and dispatchers to work together to reduce "bunching" (uneven spacing of buses that leads to several buses arriving at a stop at the same time).
In November 2017, Comptroller Scott Stringer released an analysis that found the city has the slowest buses of any big city in the United States.
In a statement, Stringer called Byford's plan "a clear step in the right direction" that seeks to address the challenges he highlighted in his report.
"Overhauling our bus system is an economic and social imperative that is absolutely critical to our future," he said. "The plan announced today by the MTA is encouraging and offers hope for real progress. New York is a world class city, and it is time we have a world class bus system to go with it."
At the end of July, MTA Chairman Joe Lhota presented a subway action plan to fix the city's beleaguered subway system.
Scott Gastel, a spokesman for the city's Department of Transportation (DOT), said the DOT expressed satisfaction with the proposals in the bus action plan.
"As [DOT] Commissioner [Polly] Trottenberg noted after today's presentation of the MTA's Bus Action Plan, we see the all door boarding, redesigning of the bus network and tap reader components as positive steps forward and we look forward to our continued partnership with the MTA on improving bus service citywide," Gastel said in a statement.
This story has been updated to include a comment from the DOT.