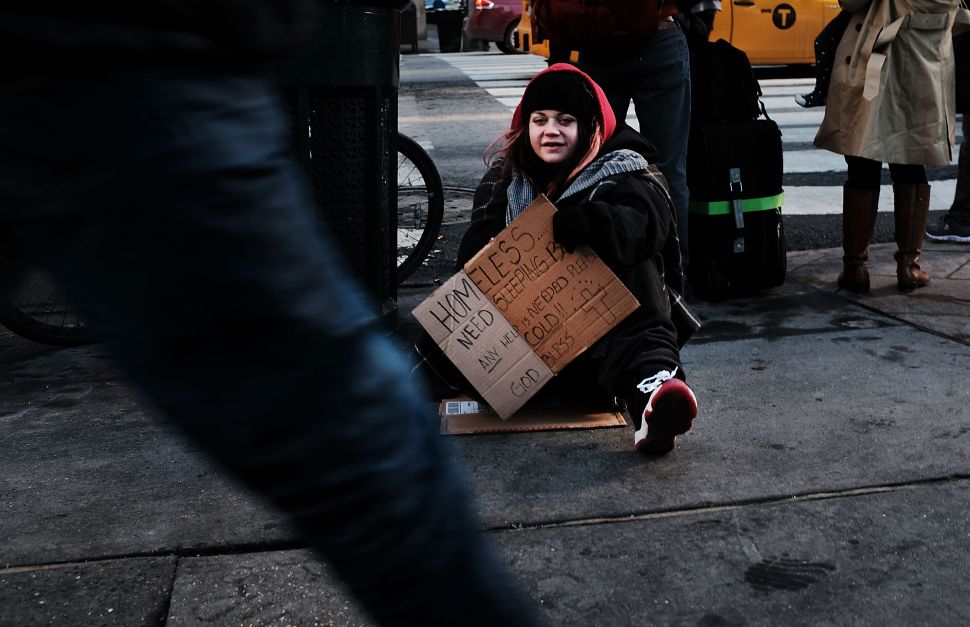 Mayor Bill de Blasio says that New York City's poverty rate is at its lowest level since the Great Recession, with 141,000 fewer New Yorkers in poverty or near poverty in 2016 than there were in 2013. His goal is to get 800,000 individuals out of poverty or near poverty by 2025.
The city's poverty rate dropped to 43.5 percent in 2016—a 1.6 percent decrease from the 45.1 recent rate in 2014, according to the annual New York City Government Poverty Measure report prepared by the Mayor's Office for Economic Opportunity (NYC Opportunity). And the number of New Yorkers who are in poverty has gone down since 2014, from 20.6 percent to 19.5 percent.
In 2016, the NYCGov poverty threshold was $34,402, compared to $31,756 in 2015 and $31,581 in 2014, the report said. The official U.S. poverty threshold in 2016 was $24,339, compared to $24,036 in 2015 and $24,008 in 2014.
"From Pre-K for All to paid family and sick leave to the most ambitious affordable housing plan in the city's history, we are working to provide opportunities that will make a lasting difference in the lives of New Yorkers," de Blasio said in a statement. "Today's report shows real progress toward our goal of lifting 800,000 New Yorkers out of poverty or near poverty by 2025."
The de Blasio administration said the poverty and near poverty rates have plummeted since the mayor first took office in 2014.
From 2014 to 2015, black New Yorkers saw their poverty rate decrease from 21.3 percent in 2014 to 19.2 percent in 2016, while Asian New Yorkers witnessed a drop from 26.6 percent in 2014 to 24.1 percent in 2016, according to the report.
Working age adults' poverty rate decreased from 19.7 percent in 2014 to 18.3 percent in 2016; families with one full-time and one part-time worker, from 14.8 percent to 12.8 percent; and unmarried childless adults, from 20.8 percent to 17.1 percent.
The administration also noted that the economy has grown since 2016, with more New Yorkers having a job and that the median household income has increased by 7.8 percent since 2014. Income in the bottom 20th percentile rose by four percent from 2014, with the administration pointing to minimum wage increases at the state level.
And the administration cited the mayor's universal pre-kindergarten initiative, paid family leave and paid sick leave as steps the mayor has taken to combat poverty in the city.
The report notes steps taken to address housing issues, including his affordable housing plan that seeks to build or preserve 300,000 affordable homes by 2026 (an expansion from the initial goal of 200,000), expanded rental assistance, the NYC Rent Freeze program for one million rent-regulated apartments and rent increase exemptions for seniors.
It also refers to progress made in the Homeless Outreach and Mobile Engagement Street Action Teams (HOME-STAT), a street homelessness outreach effort, and Turning the Tide on Homelessness, an initiative that seeks to reduce street homelessness and moves more homeless people into permanent housing.
The city's NYCgov poverty measure, the administration said, is updated every year and uses the latest data from the U.S. Census Bureau's American Community Survey and is supplemented by NYC Opportunity.
The mayor said the NYCgov poverty measure considers the cost of living in the city (e.g. higher cost of housing) and counts programs that supplement New Yorkers' income like tax credits and Supplemental Nutrition Assistance Program (SNAP) benefits—factors that are not considered in the federal measure.
The latest figures come as the City Council and advocates are putting pressure on the mayor to adopt a $212 million "Fair Fares" proposal first put forward by the Community Service Society of New York, headed by David Jones, an MTA board members appointed by de Blasio as well as the Riders Alliance. The proposal calls for providing about 800,000 low-income New Yorkers with a half-priced Metrocard that would allow them to save $726 a year.
The mayor, who in the past said the state and the MTA should fund such a measure, said the city does not have money for it and renewed calls for his millionaires tax on wealthy New Yorkers to fund subway repairs and reduced fares for low-income New Yorkers—a proposal that has not gained much support in Albany.
Celia Weaver, research and policy director at New York Communities for Change (NYCC), a progressive organization that frequently critiques de Blasio on housing, homelessness and other issues, told Observer the mayor is measuring the poverty level of individuals who make $32,000 a year or below but that his housing plan does not account for that.
The latest poverty rate statistics, she argued, do not account for all of the individuals who are displaced from New York.
"So if the poverty rate is going down, it's not because of the mayor's great housing, it's because he hasn't been building great housing for them, so people who are poor are leaving New York," Weaver said.
Renata Pumarol, NYCC's deputy director, praised the universal pre-kindergarten initiative for helping New Yorkers—particularly single mothers with the cost of childcare—as well as the minimum wage increases.
But she said the report is "not painting a full picture."
"What we're seeing in our neighborhoods is that people are still struggling to pay rent, that salaries have not caught up with rent increases, and we have people that are still paying 50, 60, 70 or 90 percent of their salaries in rent and obviously it leads to a lot of people having to just leave New York," Pumarol said. "They are displaced from New York and that's what we're seeing in our neighborhoods."
Monique George, executive director of Picture the Homeless, a grassroots organization established and led by homeless people, told Observer that the group wants to see more emphasis on creating more affordable housing as opposed to increasing the number of shelters. De Blasio wants to open 90 shelters over the next five years.
"If we really want to get at the root of poverty, we have to look at all of these markers that increase poverty for folks and housing in New York City is a large marker," George said.
She noted the organization recently got two bills passed addressing the issue of warehousing in apartments and is looking to push a third bill that would hold landlords accountable for engaging in unscrupulous behavior.
While she credited the mayor with enacting programs that prevent eviction and displacement and ensure tenants are not harassed by landlords, she said some people are left out.
"There is another section of folks who are in shelters, who actually have city-owned vouchers, but can't find anybody to take the vouchers, and then in some instances, [there are] landlords who are saying, 'Oh, we take the voucher but you need to make this amount of salary,' and just doing unscrupulous things that actually prevent people [from] getting permanent housing," George continued. "So I think we also have to look at the city vouchers, the city rental assistance vouchers and figure out how to make those stronger, too."