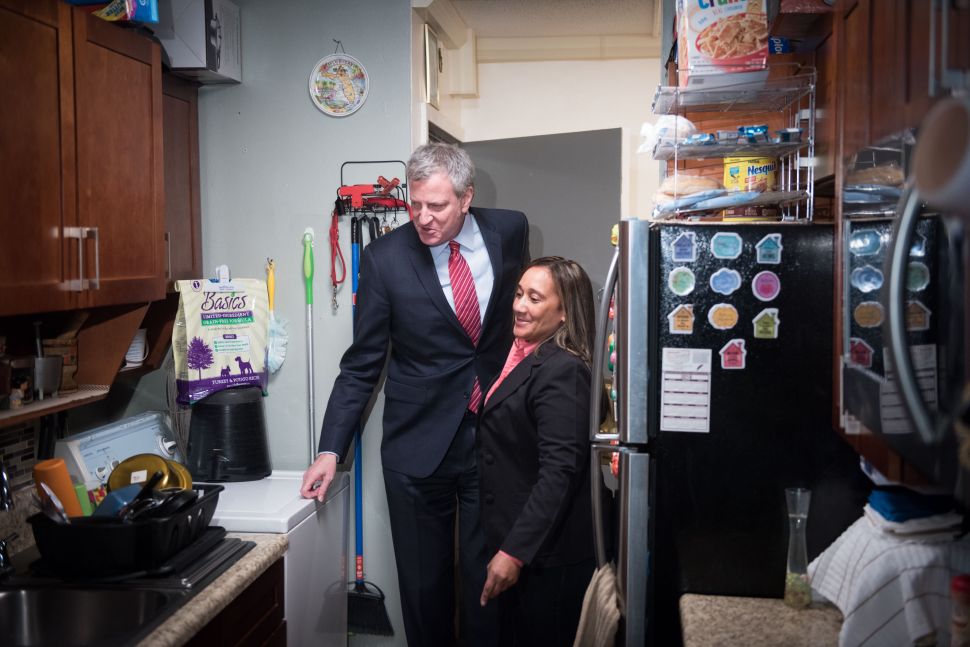 Mayor Bill de Blasio says he hopes New York City can reach a settlement with the U.S. Department of Housing and Urban Development (HUD) in just a few weeks over the troubled New York City Housing Authority (NYCHA), the city's public housing system—amid NYCHA Chairwoman Shola Olatoye stepping down and Gov. Andrew Cuomo imposing a state monitor.
HUD recently put in place a policy whereby the NYCHA will have to get approval from the agency for every expenditure it makes. The U.S. Attorney's Office for the Southern District of New York is also probing housing conditions at the NYCHA.
And the fiscal year 2019 state budget unveiled by Cuomo includes an extra $250 million for the NYCHA, as well as design/build legislation to expedite repairs to NYCHA facilities. The governor also signed an executive order appointing an independent monitor.
"I spoke to [HUD] Secretary [Ben] Carson a few days ago," de Blasio told reporters at Oceanside Bay Apartments, a NYCHA development in Far Rockaway, on Tuesday morning. "I thought it was a very productive conversation. I think the federal government is looking to come to some resolution here. We are as well. I think the conversations with the Southern District have been productive, but there's still work to be done to finish them. I don't want to assume what model will come forward."
When asked whether he expects a federal monitor to be put in place, he insisted that the final outcome has not yet been determined.
"I don't think we're there yet, and we obviously have to figure out how the federal piece interacts with the state piece now, which is a new piece of the equation," de Blasio continued. "But what I do want to report is that I feel the conversations with the federal government are moving in a very productive direction."
When asked whether there will be a settlement in lieu of a federal monitor, de Blasio said he does not want to "conjecture" and that "settlement by definition is what we're trying to achieve."
"We want to and we've made that very, very clear to the federal government," the mayor added. "We want to get together with them and bring out a long-term path, and we wanna be active participants in solving the problems and then again bringing the state piece into that, whatever way is appropriate. I think it's gonna take probably a few weeks to sort out, but I think it can sort out in just a few weeks time."
As to the state monitor, he again noted that he spoke with Carson as well as the U.S. Attorney's office and maintained the city has to figure out how all of the pieces fit together.
HUD, de Blasio explained, "is the top of the food chain here."
"The federal government is obviously—between HUD and the Southern District—the single most crucial part of the equation," he said. "So we have to understand what they're looking to do here with us and then how that interrelates with the state piece."
Indeed, he expressed confusion over the state executive order.
"[It's] very unusual, never seen anything like it before, but now we have to factor in the fact the federal piece of the equation," de Blasio continued. "My hope is all of that can be resolved very quickly. I think everyone wants to—which is good—and collegially and then we'll have a model for the work we're gonna do moving forward."
He insisted the day-to-day work of NYCHA will continue, referring to a $3 billion grant the Federal Emergency Management Agency (FEMA) gave to the city for Hurricane Sandy recovery—money that was used for a $67 million reconstruction project at the Ocean Bay-Oceanside development—and his plan to fix the boilers and heating systems in NYCHA developments.
"All that work to implement the $3 million in FEMA investments, all the work to fix the roofs and continue to fix the heating systems, all that's going on while these structural issues are being worked through at the federal and state level," he added. "But my hope is in a matter of a few weeks, all that comes together into a single plan."
Spokespeople for the governor's office and HUD did not immediately respond to requests for comment on Tuesday. The U.S. Attorney's Office declined to comment.
On Monday night, a New York Times report indicated that Olatoye was stepping down after she faced increasing calls for her resignation.
Stanley Brezenoff, a government veteran who served as president of New York City Health and Hospitals Corporation (now New York City Health + Hospitals) from 1981 to 1984 under the late former Mayor Ed Koch, will serve as interim chairman of NYCHA.
He also served as interim CEO of Health + Hospitals and chairman of the city's Board of Correction.
Brezenoff will work with Vito Mustaciulo, NYCHA's general manager, who was appointed in January.
On Tuesday, Olatoye told reporters she had only committed to staying in the position for the mayor's first term and said that whenever she asked the mayor if he wanted her to step down, he insisted that she stay.
"This is certianly a bittersweet moment," she said. "I have taken such pride in serving the one in 14 New Yorkers [in public housing]… I will depart this role very proud of the team I have assembled and the steps we have taken to support our residents."
In November 2017, a Department of Investigation (DOI) report found that the NYCHA failed to implement mandatory safety inspections for lead paint over a four-year period beginning in 2013 and turned in false documentation to HUD stating that the NYCHA was complying with federal laws that require the inspections to be carried out.
And more than 320,000 public housing residents, or 80 percent, lost their heat or hot water at some point in the winter. The NYCHA has about 400,000 residents.
"For residents to be uncertain about possible lead hazards in their homes or unable to stay warm on the coldest days of winter, it unnerves me that we have failed here," Olatoye continued. "It is a sign, though, of the real struggles that NYCHA faces."
Indeed, both she and the mayor placed the blame for the lead paint scandal on others.
"I regret not knowing sooner because ultimately the health and safety of our residents is the most important thing as evidenced by the investment over the course of the last four years," Olatoye maintained.
The mayor insisted such a mistake "will not happen again."
"My regret is that people who have been a part of NYCHA for a long time did not share the information they should have because I can say for myself… if we had been given any indication that the inspections were not done the way they were supposed to have been done—they had stopped during the previous administration—we would have acted on it immediately," de Blasio said.
Brezenoff told Observer he is in the "early transition mode."
"Shola recited something that's been a mantra of mine… leaving places substantially better than you found them," he said. "The way to do that is to diagnose, to analyze, to examine, to identify priorities, to identify the issues that are most pressing and figure out what's really going on."