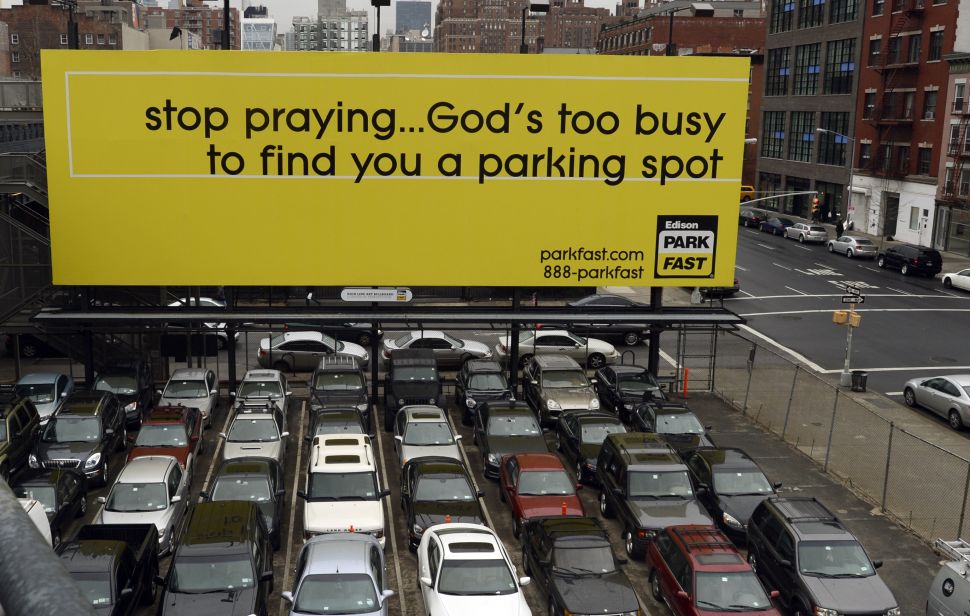 Will New York City move to reserve parking spots exclusively for residents?
One bill, introduced by four Manhattan Council members on Wednesday afternoon, would require the city's Department of Transportation (DOT) to create and implement a residential parking permit (RPP) system in northern Manhattan, covering all areas north of 60th Street through Inwood as bounded by the intersection of Spuyten Duyvill Creek and Harlem River. Residents would have to pay a fee for the permit, which would be credited to the city's general fund.
The legislation's sponsors—Manhattan Councilwoman Helen Rosenthal, Upper Manhattan Councilman Mark Levine, Manhattan Councilman Keith Powers and Upper Manhattan Councilwoman Diana Ayala—said the program is designed to prioritize local residents for on-street parking in residential areas and to fend off park-and-ride commuters.
"For too long, suburban commuters have taken advantage of free street parking in Northern Manhattan and crowded out the people who actually live in our neighborhoods," Levine said in a statement. "Whether you live in Washington Heights or the Upper East Side, parking in our borough is an incredible challenge for so many who live here. Manhattan is already facing a suffocating congestion crisis that is hurting our economy, threatening the safety of pedestrians and cyclists, and poses a danger to our environment."
Another bill—sponsored by Upper Manhattan Councilman Ydanis Rodriguez, chairman of the Council's Committee on Transportation, as well as Levine and Queens Councilman Jimmy Van Bramer—calls on DOT to establish and implement RPP citywide.
Rodriguez referred to a study conducted by the City University of New York (CUNY) and New York University (NYU) that found more than 50 percent of New Yorkers surveyed were willing to pay an annual fee for RPP.
"We would like to see a system in place where 80 percent of the area will be reserved to the residents of the local community that we would like to bring the parking system," Rodriguez said at a rally on Wednesday afternoon. "We also feel that by paying a small fee every year, those local residents, they will not have to compete with anybody else."
At the Council's monthly pre-stated meeting on Wednesday afternoon, City Council Speaker Corey Johnson said he plans to review the bills with all of the Council members.
"I understand that there are many folks that live in communities across the city who find it very frustrating that they can't find parking in their neighborhoods," Johnson said. "We also are trying to disincentivize cars in New York City. We're trying to get people to use cars less in New York City."
He said state law empowers the city to enact RPP.
"State law says that municipalities with a population of over one million people are allowed to enact residential parking, and so I believe we do have the authority to do this," Johnson continued.
Rosenthal, Levine, Powers and Ayala's bill mandates that DOT select specific areas and neighborhoods where RPP would be implemented and to decide on the days and times when permit requirements would be in effect.
Under the proposed law, DOT would reserve up to 80 percent of parking spaces on selected residential blocks for individuals who live in the neighborhood. The remaining spots would be for non-residents. No RRP zone would be put in place on streets zoned for commercial or retail use.
On top of the legislation, Levine, Rosenthal, Powers and Ayala are calling on DOT to hold public hearings with community boards before putting RPP in a neighborhood, ensure permits are only issued to people who have a New York State driver's license and are attached to specific license plate numbers. DOT would also have to limit the number of permits issued to one per licensed driver.
A DOT spokeswoman told Observer that the agency would review the legislation.
At an unrelated press conference at City Hall on Wednesday morning, Mayor Bill de Blasio called it a "complex idea," arguing that there is "some real merit" but also "some big challenges."
"I grew up with it since—born here, but a lot of my upbringing was in Cambridge, Massachusetts that had them, and I could give you the case for them," de Blasio said. "But I also have to caution: this is the most complex environment for traffic anywhere—certainly in this country—and there are a lot of downsides, too."
He maintained it is "absolutely" worth studying the proposals but noted that at least some of the proposals would require state authorization.
"We'll give it serious consideration," de Blasio continued.
New York City is one of the only major cities in the United States that does not have some version of an RPP. Such a system currently exists in Boston, Chicago, San Francisco, Washington, D.C., Albany and Buffalo.
Elsie Kuriamwan, 58, who lives in the Park Slope section of Brooklyn, told Observer she can drive but does not because it is hard to find parking.
"It's very hard to find parking anywhere in New York City, basically," Kuriamwan said. "It doesn't matter. Anywhere that you're trying to find it, you're not going to get parking."
She said RPP could be helpful but expressed concerns about the obstacles it may create for people who do not live outside of a given neighborhood.
"It will help but what happens with people who don't live in the area?" Kuriamwan continued. "They cannot park there."
Mike Henry, 63, who lives in the Midwood section of Brooklyn, told Observer he has trouble finding parking in his neighborhood. He maintained that RPP would help him.
"The priority should be the people who live there first," Henry argued.
When asked whether he thinks RPP should be implemented citywide or just focus on upper Manhattan, he called for taking baby steps first.
"Well I could see it as an experiment first to see how it works, then you take it to the next level," Henry continued.