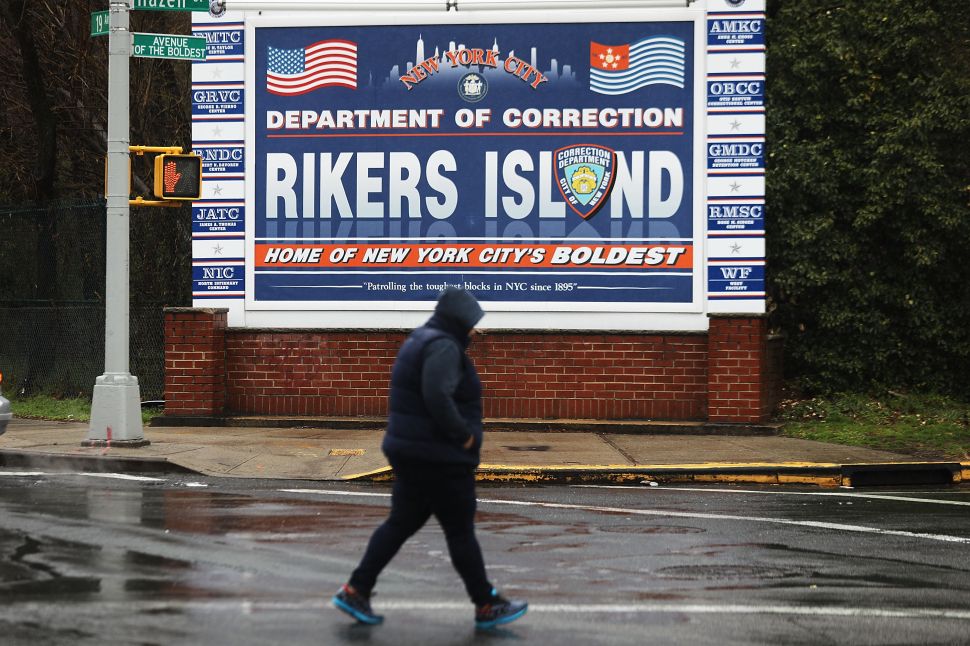 New York City lawmakers and advocates are pushing the city to allow inmates in city jails to make phone calls for free in an effort to prevent the city from using the jail phone as a revenue source.
The legislation, sponsored by City Council Speaker Corey Johnson and Brooklyn Councilman Justin Brannan, would prohibit the New York City Department of Correction (DOC) from collecting revenue from inmate telephone calls and require the DOC to provide calls free of charge.
The law would go into effect 120 days after it is enacted. The legislation was introduced on April 11 and discussed at a City Council hearing on Monday morning.
Nick Encalada-Malinowski of nonprofit VOCAL-New York told Observer that the city currently has a line item in the proposed fiscal year 2019 budget indicating $5 million in revenue generated from phone calls from city jails. DOC confirmed to Observer that anticipates it will collect that amount annually from inmate telephone fees.
"We think it's very problematic that the city actually relies on revenue that they generate from people being incarcerated," Encalada-Malinowski said. "They do that through the phones. They do that by marking up items in commissary… [if] you get an infraction on Rikers [Island], you will be fined."
At a rally on Monday morning outside City Hall, advocates noted that roughly 93 percent of individuals in city jails are people of color—and 89 percent are black and Latino. Nearly 80 percent of people held in city jails pre-trial, they noted, are unable to fight their cases because they cannot meet the bail requirements sought by district attorneys and determined by judges.
The advocates also pointed to the fact that the state does not collect commissions or generate any other revenue from phone calls in state prisons.
Timothy Farrell, DOC's senior deputy commissioner, said that since 2014, DOC has been in a revenue-sharing agreement with a vendor (Securus, a prison technology company) to offer inmate phone services. Revenue generated from inmate calls is remitted back to the city's general fund and classified as miscellaneous revenue, Farrell explained. And Securus gets roughly 20 percent of the revenue, DOC told Observer.
He said DOC has spoken with Mayor Bill de Blasio's office and the city's Office of Management and Budget (OMB) and that the city has expressed openness to reducing or getting rid of the revenue made from jail phone calls, as well as making calls as affordable as possible for inmates.
A new procurement might be necessary, he noted, which would necessitate a longer implementation window than the proposed legislation includes.
"We would like to work with [the] Council to figure out how to make our telephone system as fair as possible, while maintaining the necessary services and safety features that the contractor provides," Farrell said during a City Council hearing on Monday morning. "These changes are not for DOC alone to make, but we are happy to participate in these conversations moving forward."
He also noted free phone calls are already provided in several situations.
For example, poor detainees receive three free calls per week and sentenced inmates get two free calls a week. Detainees are also allowed to make a free local call upon admission, and phone calls to several specific phone numbers are provided free of charge.
But Encalada-Malinowski said that there are restrictions.
"Your minutes are restricted and the location of where those calls go are restricted, and so my understanding of the bill is that it would say all of those numbers are free calls, but I would imagine a minutes restriction would be attached to that," he continued.
He cautioned that inmates should be able to communicate with their friends, loved ones and anyone else with whom they need to be in contact.
"We don't want the end result of our advocacy to be that people get one free phone call a week and that's it," Encalada-Malinowski added. "The reason that the phone calls are important is because it allows people to stay in touch."
The speaker's office told Observer that the current policies are that inmates get a fixed number of local calls per week but any calls in addition to that—including long-distance calls—cost money. The bill would make all calls free.
This story has been updated to include additional information from DOC and the speaker's office.