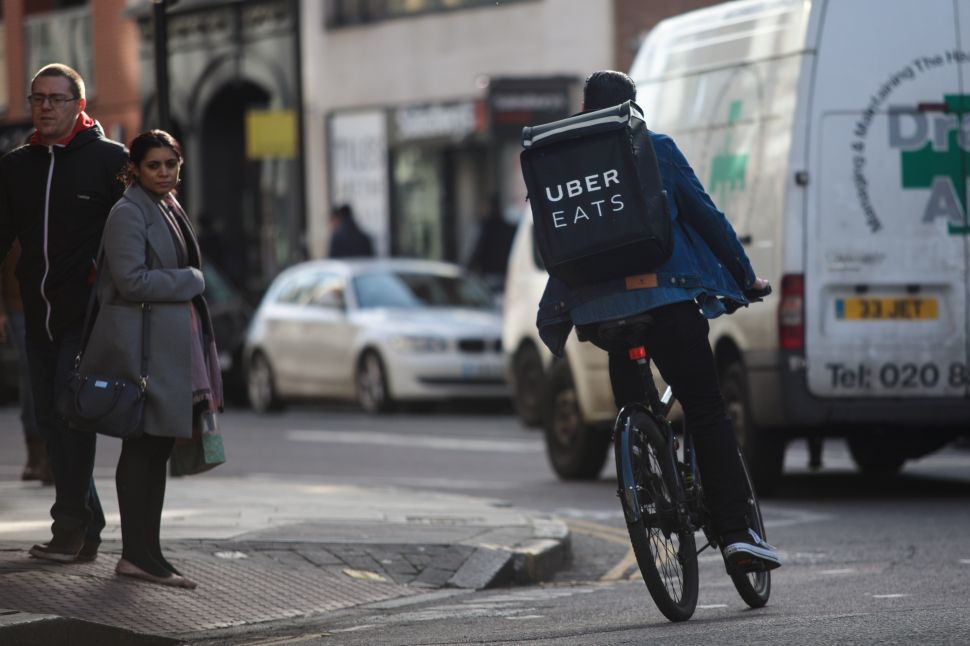 Immigrant and cycling advocates say Mayor Bill de Blasio's revised policy for cracking down on e-bikes could go further in protecting immigrant delivery workers from interactions with the police.
Earlier this month, Mayor Bill de Blasio announced that the city's Department of Transportation (DOT) will kick off a rule-making process to clarify that Class 1 pedal-assist electric bikes (e-bikes)—which engage an electric motor by pedaling—are legal to operate in New York City, after announcing plans to crack down on e-bikes last year. But throttle e-bikes, which are capable of traveling at speeds of more than 20 miles per hour, are banned under state law.
Last week, the DOT published proposed rules specifying the requirements, but advocates noted the e-bikes which will be legal are not the type of e-bike that most delivery workers use, therefore not improving conditions for delivery workers who are criminalized on the job.
Delivery workers—many of whom are immigrants—are adversely impacted by such a policy, advocates argue. The delivery workers work for a number of services, including GrubHub, Seamless, Postmates and UberEats, as well as in the restaurant industry. The majority of the workers tend to be from China and Latin America.
According to DOT statistics from 2012, there are roughly 50,000 delivery workers in the city and 80 percent of them use e-bikes, meaning that at least 40,000 e-bikes would have to be converted.
Helen Ho of the Biking Public Project—which focuses on women, people of color and immigrants—told Observer that delivery workers typically use Arrow e-bikes, which cost anywhere between $1,500 and $1,800 on average. She said the groups are concerned about immigrants' interactions with the police.
"Each time a delivery worker encounters NYPD, whether they're a documented or undocumented citizen, it increases their chance of criminalization, right," Ho said at a rally in front of City Hall on Monday afternoon. "There are a significant amount of workers who are undocumented."
Persephone Tan, associate director of immigration and policy for the Asian American Federation, called de Blasio's policy change a "good first step" but noted there are many concerns that will "continue to do more harm than good."
"This announcement does not end the criminalization of e-bike delivery workers," Tan said. "This announcement does not mean that these workers will no longer get stopped by the police. This announcement does not mean that these workers will stop getting ticketed, throwing out hundreds of dollars per ticket."
Indeed, she said there is no data available on the percentage of workers who use pedal-assist bicycles versus those who use throttle e-bikes—and argued the mayor cannot make a policy "based on information that we don't have."
"Recently, I heard a delivery worker was so unclear on which bike is legal to use that he thought that a mini-motorcycle would be a better option because he can avoid getting ticketed when using an e-bike," Tan continued. "So it's very unclear in terms of what pedal-assist is to workers that actually use electric bikes. It is imperative that the city invest in public education needed for workers, for NYPD, for small business owners who actually hire folks who may use e-bikes and for the general public."
And she added that there has to be an "affordable and practical way" to convert e-bikes from Class 2 (have a throttle and do not go above 20 miles per hour) or Class 3 (maximum speed of 28 miles per hour) to Class 1 pedal-assist bikes.
"It puts a financial onus on the workers to comply with the policy that continues to harm them," Tan added.
Groups such as Make the Road New York, an immigrant advocacy group; Transportation Alternatives; Legal Aid Society; and the Biking Public Project unveiled a five-point policy platform recommending steps the mayor can take to further protect delivery workers who use e-bikes.
Those include issuing a moratorium on this enforcement on e-bikes until a New York City regulatory framework has been fully implemented, as well as guidelines and requirements for converting Class 2 and 3 throttle e-bikes into Class 1 pedal-assist e-bikes. It also calls for ensuring that the most common types of e-bikes delivery workers use are included in the legalization framework.
Other recommendations include establishing a program that offers financial and practical aid to e-bike owners for conversion, educating the public, workers and the NYPD about changes and recording and publishing detailed data of e-bicyclists' involvement in traffic crashes.
Manhattan Councilman Margaret Chin, whose Lower Manhattan district includes Chinatown, pointed to the impact of the policy on Chinese immigrants as well as on immigrants who are seniors.
"Now we are facing disproportionate police targeting just for doing their jobs," Chin said, also expressing concerns about converting e-bikes. "We need the city to be a partner in making sure that the majority of delivery workers can convert their e-bikes legally."
Brooklyn Councilman Carlos Menchaca, chairman of the City Council's Committee on Immigration, urged the city to adopt the recommendations.
"The majority of our e-bike riders are immigrants, people who live in our neighborhood and want to be able to make a paycheck to go home and help their family with food, with college, medicine," Menchaca said. "And so a moratorium on enforcement is not too much to ask for… a moratorium allows us to say pause, to push the pause button and get this right."
In October 2017, de Blasio and the NYPD announced that starting in 2018, businesses that use e-bikes or allow employees to operate them will receive a civil summons and a $100 fine for a first offense and a $200 fine for each subsequent offense. At the time, riders caught operating an e-bike could face a civil summons, confiscation and fines of up to $500.
Clemente Martinez, who has been a delivery worker in the city for 14 years, has used both regular bicycles and e-bikes.
"The people of New York now depend on delivery workers who use electric bicycles so that we can get deliveries to them quickly," Martinez said. "Electric bicycles are important for us because we work for tips and using them, we can make more deliveries in one day."
Marco Conner, legislative and legal director for Transportation Alternatives, said that the policy hurts both cyclists and immigrant New Yorkers and is not based on safety data. He said police resources should be spent on "known dangers."
Last year, more than 50,000 people were injured in city traffic and 214 people were killed by cars and trucks, Conner said. And since 2001, more than 5,000 people in the city have lost their lives to traffic violence, with more than 99 percent caused by cars and trucks.
"In fact, annually, less than one person on average dies from being hit by a cyclist," he said. "Less than one. Reckless driving, failing to yield and speeding cars and trucks are the cause of this epidemic in our city. It's not people in bikes and it's certainly not working cyclists on e-bikes."
A DOT spokesperson told Observer  the draft rule has been published and that the comment period is open. The agency plans to review all comments submitted as part of that process. A public hearing will be held on May 29.
This story has been updated to include a comment from DOT.