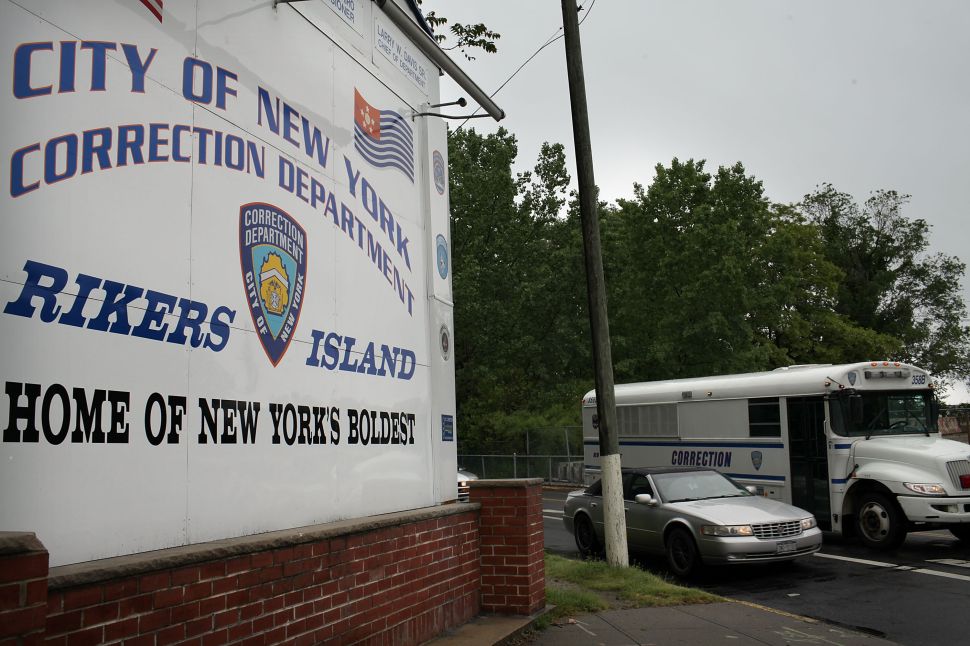 Starting this October, New York City will be housing incarcerated people according to their gender identity—making New York one of the first major cities in the United States to adopt such a policy.
The city's Department of Correction (DOC) will be responsible for administering the change.
The DOC will work with the New York City Human Rights Commission (CCHR) to maintain the Transgender Housing Unit as an another safe housing option for transgender inmates. The DOC will also continue to carry out individualized assessments of inmates as it selects safe and gender-affirming housing options.
The DOC oversees 12 inmate facilities, nine of which are located on the Rikers Island jail complex.
"It's the city's responsibility to protect the rights and safety of all New Yorkers and that means protecting transgender individuals in city jails as well," de Blasio said in a statement. "New York City is one of the first major cities to commit to taking this step, and it's crucial to ensuring all our facilities are welcoming and safe for all New Yorkers."
In 2015, San Francisco announced that it would house transgender inmates according to their gender identity, with San Francisco County jails becoming the first in the country to permit individuals who identify as transgender, gender variant or non-binary to pick their preferred housing.
And in 2013, the sheriff of Houston's Harris County enacted a policy to safeguard gay, lesbian, bisexual and transgender inmates that includes permitting transgender people to be housed based on gender identity.
A de Blasio spokeswoman told Observer that the city cannot yet state the number of people the new policy will affect but that they will have a more precise number within the next six months. She also said the Transgender Housing Unit has an average of 12 people on a given day.
In 2017, gender-based discrimination made up the third largest area of complaints at CCHR.
In March 2016, de Blasio signed an executive order mandating that city agencies allow individuals to use single-sex facilities that match their gender identity without asking them for identification, medical documentation or any other form of proof or verification of gender—and follow relevant state and federal law.
The DOC originally received a temporary and partial exemption from CCHR from the requirements of the executive order as it pertains to housing.
But CCHR recently revised the exemption after more evaluation, as well as feedback from the DOC.
The DOC has six months to implement the new policy. Over the next six months, the DOC will be submitting bi-monthly progress reports to CCHR.
In the revised exemption, CCHR said the DOC has to offer housing to inmates that corresponds to their gender identity. This is the requirement unless the result of an individual safety assessment—as mandated by the Prison Rape Elimination Act (PREA)—or the preferences and safety concerns communicated by the inmate require an alternative housing option.
In an individualized assessment, correctional institutions look at factors such as whether inmates are gay, lesbian, bisexual, transgender, intersex or gender non-conforming; their previous experience of sexual assault; and their own perception of vulnerability.
Other factors considered are their gender identity and whether they identify as male, female or non-binary, as well as any previous acts of sexual abuse, previous convictions for violent offenses and history of prior institutional violence or sexual abuse.
First Lady Chirlane McCray, who unveiled a new $6 million plan in February to help rehabilitate female inmates at Rikers Island, said the latest policy change will ensure the safety of transgender and gender non-conforming individuals.
"With today's announcement, New York City takes another important step to protect the rights, dignity and safety of transgender and gender non-conforming people, and it is our hope that cities across the country will follow our lead," McCray said in a statement. "Keeping transgender and gender non-conforming New Yorkers safe, wherever they are, is the city's responsibility—whether they are in city custody or walking through their own neighborhoods."