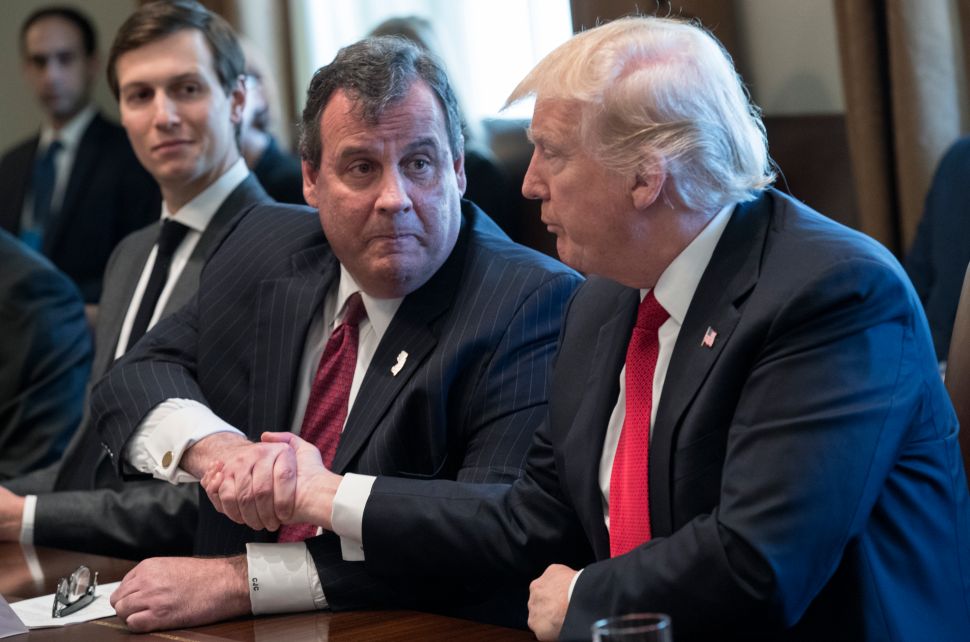 Former Gov. Chris Christie is warning President Donald Trump that taking action to fire Special Counsel Robert Mueller could cause him big problems.
While the former governor said the president is very angry about Monday's FBI raid on the offices of his personal lawyer, Michael Cohen, he understands the consequences if he were to dismiss Mueller, according to a report on NJ.com
Christie is not the only Republican warning Trump not to take action against Mueller. Some prominent Republicans in Congress have also warned against dismissing Mueller, and reports have indicated the president's advisors have also warned against the move.
Quote of the Day: "At some point, you either crush the golden goose or it … flies away to Florida. Either way, you don't get those golden eggs." — Sen. Declan O'Scanlon, warning against Gov. Phil Murphy's planned tax hikes.
Trump Plans to Nominate Christie Ally for Federal Judgeship
President Trump announced on Tuesday that he intends to nominate Paul Matey, an ally of former Gov. Chris Christie, to be a judge on the U.S. Court of Appeals for the Third Circuit.
Christian Hetrick, Observer Read more
Mikie Sherrill Raises $1.1 Million in First Quarter of 2018
Democratic congressional candidate Mikie Sherrill raised $1.1 million during the first quarter of 2018, her campaign announced on Tuesday.
Christian Hetrick, Observer Read more
New Jersey Gov. Phil Murphy to Sign Pay Equity Bill
New Jersey Gov. Phil Murphy announced on Tuesday that he will sign legislation to strengthen the state's pay-equity law.
Christian Hetrick, Observer Read more
Here's Christie's Frank Advice to Trump on Whether to Fire Mueller
Former Gov. Chris Christie has some advice for his longtime friend, President Donald Trump: Don't fire Robert Mueller.
NJ.com Read more
Phil Murphy Hasn't Sold Fellow Democrats on His Tax Hikes
Gov. Phil Murphy's new spending plans are in jeopardy. And members of his own party are the ones putting the governor's vision for New Jersey at risk.
NJ.com Read more
Phil Murphy Not Backing Down on Plan to Drive up Taxes, Treasurer Tells Lawmakers
Gov. Phil Murphy is sticking to his plans to raise income and sales taxes even if higher-than-expected collections from income taxes due next week can pay for part of his agenda on their own, Murphy's state treasurer told lawmakers.
The Record Read more
Murphy's AG Wants to Teach Local Cops How to Spot Mob-Run Bars
State authorities want to teach local police on how to detect shady dealings at New Jersey bars and liquor stores.
NJ.com Read more
FERC Says PSEG Subsidiary Made False Statements Over 9-Year Period
A federal agency is alleging a subsidiary of Public Service Enterprise Group made false and misleading statements in bidding into the nation's largest energy market, a process that helps determine how much consumers pay for electricity.
NJSpotlight Read more
Gov. Murphy Touts Early Childhood Education in Jamesburg
Gov. Phil Murphy said his tour of the recently expanded Pre-K classes at John F. Kennedy Elementary School on Monday afternoon was "extraordinary," while state Sen. Linda R. Greenstein. D-Dist 14, said, "If you are having a bad day—just visit Pre-K."
The Record Read more
Lawmaker Says State Aid Promised to Some Districts Will be Reduced
For a budget that increases spending by $1.5 billion to $2.7 billion, depending on how you do the counting, Gov. Phil Murphy's $37.4 billion spending plan has managed to nevertheless find robust groups of detractors.
NJ101.5 Read more
State Shortchanges Poor Towns in South Jersey On Municipal Aid
Millions of dollars in state aid gets distributed to municipalities each year, but the state is shortchanging the poorest communities in South Jersey, compared to those in other parts of New Jersey, according to a new report.
NJSpotlight Read more
Trump EPA Chief 'Poster Child for Culture of Corruption' and Must Go, NJ's Pallone Says
Rep. Frank Pallone, the ranking Democrat on the House Energy and Commerce, called Tuesday for Environmental Protection Agency Administrator Scott Pruitt to step down, calling him "the poster child for the Trump administration's shameful culture of corruption."
NJ.com Read more
Cory Booker: Big Pharma Should Have Lowered Prices With Tax Cut
After getting a windfall from tax reform, the nation's biggest drug companies handed out bonuses to employees, increased research and development, plotted expansions and set aside billions of dollars to to buy back their own stock.
Asbury Park Press Read more
Rise in Opioid-Exposed Newborns in NJ Prompts State Awareness Campaign
A particularly heartbreaking aspect of New Jersey's opioid epidemic is the growing need for effective care for pregnant women, new mothers, and newborn babies struggling to break free of a dependence on painkillers, alcohol or illicit drugs like heroin.
NJ101.5 Read more
Rutgers Announces Commencement Speaker—After Biden Turns Down the Gig
Apparently, former Vice President Joe Biden is busy.
NJ.com Read more
State Republicans Prepare for White House Support
State Republican leaders are preparing to receive an influx of national support for this year's congressional campaigns. In a conference call last week between most of the county Republican committee chairs, the GOP state committee and White House political director Bill Stepien, party heads touched base on the upcoming elections in preparation for support from the White House and the national branch of the GOP.
New Jersey Globe Read more
Academic Report Touts Benefits of State Bank
A state bank would create almost 100 jobs and boost gross state output by $15 million-$21 million annually, according to a report prepared for the William J. Hughes Center for Public Policy at Stockton University.
NJBiz Read more
Poll: Sweeney Nuclear Subsidy May Hurt Lawmakers
Steve Sweeney's quest to secure subsidies for two nuclear power plants in his district may have hit another snag.
New Jersey Globe Read more
Judge Orders Alleged Fulop Stalker Released From Jail
The woman jailed last week on charges she stalked Mayor Steve Fulop will be freed from jail today after prosecutors failed to convince a judge to detain her through her prosecution.
NJ.com Read more
Franklin Lakes Library Defends Removal of RHONJ Cast Member's Son With Autism
The library board of trustees on Tuesday defended its staff's request to remove the autistic son of "Real Housewives of New Jersey" cast member Jacqueline Laurita this weekend.
The Record Read more
Newark Man Turned Over to Immigration Officials After Washington Traffic Stop
A routine motor-vehicle stop in Washington resulted in the driver being turned over to immigration officials on an outstanding warrant for failure to report for removal from the United States.
The Record Read more
Paterson: Boys Academy Among NJ's Worst Schools
An all-boys academy that opened three years ago in an attempt to create a magnet program to help male students has become one of the worst-performing elementary schools in New Jersey, according to the state.
The Record Read more
FBI Cracks Down on 'Dark Web' Drug Use in Bradley Beach, Little Egg Harbor
The FBI is cracking down on opiates sold online and shipped by mail to places including Bradley Beach and Little Egg Harbor with a tough love message: we see you, stop and get help.
Asbury Park Press Read more
Deal to Develop Mahwah Residential Drug Treatment Center Falls Apart, New Partner Sought
A onetime Catholic retreat center in Mahwah was to have been transformed into a residential drug-treatment center operated by Hackensack University Medical Center and the Carrier Clinic, until a deal with a management company fell apart earlier this year.
The Record Read more
Rockland: Deadline Approaches for O&R Reimbursements
As the deadline approaches for Orange and Rockland customers to be reimbursed for food and medicine spoilage that occurred during the March nor'easters, the company said those customers would automatically get their bills reduced.
The Record Read more
Neptune Will Release Secret Report on Police Sex Harassment
Yielding to public pressure and the legal efforts of two attorneys representing officers suing the town's police force, the township committee voted Monday evening to release a secret report produced in 2013 that investigated claims of sexual harassment and racial discrimination within the department.
Asbury Park Press Read more
Family's Confusing Address Costs Them $10K to School District
A woman who lives in Brick but has a Howell mailing address owes the Howell township school district more than $10,000 because she sent her child to the wrong district.
NJ101.5 Read more
Ex-Wall Schools Super James Habel Must Stay in Prison, Appellate Judges Rule
Former Wall Schools Superintendent James Habel on Tuesday lost a bid to get out of prison when an appellate court upheld his 2015 official misconduct conviction for lying about vacation days that cost the school district tens of thousands of dollars.
Asbury Park Press Read more
Former Newark Cop Guilty of Using Old Uniform to Impersonate a Police Officer
A former Newark cop has been found guilty of using his old uniform to impersonate a police officer, according to a report.
Asbury Park Press Read more