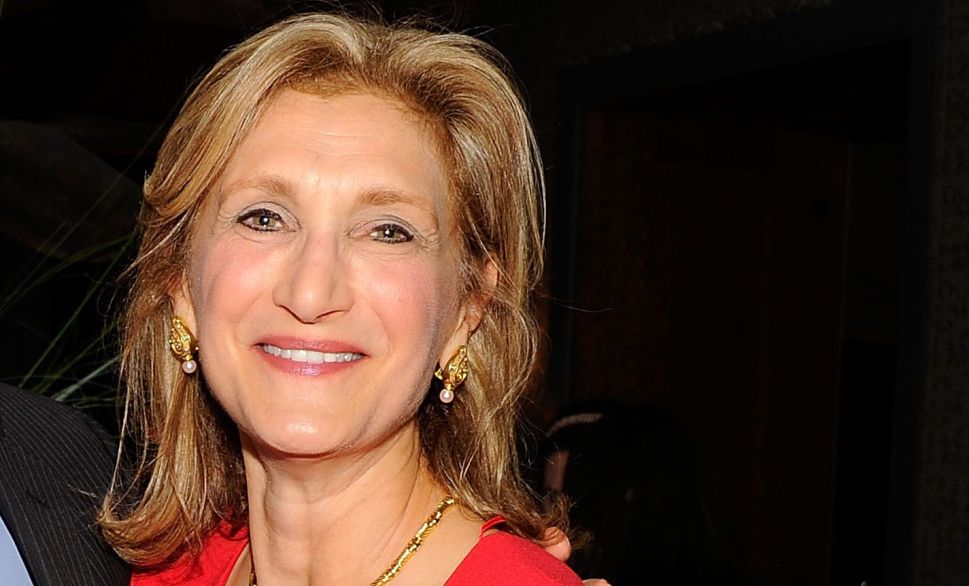 Caren Z. Turner, the former Port Authority commissioner whose roadside encounter with Tenafly police is now a must-see viral video, apologized for her behavior on Wednesday, but told cops they need to work harder to avoid similar incidents in the future.
Turner, who during the incident flashed her Port Authority badge, tried to give officers her business card, cursed at them and insisted on being addressed as "commissioner," contends she never tried to intimidate the officers or exercise privilege as a highly placed public official.
"At no point did I violate the Port Authority's Code of Ethics or ask for special treatment for anyone involved, nor did I suggest, in any way, that I would use my position at the Port Authority to affect the outcome of the violations issued to the driver," Turner said in a statement published on NJ.com.
Turner says she "let my emotions get the better of me" and regrets "my tone toward the police officers." But Tenafly police, who have received widespread praise for their handling of the situation from others, need to act more professionally, according to Turner, a Democratic lobbyist who once was once the Port Authority's ethics chairwoman.
"I encourage the Tenafly Police Department to review best practices with respect to tone and de-escalation, so that incidents like this do not recur," Turner's statement said.
Turner, however, is not likely to get a lot of support from her former political allies.
Senate Majority Leader Loretta Weinberg, who had put Turner forward for the Port Authority post in part because she was "a women from Bergen County," told POLITICO that she thought the former commissioner's behavior was "stupid and boneheaded, completely inappropriate."
Republicans, tired of hearing Weinberg and others complain of former Gov. Chris Christie's bullying, wasted no time slamming Turner.
"You basically serve the people. You are not royalty. And she came across like she was royalty," state Assembly Minority Leader Jon Bramnick, told POLITICO.
And now the Port Authority is re-examining its policy of issuing the gold badges that Turner flashed to commissioners, according to NJ101.5.
Quote of the Day: "I encourage the Tenafly Police Department to review best practices with respect to tone and de-escalation, so that incidents like this do not recur." — Former Port Authority Commissioner Caren Turner, who resigned following an incident in which she insisted cops address her as "commissioner," complained about an officer having a "smug-ass look" on his face and told the officers to "shut the "f— up."
On His 100th Day, Murphy Says Tax Hikes Are 'the Right Thing to Do'
Gov. Phil Murphy said Wednesday that he's already "changed New Jersey's attitude" after 100 days in office, but said he needs to raise taxes in order to fulfill his progressive agenda.
Christian Hetrick, Observer Read more
Weinberg 'Embarrassed' by Former Port Authority Commissioner She Championed
New Jersey Senate Majority Leader Loretta Weinberg spent years pushing ethics reforms at the Port Authority of New York and New Jersey, helping expose the Bridgegate scandal in the process.
Politico Read more
She Pressured Cops, Now Other Officials Could Lose Their Badges
After a Port Authority commissioner pulled out her badge and repeatedly mentioned her title while trying to intervene in a traffic stop, the agency is considering doing away with the badges for non-law enforcement all together.
NJ101.5 Read more
Tenafly Police Officers' Boss 'Very Proud' After Traffic Incident With PA Commissioner
Tenafly Police Chief Robert Chamberlain said he's been fielding congratulatory emails and calls ever since a dashcam video was released that showed Port Authority Commissioner Caren Turner pulling rank and repeatedly insulting two Tenafly police officers who had pulled over the vehicle in which her daughter was a passenger.
The Record Read more
Former Port Authority Commissioner Wants Police to Work on Their 'Tone'
Caren Turner, the former Port Authority of New York and New Jersey commissioner who resigned last week after flashing her badge and badgering police officers who had stopped a car in which her daughter was a passenger, wants Tenafly police to work on their 'tone.'
Politico Read more
Port Authority Commissioner Apologizes, But Says She Did Nothing Wrong
After days of silence, former Port Authority commissioner Caren Z. Turner, who resigned last week, responded Wednesday to the public outcry over her intervention, caught on a police dashcam, in connection with a Tenafly traffic stop involving her daughter.
NJ.com Read more
Lowry: In Tenafly, a 'Cursed' Traffic Stop Rolls up Against Privilege
In the last couple of days, I have watched the Caren Turner traffic stop video a total of seven times.
The Record Read more
The 16 Most Appalling Moments From the Astonishing Port Authority Commish's Viral Video
It started out as a routine traffic stop for an obscured out-of-state license plate. The driver had a valid license, but couldn't find the vehicle's insurance card or registration—and so the car was impounded.
NJ.com Read more
'You're a Horrible Human': Social Media in Outrage Over Port Authority Commissioner Meltdown
It's the dashcam video that has everyone in New Jersey—and increasingly around the country—talking.
NJ.com Read more
Chris Christie Finds His Way Back to Trump's Heart
Chris Christie and President Donald Trump just can't quit each other.
Politico Read more
Murphy Defends Wife When Asked About $13K Spent on Door to Her Office in Governor's Suite
Gov. Phil Murphy on Wednesday defended his wife Tammy Murphy's role in his administration when asked about the decision to spend nearly $13,000 to install a new doorway to her office.
NJ.com Read more
Murphy Joins 'Unprecedented' Effort to Fight Gun Violence
New Jersey's Phil Murphy is joining six other governors from northeastern states and Puerto Rico to create what they say is the nation's first consortium to study gun violence.
NJ.com Read more
Newark Finally Released Its Amazon HQ2 Proposal… Read All the Juicy Details, Including Proposed Locations
Newark's closest held secret is finally out. The city released the bid it submitted for Amazon's new HQ2. Read the document below. (It is just over 200 pages.)
NJ.com Read more
Chris Christie or Phil Murphy: Who Had a Better First 100 Days?
So Gov. Phil Murphy reached that 100th day milestone on Wednesday, celebrating it by appearing on morning TV news shows and making a speech at Rutgers University.
NJ.com Read more
After State Supreme Court Ruling, Few Sex Offenders Likely Get Reprieve From Megan's Law
A New Jersey Supreme Court ruling exempting certain sex offenders from Megan's Law registration requirements isn't likely to apply to more than a few dozen people, state officials said Wednesday, as the public defender's office began contacting people who now may be eligible to be taken off the list.
The Record Read more
Phil Murphy Is 100 Days in as New Jersey's Governor—What's He Done?
Wednesday marks the 100th day since Gov. Phil Murphy took office. Here's a look at some notable achievements.
The Record Read more
Hoboken to Label Single-Occupancy Bathrooms 'Gender Neutral'
City officials are hoping Hoboken becomes the first municipality in the state to require single-occupancy bathrooms be labeled as gender neutral in an effort to be more inclusive to the transgender community.
NJ.com Read more
Black Hate Group Leader Pocketed Millions From 'Church,' Feds Say
Two members of a black nationalist group, including a South Jersey man believed to be the group's leader, have been arrested and charged with defrauding the government out of more than $1.98 million in taxes.
NJ101.5 Read more
NRBP Event Highlights Benefits, Pitfalls of Expanded Medical Marijuana
New Jersey's expansion of uses for medical marijuana, and potential legalization of recreational marijuana, could have significant implications for certain employers and sectors in the state.
ROI-NJ Read more
Just as Atlantic City Stems Bleeding, Competition Closes In
Four nights of Beyonce failed to ignite lasting buzz for Revel, the $2.4 billion Atlantic City casino that flopped after little more than two years. Now the Hard Rock Hotel & Casino is heading to New Jersey's battered gambling resort with a mix for the masses: country greats, headline comics, 1980s pop stars, even a hypnotist.
Bloomberg Read more
Chris Christie Portrait: Columnist Offers to Paint It at Significant Savings to Taxpayers
He's the governor who won't go away. Just when you thought it was safe to go back in the State House, former Gov. Chris Christie, it's been learned, is paying $85,000 for his official portrait. And as with past governors, the taxpayers will be footing the bill.
The Record Read more
How This Orthodox Jewish School and Its Leader Turned Lakewood Into NJ's Boom Town
In an ornate room the size of a gymnasium, fronted by marble columns and crammed with podiums, 500 men dressed uniformly in black trousers and white button-down shirts are arguing.
Asbury Park Press Read more
AG Targets Rogue Cops After 'Protecting the Shield' Investigation
Rogue cops remain in the crosshairs of New Jersey's top cop and at least one state legislator.
Asbury Park Press Read more
Is There Light at the End of the (Gateway) Tunnel?
It isn't an exaggeration to say that the economic future of New Jersey hinges in significant part on the fate of the Gateway project, which features a new rail tunnel under the Hudson River.
Asbury Park Press Read more
Gov. Phil Murphy Huddles With Morris County Mayors, Shoots Some Pool With Seniors
Thirty Morris County mayors gathered in Parsippany Monday for a round-table meeting with Gov. Phil Murphy.
Daily Record Read more
Jackson Board Approves Armed Security in Schools
Security staff at an Ocean County school district will be allowed to carry weapons under a measure approved Tuesday night.
NJ101.5 Read more
The Safest Hospitals in NJ
Safety rankings at New Jersey hospitals slipped in the latest Leapfrog Group Hospital Safety Grade Report, which looked at conditions in 65 hospitals in the Garden State.
NJ101.5 Read more
Trenton Housing Official Gets $711K Paycheck… By Mistake?
An erroneous comma gave a public worker a windfall while he was on vacation. Francine Nalbone, who handles payroll for the Trenton Housing Authority, deposited $711,000 into the account of Benjamin Daniel, multiple unnamed sources told the Trentonian. When the error was discovered, Nalbone was suspended for five days.
NJ101.5 Read more
Atlantic County Agrees to Atlantic City PILOT Settlement
Atlantic County has reached a tentative settlement with the state over its share of Atlantic City casino PILOT funds.
Press of Atlantic City Read more
Cops Used Lights and Sirens to Escort DJ Funkmaster Flex to Mayor's Birthday and That's Not OK
A Newark police car that escorted Hot 97 DJ Funkmaster Flex when he drove from New York City to Newark Mayor Ras Baraka's birthday party broke policy when officers turned on the vehicle's siren and lights, officials said.
NJ.com Read more
First, the Dunes; Now, Margate Contemplates a Boardwalk
From halfway across Fredericksburg Avenue, where the Ventnor boardwalk ends, you can see the new sand dunes on Margate's beaches that plunged so many of its homeowners into deep despair last summer.
Inquirer Read more
Paterson Council Rejects $4.4M in Bonds for Insurance Payments
The City Council early Wednesday morning voted down a proposal to borrow $4.4 million to cover pending bills for employee medical coverage, workers compensation cases and liability lawsuits.
The Record Read more
Seaside Shelves Plan to Allow Dogs on Boardwalk This Summer
Looks like Seaside won't be going to the dogs this summer after all.
Asbury Park Press Read more
Town Whose Last 2 Mayors Died a Year Apart Gets New One
A municipality whose last two mayors died in office, just over a year apart, has chosen a new leader.
NJ.com Read more
Bruce Lowry Named Opinion and Engagement Editor for NorthJersey.com, The Record
Bruce Lowry has been named Opinion and Engagement Editor for The Record, the Herald News and NorthJersey.com, Richard A. Green, Editor and Vice President of Content, has announced.
The Record Read more
Editorial: Hats Off to Tenafly Cops, Good Riddance to Caren Turner
It's hard to recount all the ways Caren Turner self-destructed along Route 9W, but suffice it to say she didn't earn any gold stars as a mother, as a lawyer, as a citizen of Tenafly, or as a rational human being.
NJ.com Read more