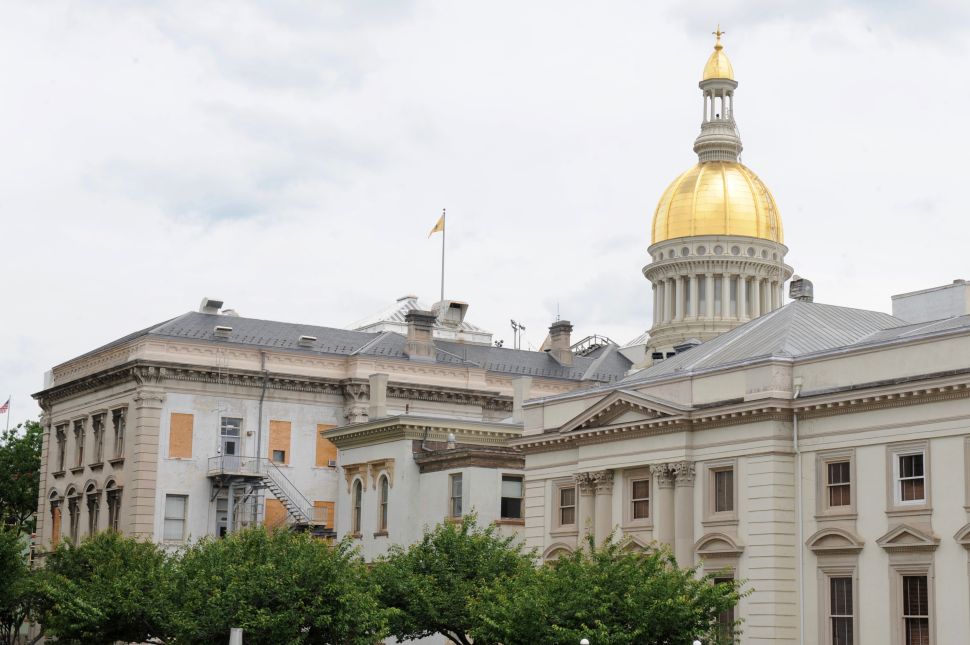 A much-debated bill to have ratepayers provide a $300 million annual subsidy to nuclear power plants in the state Senate president's district is slated for legislative action on Thursday.
The bill, which could add about $41 to the annual bill of ratepayers across the state, is opposed by environmental groups and the state's ratepayer advocate. But it has a strong supporter in Senate President Steve Sweeney, whose district contains power plants owned by PSEG—which helped write the bailout bill—the Press of Atlantic City reports.
Sweeney contends the bill is needed to keep the plants profitable and open, though PSEG has not opened its books to the public to prove the need, according to a report by the Associated Press.
The bill, part of a package of energy-related bills expected to cost residents a total of about $55 more per year, is expected to be approved by the Democrat-controlled legislature and signed by Democratic Gov. Phil Murphy.
The bills are just one of several measures Murphy is expected to approve that would raise the cost of living in the state. The governor is also pushing for a millionaires tax, increases in the state sales tax, as well as new taxes on house- and ride-sharing services and e-cigarettes, according to a report in the Record.
Murphy contends residents in the highly taxed state won't mind paying more, if they see they are getting their money's worth. He also plans to increase state school aid, which could reduce property taxes in some districts. Republicans, meanwhile, warn the high cost of living in New Jersey is driving residents away.
There could be, however, some good news for residents, too. The legislature is also advancing bills requiring some utilities to slash their bills to reflect savings due to the 2017 federal tax cut plan approved by Republicans in Washington, according to an Associated Press report.
Quote of the Day: "He just doesn't understand how upset people are about how unaffordable this state is." — Assembly Minority Leader Jon Bramnick, on Gov. Phil Murphy's plans to raise the state sales tax and impose new taxes on a variety of internet-based services and e-cigarettes.
Bob Hugin Puts $7.5 Million of His Own Money Into Senate Campaign
Bob Hugin, the likely Republican challenger to Sen. Bob Menendez, is putting millions of dollars of his own money into his campaign.
Christian Hetrick, Observer Read more
Campaign Contributions From NJ Contractors Were Up 4 Percent in 2017
Campaign donations by New Jersey public contractors rose for the first time in four years in 2017, thanks to a gubernatorial race and a historically expensive legislative election.
Christian Hetrick, Observer Read more
Thursday Vote Expected on Nuclear, Solar, Wind Subsidy Bills
The state Legislature will vote Thursday on several clean energy bills, including one provide $300 million a year to nuclear power plants that can prove they are struggling to compete with cheap natural gas.
Press of Atlantic City Read more
As NJ Bails Out Nuke Industry, Utility Rates May Go Down… Or Up
If you pay a utility bill in New Jersey, price changes appear to be on the way, but whether they're going lower or higher overall is much murkier.
Associated Press Read more
Taxes on Uber, Airbnb and Vaping? Phil Murphy Says Start Paying… Here's Why
In search of more state revenue in 1990, former Gov. Jim Florio expanded the sales tax to include telephone calls.
The Record Read more
NJ Bill Would Allow for Voter-Approved Arts Tax
A New Jersey lawmaker is pushing for a new tax designed to fund local arts initiatives.
Jersey Journal Read more
Deep Cuts to Homestead Tax Relief Program Courtesy of Christie 2018 Budget
Many New Jersey homeowners are facing increased property tax bills this spring, after the state Legislature cut the Homestead tax-relief program during last year's budget battle between lawmakers and former Gov. Chris Christie.
NJSpotlight Read more
Addiction Recovery Advocates Pressure State to Change Sober Living Laws
In big bold letters on a New Jersey Superior Court decision document, the words "penalties" and "violation" stand out next to an amount for more than half a million dollars.
Press of Atlantic City Read more
Surprise Medical Bill Advances, With Hospitals on Board
After nearly a decade of debate, New Jersey lawmakers are sprinting to the finish line with a plan—already endorsed by the governor—to curb the impact of "surprise" medical bills, after amending the legislation to secure support from the hospital industry.
NJSpotlight Read more
Some NJ Towns Say They've Found the Solution to Nepotism
In Lodi, if you look closely at the payrolls for the borough, for the school district and for the public safety departments, you can sketch a family tree.
The Record Read more
How to Take State 911 System Out of the 1960s
In most parts of New Jersey, the number you call in an emergency is still living in the 1960s, according to state lawmakers who want to require the state's 911 systems catch up with the times.
NJ101.5 Read more
Atlantic City Casino Earnings Up 22.5 Percent in 2017
Less competition has led to higher profits for Atlantic City's casinos in 2017—but will it last with two more casinos soon to join the mix?
Associated Press Read more
Rep. Josh Gottheimer Wants Crackdown on Phone Scammers Who Target Seniors
It's tax season, and state officials are warning residents, particularly seniors, to be hyper-vigilant about calls from scammers posing as IRS employees.
The Record Read more
Paterson's Former Chief of Staff Loses Appeal in Firing Over Flood OT Scandal
In what may be the final chapter in Paterson's 2011 flood overtime scandal, an appeals court last week upheld the city's decision to terminate Charles Pettiford, the mayor's chief of staff at the time.
Paterson Press Read more
Mohammed Akhtaruzzaman Seeks to Return to Paterson Council
Mohammed Akhtaruzzaman says he has a "burning desire" to return to the Paterson City Council on which he served from 2012 to 2016.
Paterson Press Read more
Why Rutgers Researcher Says More People Should Carry Narcan
A Rutgers emergency medicine expert agrees with U.S. Surgeon General Jerome Adams that more Americans should carry the overdose antidote naloxone—popularly known from the brand name Narcan.
NJ101.5 Read more
Phil Murphy Says This Is the 'Smartest Investment' NJ Can Make
New Jersey may soon pour millions more of taxpayer dollars into public pre-school programs—and Gov. Phil Murphy calls that "the smartest investment" the state can make.
NJ.com Read more
NJBIA Exec Knocks 'Millionaire Tax' Proposal
An executive from the New Jersey Business and Industry Association, in testimony before the Assembly Budget Committee on Monday, warned that Gov. Phil Murphy's proposed "millionaires tax" could stall the state's economic recovery.
NJBiz Read more
Morris Clerk Says Parties Make the Rules, Not Lawmakers
The Morris County Clerk's office will double down on an interpretation of a 1994 ruling that allows political parties, not state election law, to determine the number of signatures required to file a nominating petition for county committee.
New Jersey Globe Read more
Kean Tangles with Muoio's Office Over Tobacco Settlement
Senate Minority Leader Tom Kean (R-21) sent a letter to Acting Treasurer Elizabeth Maher Muoio today to advise that he is exploring legal action to prevent the pending closing of a $3.2 billion sale of Tobacco Settlement Bonds, which prompted Muoio's office to swat Kean.
InsiderNJ Read more
'Tommy's Law,' Named for Ramsey Man Hit by NJ Transit Train, Could Help Victim's Families
Nearly two years after an NJ Transit train fatally stuck Tommy Ryan in Ramsey, the state Legislature is reviewing a bill in his name that would require the state to provide crisis counseling for families of victims killed in NJ Transit train, light rail and bus accidents.
The Record Read more
Ex-Union Official From Passaic Admits Embezzling Funds From Benefit Plan
The former president of United Auto Workers local in New Jersey has admitted embezzling funds from its employee benefit plan.
The Record Read more
NJ to Pay $1.4M to Family of Disabled Woman Who Died During 'Chaotic' Staff Cuts
New Jersey has agreed to pay $1.4 million settlement to the family of a disabled woman who died while under the state's care, in a case that raised concerns about the Christie administration's rush to close public institutions five years ago.
NJ.com Read more
Gopal Eager to Serve in Role as Chair of Manufacturing Caucus
They came to talk about taxes, minimum wage, the ability to expand, dealing with environmental regulations, research and development credits, energy costs, workforce development—and a whole bunch of other items impacting manufacturing.
ROI-NJ Read more
RHONJ Jacqueline Laurita Says Son With Autism Was Asked to Leave Franklin Lakes library
A video surfaced Sunday on social media of the son of a Real Housewives of New Jersey cast member being told to quiet down in the Franklin Lakes Public Library.
The Record Read more
Editorial: Murphy's Free Community College an Investment in NJ's Future
Tennessee, Oregon, Kentucky, New York – these states and others have taken steps toward offering a tuition-free education at community colleges to residents as a proven way to produce a better prepared work force.
Times of Trenton Read more
Opinion: How the State Budget Is Built—and What's in It
"Dear, we ought to talk."
When you hear that, you know the upcoming discussion is likely to be distressing. So you are warned. Today's topic is the proposed state budget. All $37.4 billion of it.
Jersey Journal Read more