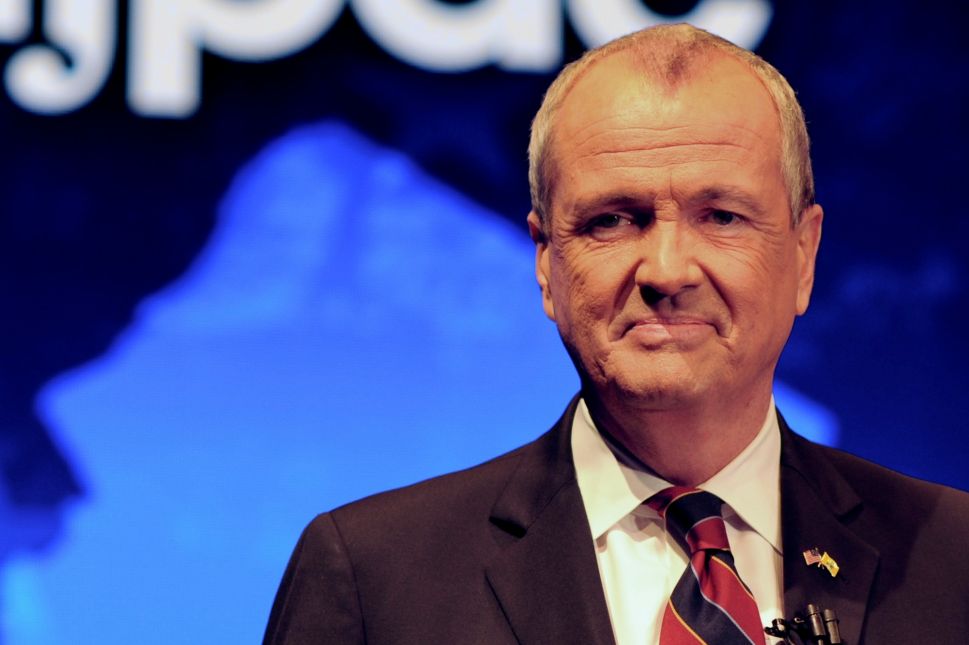 State budget season is rapidly approaching, and divisions in the state Democratic party might soon get ugly.
Gov. Phil Murphy has yet to convince Democrats in the legislature to fully embrace his new $37.4 billion budget or to go along with the $1.7 billion in new taxes needed to pay for it.
Now, New Direction New Jersey, a nonprofit formed by supporters of Murphy, is threatening to take to the airwaves to pressure holdouts to get onboard with Murphy's call to increase the state income tax, impose a new tax on millionaires and on internet purchases, e-cigarettes, ride sharing services such as Uber and Lyft and marijuana (if the legislature follows Murphy's call to legalize it).
But Democratic Senate President Steve Sweeney and Assembly Speaker Craig J. Coughlin don't seem perturbed.
"Bring it on," Sweeney said in an interview with The Record.
Such a fight could be a defining one for Murphy and could set the tone for the remainder of his term.
While polls show 44 percent of voters approve of Murphy, they also show that residents are largely unfamiliar with his budget plans.
A war in the media could establish a vision of Murphy—who had campaigned on promises to help New Jersey's struggling middle class—as the guy who is fighting to raise taxes in a state that is seeing record numbers of people fleeing it because of the crushing tax burden.
Murphy contends people will be willing to pay even more, if they feel they are getting their money's worth from state services.
While seeming to embrace Murphy's call for expanding services and increasing payments into the state's pension system, Sweeney maintains that tax increases are "a last resort."
He's also still opposed to a millionaires tax, instead offering a plan to increase taxes on corporations that earn more than $1 million in annual net income in the state. These corporations benefited from the Republican federal tax overhaul, Sweeney maintains. Also, many of them are not based in New Jersey, a much more politically palateable plan than increasing taxes on residents, no matter how wealthy they are.
Sweeney says the federal changes, which did away with deductions for state and local taxes, means it's not the right time to impose even more taxes on high earners, who would likely flee the state—thereby increasing the tax burden on middle-income people.
Quote of the Day: "If you want to fight publicly over raising taxes or trying to protect people in the state of New Jersey from taxes going up, let's have the fight." — New Jersey Senate President Steve Sweeney, on the prospect that Gov. Phil Murphy's allies are planning a media campaign attacking Democratic legislators for not supporting Murphy's plan to raise the sales tax and a variety of other taxes to fund his budget.
Bob Menendez 'Severely Admonished' by Senate Ethics Committee
The Senate Ethics Committee "severely admonished" Sen. Bob Menendez on Thursday for accepting gifts from a wealthy donor while advancing the donor's personal and business interests.
Christian Hetrick, Observer Read more
Former New Jersey Lt. Gov. Kim Guadagno Joins Connell Foley
New Jersey's former Lt. Gov. Kim Guadagno has landed a job at a law firm.
Connell Foley LLP has hired Guadagno as a partner, the firm announced Thursday in a news release. She will work in the firm's Jersey City office.
Christian Hetrick, Observer Read more
Phil Murphy Has New Fight With Fellow Democrats; at Stake: Tax Hikes, Schools, Legal Weed
On day 100 of his term, Governor Phil Murphy celebrated with fellow Democrats.
On day 101, Murphy and fellow Democrats resumed their intraparty fighting.
The Record Read more
Sweeney Speaks Boosting Corporate Taxes, Blocking Millionaires Tax
It hasn't been talked about much in recent weeks, but state Senate President Steve Sweeney's proposal to raise taxes on the highest-earning corporations in New Jersey is still on the table. And although state legislators have expressed a lack of enthusiasm for raising taxes this year — as advocated by Gov. Phil Murphy — they could end up adopting it if they want to accept Murphy's plans for higher spending.
NJSpotlight Read more
The Murphy Team: Can't Anyone Here Play This Game?
Last week we learned that political allies of Gov. Phil Murphy are planning an ad campaign to generate public support for the adoption of his budget proposal, which relies heavily on new taxes.
NJ.com Read more
Red States Called Moochers as Hillary Defends Tunnel Project
Hillary Clinton came to the defense of the Gateway Project and accused President Donald Trump of playing politics by holding back federal funds as several members of the New Jersey congressional delegation criticized Republican House efforts to cut funding.
NJ101.5 Read more
Feds Worried NJ Transit Moving Slow on Speed Control That Could Have Prevented Hoboken Crash
New Jersey Transit is in danger of missing the deadline for installing an automatic speed control system on its tracks, the Federal Railroad Administration said in a letter expressing concern with the rail system's progress.
NJ.com Read more
MacArthur Bought Utilities Stocks Before Vote
Rep. Tom MacArthur bought thousands of dollars' worth of securities in gas and oil companies weeks before he voted in favor of a tax bill that would give companies in the industry a direct, one-time tax break worth up to $25 billion.
New Jersey Globe Read more
New Feds in New Jersey—U.S. Attorney and FBI Leader Appointed
Meet the new guys responsible for preventing terrorism, protecting civil rights and rooting out public corruption in New Jersey.
Asbury Park Press Read more
Where Is Christie's Cellphone? And Other Questions About Bridgegate
The room was packed with lawyers. But one key figure was missing this week during appeals arguments in the Bridgegate case.
The Record Read more
College Plans to Layoff 43, Explore Merger With Rowan College at Gloucester County
More than three-dozen employees at Cumberland County College may be laid off come June 30 as the college faces declining enrollment and explores a potential merger with Rowan College at Gloucester County.
NJ.com Read more
Newark Publicizes Its Pitch to Amazon: 'Yes, Newark'
New Jersey's biggest city is giving the public a window into its bid to win Amazon's second headquarters.
The Record Read more
Moran: Ras Baraka Talks Race, Politics and Newark's Progress
Ras Baraka became mayor of Newark four years ago, and here's what has happened since.
NJ.com Read more
New Jersey's Voting Machines: Is Safe Enough Good Enough?
The hacking of election results, rumored to have occurred in 2016 and feared to be possible now and in the future, can happen here, say experts. They worry that New Jersey's current voting process is vulnerable, and the state's ballot system has been graded among the least secure in the country.
NJSpotlight Read more
Did Republicans Just Wave the White Flag in This NJ House Race?
The head of the committee tasked with electing House Republicans acknowledged that his party has failed to recruit a strong candidate to succeed retiring Republican Rep. Frank LoBiondo in South Jersey.
NJ.com Read more
Employees Still Waiting for Promised $15 Minimum Wage, Union Says
Newark Mayor Ras Baraka has been among the loudest advocates in the "fight for $15," a campaign to push the minimum wage up to $15 an hour for workers across the state.
NJ.com Read more
PSEG Will Pay $39 Million for Bidding Errors to Power Grid Operator
In a consent agreement signed Monday and made public Wednesday with the Federal Energy Regulatory Commission, PSEG Energy Resources & Trade, LLC admitted to the facts set forth in the stipulation while neither admitting nor denying the violations.
NJSpotlight Read more
Emil Sorenson, Former Freeholder, Mayor of Two Towns, Dies at 98
A memorial service will be held on May 19 to celebrate the life of Emil Sorenson, Jr., a former Sussex County freeholder and mayor of two Sussex County towns, who passed away on March 29 at the age of 98.
New Jersey Globe Read more
DiIonno: The Spiritual Side of the Gun Conversation
When the spring snowstorms turned to rain and sunshine, there was a plan to convert a sloping parcel of earth below St. Peter's Church in Mountain Lakes into a garden.
NJ.com Read more
Philly Hospital Wants to Pull the Plug, NJ Boy's Mom Seeks Help
A desperate New Jersey mother is seeking help in a legal fight against a renowned Philadelphia hospital that wants to take her 14-year-old son off life support.
NJ101.5 Read more
What New Jersey Families Do After Heroin, Opioid Deaths
When Sally Onesty's son Tyler died of a heroin overdose last year, she decided to have an addiction expert speak at his funeral and to broadcast the services on Facebook.
Press of Atlantic City Read more
New Jersey Hires Former Investment Banker Previously Accused of Securities Fraud
A former Citigroup executive once accused of defrauding thousands of investors was hired last month by the state Department of Transportation, where he is now in charge of overseeing several major divisions.
Politico Read more
A Veteran From NJ Says the FBI Is Targeting Him… Is He One of Many?
On a weekday afternoon in the spring of 2014, Affraz Mohammed looked across his newly purchased brown leather couch at the two men he had let into his apartment in Springfield.
NJ.com Read more
As North Korea, South Korea Talk Peace, North Jersey Koreans Share Mixed Feelings
Stephanie Jang of Palisades Park was moved to tears as images flickered across her television screen of North Korea's leader stepping across the world's most heavily militarized border into South Korea.
The Record Read more
Editorial: Montville Committeewoman Must Resign Her Seat
Sadly, for the Montville Township Committee, and worse still, for Montville Township as a whole, June Witty still occupies her public position of power. It is time for her to give it up.
The Record Read more
For Anti-Gay Slur, Steve Lonegan Should Quit the Race
Back in 2006, when Steve Lonegan was mayor of Bogota, he turned to a Republican councilman and called him a "fundamentalist faggot piece of shit," according to the councilman, and a witness who testified under oath, Bogota GOP chairman Andrew Fede.
NJ.com Read more