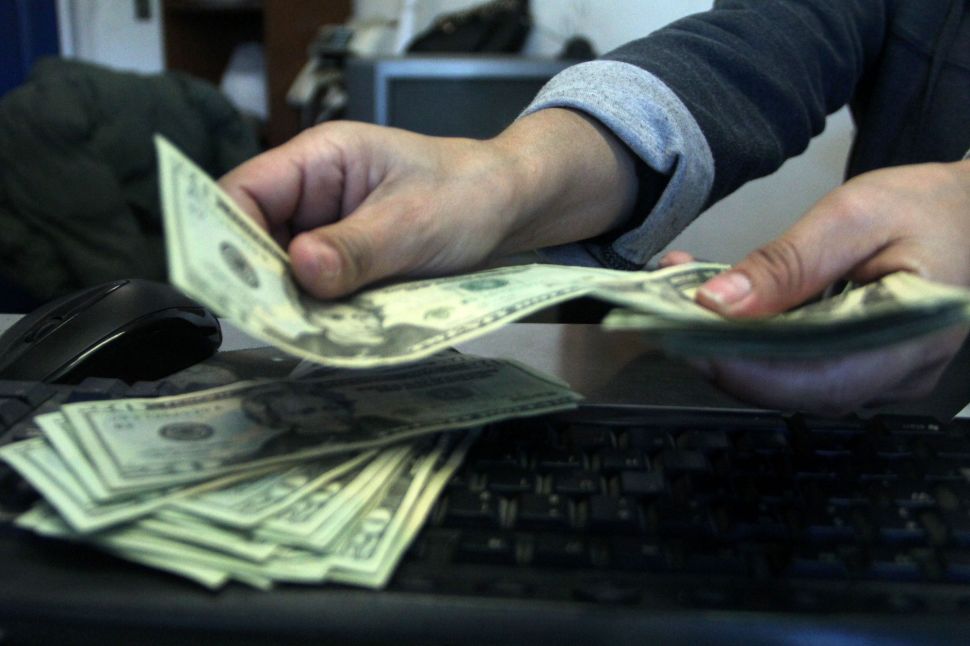 When someone starts handing out $20 bills to attendees during a campaign rally, you can be sure the other side if going to cry foul.
And that's what's happening in Paterson, according to a report from The Paterson Press.
The incident happened when mayoral candidate Pedro Rodriguez held a rally to mark his endorsement by city native and hip-hop star Fetty Wap. But Fetty Wap wasn't the only celebrity on hand for the Sunday night gathering. Also at the rally was entertainer Fatboy SSE, who apparently is known for his habit of handing out double-digit greenbacks, according to the report.
Fatboy SSE didn't disappoint those on hand on Sunday, pulling out a thick wad of cash and peeling off and distributing $20 bills, the report said.
When a representative of Alex Mendez, one of Rodriguez's opponents in the mayoral race, heard about Fatboy SSE's largesse, he announced plans to file a complaint with state and federal election officials, saying the entertainer was clearly trying to buy votes on Rodriguez's behalf. Representatives of other mayoral candidates in the city told the paper they also saw problems with the giveaway. While a representative of the state Election Law Enforcement Commission told the paper the giveaway was "unusual," he also was noncommittal about what, if any action, the state would take.
Rodriguez claims he didn't know about the giveaway when it was happening and did not pay Fatboy SSE to attend the rally, the report said. One thing his campaign did pay for and distribute was ice cream to children who attended, the candidate told the newspaper.
Quote of the Day: "You can't hand out money at campaign rallies. It's illegal. There's nothing gray about it. You are trying to get people to vote for you by handing out stacks of cash." — Henry Sosa, campaign manager for Paterson mayoral candidate Alex Mendez, on an entertainer's actions at a campaign rally for Mendez opponent Pedro Rodriguez.
Phil Murphy Signs Automatic Voter Registration Bill Into Law
Gov. Phil Murphy signed a bill into law on Tuesday that could add hundreds of thousands of New Jerseyans to the voter registration rolls.
Christian Hetrick, Observer Read more
New Jersey State Senator Jeff Van Drew Has $456,000 Cash on Hand
New Jersey state Sen. Jeff Van Drew has $456,000 in the bank for his congressional campaign in the state's 2nd district.
Christian Hetrick, Observer Read more
Fatboy SSE Hands Out $20 Bills at Paterson Candidate's Headquarters; Opponents Cry Foul
An entertainer's distribution of cash at mayoral contender Pedro Rodriguez's campaign headquarters during a rally for Fetty Wap's endorsement is drawing fire from Rodriguez's political rivals.
The Record Read more
Registering to Vote in New Jersey Will Become Automatic by End of the Year
New Jersey residents will soon be automatically registered to vote when getting their driver's license — or when visiting other state agencies — under a law signed Tuesday by Democratic Gov. Phil Murphy.
Asbury Park Press Read more
Students Lives Are Priceless, But School Security Can Break Budget
Jill Marino is scared for her son Jaxson's life. The second-grader attends school at Parkview Elementary in Westville and with the nearly weekly reports of school shootings unfolding across the country, Marino says she will do whatever it takes to make sure Jaxson comes home safe every day.
NJSpotlight Read more
Menendez Threatens to Block Trump Nominee Over Gateway Tunnel Fight
U.S. Sen. Robert Menendez is threatening to block President Donald Trump's nominee to run the Federal Transit Administration, claiming Thelma Drake changed her answers about the Gateway Tunnel project after meeting with him.
NJ.com Read more
Murphy Changes Up State Investment Council
Gov. Phil Murphy has put his own mark on the State Investment Council, nominating eight new public members to replace the team that served under Gov. Chris Christie.
New Jersey Globe Read more
Health Care Officials Grappling With Issues Surrounding Medical Marijuana Use in Hospitals
Despite the recent call for usage expansion from state Health Commissioner Shereef Elnahal, hospitals in the state find themselves caught in the middle of state versus federal regulations.
ROI-NJ Read more
Legal Weed Companies Could Rake in Billions… So Why Don't People Want to Work for Them?
The Santa Ana, Calif.-based company Kush Bottles made $18 million in 2017. That's twice what it earned the year before. Executives there expect to double revenue again in 2018.
NJ.com Read more
Can New Jersey Match New York City's Vision Zero in Curbing Road Deaths?
If— like Pam Fischer and Pat Ott— you keep track of governmental goals, you might not like the results of a goal set in 2015 to reduce road deaths in New Jersey by 2.5 percent each year under a strategy called Vision Zero.
The Record Read more
The 2020 House Short List
If Patrick Murray is right and New Jersey sends twelve Democrats to the U.S. House of Representatives next year, the state would brace for another cycle of competitive congressional races in 2020 – this time with a mostly new crop of candidates.
New Jersey Globe Read more
As Opening Day Looms, Monmouth Park Still Waiting for Sports Betting
With horses set to begin arriving at Monmouth Park on Friday in preparation for opening day on May 5, the Oceanport racetrack remains in limbo regarding its most promising option for a much-needed alternative revenue stream to help with purses and operations.
Asbury Park Press Read more
Murphy Close to Reinstating UEZ Zones
Five New Jersey communities that were longtime members of the state's Urban Enterprise Zone economic-development program before being removed early last year may be on the verge of getting back in.
NJSpotlight Read more
NJ Transit Hell As Passengers Made to Wait 4 Hours to Get Home
The commute for NJ Transit passengers onboard the 5:35 p.m. Newark to High Bridge turned into a four-hour nightmare on Monday night with no answers from officials.
NJ101.5 Read more
Should State Rules Be Changed to Keep People From Collecting a Pension and Getting a Public Paycheck?
"Retirement" doesn't look so bad for someone like former Bayonne Mayor Mark Smith.
Jersey Journal Read more
Former Fulop Aide Caught on 'Bid Rig' Tape Hired by New Jersey Assemblywoman
Muhammed Akil, the former chief of staff to Jersey City Mayor Steve Fulop who was caught on a profanity-laced recording allegedly trying to rig a bid for a city contract, now has a job with a state lawmaker who's allied with Fulop.
Politico Read more
ACUA's Battery Storage System the First Financed by Clean Energy Fund
The Atlantic County Utilities Authority is breaking ground again with a new green initiative, the first battery-storage system financed in part through the state's Clean Energy program.
NJSpotlight Read more
Miss America to Remain in Atlantic City With $4 million CRDA Subsidy
After months of uncertainty, the Casino Reinvestment Development Authority approved $4.325 million in supplemental funding for the 2019 Miss America Competition.
Press of Atlantic City Read more
Brookdale Professor to Conservative Student: "F— Your Life"
Brookdale Community College is investigating a sociology professor after one of his students said the teacher was targeting him for being conservative.
Asbury Park Press Read more
Starbucks to Close NJ Stores for Bias Training
Starbucks, trying to tamp down a racially charged uproar over the arrest of two black men at one of its stores in Philadelphia, plans to close more than 8,000 U.S. stores for several hours next month to conduct racial-bias training for its nearly 175,000 workers.
NJ101.5 Read more
Lacey School Attorney Apologizes for Comment During Firearms Flap
An attorney for the school board offered a public apology Monday after he was accused by some residents of calling them "the chicken gallery" at a meeting last month about student discipline and gun rights.
Asbury Park Press Read more
Gun Advocate Blasts Brick Police Request to Turn in Unwanted Firearms
A gun rights advocate is blasting the Brick police's volunteer gun surrender plan as being "blind" to the fact that guns are used defensively by law-abiding citizens and he claims guns turned over to local authorities can end up in the personal collections of some police officers.
Asbury Park Press Read more
Merriken a No-Show at Spring Lake Heights Meeting After Arrest
A borough councilman charged last week with possessing drug paraphernalia was a no-show at the governing body's meeting Monday night, drawing a rebuke from the mayor, a political opponent.
Asbury Park Press Read more
West Milford Officials Spend $65,000 on Town Hall Efficiency Audit
You have to spend money to make money, the saying goes. In this case the township is spending money to save more of it, say local officials.
The Record Read more
Texas Governor: Hey, Jersey, Don't Move to Fla. to Avoid High Taxes, Come to Texas
When Gov. Phil Murphy unveiled his budget proposal in early March, it left people throughout New Jersey shaking their heads in frustration–and for good reason.
NJ.com Read more
Bergmann: Trump Toxic for NJ GOP
Gov. Phil Murphy has Republicans in New Jersey—and some Democrats—singing the blues. The chorus could become even more plaintive in November.
Asbury Park Press Read more
Editorial: Taking Stock of Firearms Coming Into New Jersey
Local law enforcement officers have for years been aware of an East Coast "pipeline" that runs along the Interstate 95 corridor south of New Jersey. And they are not talking about drugs, but about guns. They are talking about the so-called "Iron Pipeline," and the relative ease with which firearms used to commit crimes in New Jersey arrive here illegally from other states.
The Record Read more
Editorial: NJ's Transit Infrastructure and the Amazon Bid
The great Amazon second headquarters sweepstakes is underway, and indications are that Newark is making a pretty good impression so far. Last week, as The Record reported, Gov. Phil Murphy and local officials met with Amazon representatives as the state sought to put its best foot forward in attracting Amazon—along with up to 50,000 jobs, plus $5 billion in investment—as the competition drills down to its "finalist" phase.
The Record Read more