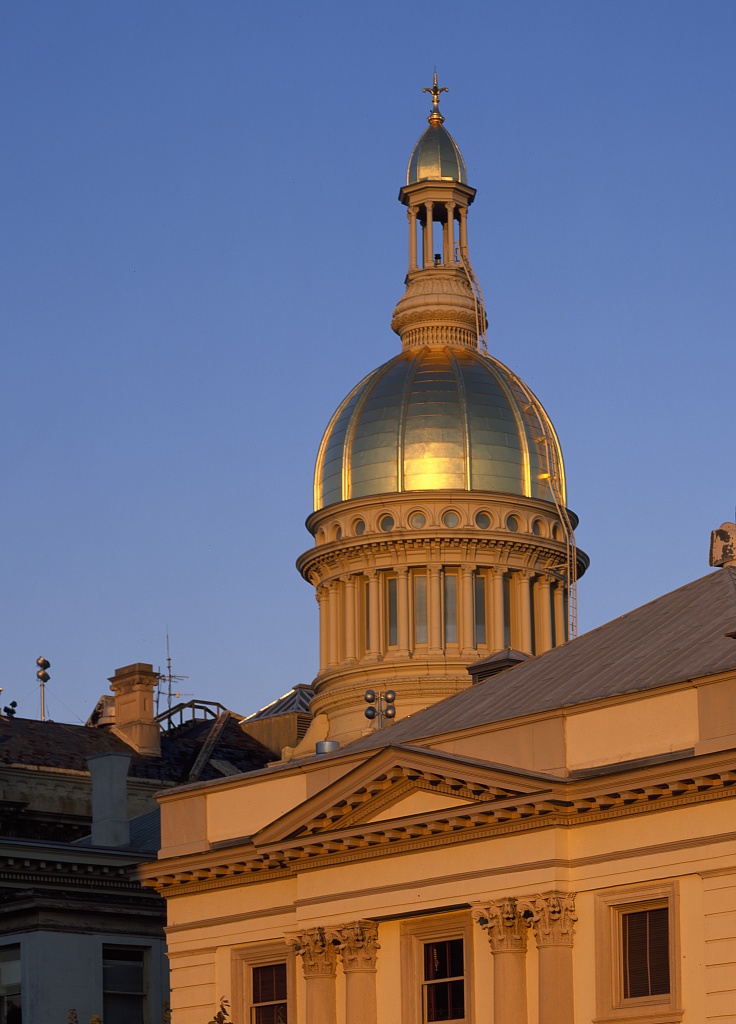 Despite complaints about the cost of living in the state, New Jersey voters have always proved willing to approve bond issues for good causes when they are placed on the ballot. And lawmakers hope that will be the case again in November, when voters are asked to approve spending $1 billion on school security measures and funding to upgrade the state's vo-tech schools.
It's a big chunk of change and twice the amount that lawmakers were originally planning to ask for, according to a report on NJSpotlight.
The original plan had been to seek $500 million for the vo-tech improvements. Lawmakers say that spending is necessary since businesses in the state are having trouble finding workers with the right skills to meet their needs.
But that plan might be a tough sell, given that Gov. Phil Murphy's first budget is calling for a wide variety of tax hikes, including raising the state sales tax—that residents were told was compensation for the Democratic legislature and Republican Gov. Chris Christie hiking the gasoline tax by 23 cents per gallon.
The school shooting in Parkland, Florida, has raised concerns about school safety on both sides of the aisle, and Republicans have joined the effort to seek to add the security funds to the vo-tech bond issue, according to NJSpotlight.
And while, as the NJSpotlight report points out, New Jersey is one of the country's most in-debted states, and its structural fiscal problems are well known, it's hard to argue against spending money to ensure the safety of school children.
Quote of the Day: "Wow, you've got to be kidding me. I can't believe he said that." — Senate President Steve Sweeney, after Gov. Phil Murphy brought race into the discussion of Sweeney's blocking two of the governor's cabinet nominees.
Phil Murphy Brings Race Into Dispute With Steve Sweeney Over Cabinet Nominees
New Jersey Gov. Phil Murphy brought up the issue of race on Thursday when asked about Senate President Steve Sweeney's decision to block the confirmation votes for two of his cabinet nominees, noting both are African-American.
Christian Hetrick, Observer Read more
Assemblyman Jay Webber Raises $233,000 for Congressional Campaign
Assemblyman Jay Webber has raised $223,000 since he jumped in the race to replace retiring Rep. Rodney Frelinghuysen in New Jersey's 11th district, his campaign announced on Friday.
Christian Hetrick, Observer Read more
New Jersey Governor Phil Murphy Is Proof That Politicians Can Keep Promises
Murphy's first budget address as governor of New Jersey included a plan to fulfill most of his campaign promises. His "fair deal" progressive budget included a call for increasing school funding, legalizing marijuana, providing free community college and overhauling the state's crumbling transportation system.
Donald Scarinci, Observer Read more
Law Says If Murphy Raises Sales Tax, Your 23-Cent Gas Tax Hike Should Go Away… Don't Count on It
When your gas tax went up in 2016, your sales tax went down. And state lawmakers vowed that if New Jersey's sales tax was raised again, that 23-cent gas tax increase should go away. It was part of an effort to make sure the tax cuts enacted to balance out the controversial gas tax hike would actually last.
NJ.com Read more
Mulshine: As Phil Murphy Plays the Race Card in Montclair, Steve Sweeney Rules in Trenton
I suspect our new governor is feeling a little bit like Childeric the Third felt back in 751 A.D.
NJ.com Read more
Wow! Murphy Will Soon Decide on 13 Big Bills That Can Have a Major Impact on Your Life
Gov. Phil Murphy's desk is quickly getting cluttered. The Democrat has been in office less than three months, but the Democrat-controlled state Legislature has already sent a flurry of bills for the new governor to sign or veto. The measures address a number of issues that would affect millions of us—including voting rights, medical bills, sick pay, equal pay, oil drilling, and more.
NJ.com Read more
Lawmakers Want Voters to Approve $1 Billion Bond Issue for School Safety and Vo-Techs
State lawmakers have supersized a planned bond issue that's on track to go before New Jersey voters this fall, turning a proposed $500 million debt sale for facility upgrades at vocational-technical high schools and community colleges into a $1 billion issue that would also raise money for school security improvements.
NJSpotlight Read more
Phil Murphy Wants a Few Million Dollars to Help NJ's Downtowns
Here's another initiative Gov. Phil Murphy is touting as he sells his first state budget proposal: devoting a few million taxpayer dollars toward improving New Jersey's downtowns and neighborhoods.
NJ.com Read more
How N.J.'s senators reacted to Trump's air strikes in Syria
U.S. Sens. Robert Menendez and Cory Booker, both members of the Senate Foreign Relations Committee, called on President Donald Trump to consult with Congress following the U.S. military attack on Syria for its use of chemical weapons.
NJ.com Read more
Beyond Signs and Slogans, What Does Rutgers Adjunct Faculty Want?
Part-time professors and contingent faculty at Rutgers University make up 70 percent of the teaching staff but some part-timers are paid significantly less than the tuition of a single student. This group is arguing it is unfairly treated by the university system and has ramped up its efforts to garner public support for its plight.
NJSpotlight Read more
NJ gun owners rally for right to bear arms
New Jersey gun owners took aim at the perceived threats to their right to bear arms on Saturday with a noisy rally on the steps of the War Memorial building.
The Record Read more
Now NJ Democrats Want to Go After the NRA and Gun-Friendly States
Democratic lawmakers want to take the state's tight gun control laws and expand them outside of New Jersey's borders.
NJ.com Read more
He Says He Became the Face of Those Wrongly Targeted by NJ Gun Laws
Brian Aitken says prior to his 2009 arrest he considered himself a regular guy who occasionally went shooting with his dad.
NJ.com Read more
Christie on Comey: 'The President May have been Right to Fire Him'
Former FBI Director James Comey's new book excoriating President Donald J. Trump comes out on Tuesday, and today former Governor Chris Christie got in a shot on Comey in an interview he did with ABC News personality George Stephanopoulos.
InsiderNJ Read more
As Prosecutor, Christie Did Exactly What He Bashed Comey for Doing
Eleven days before the 2002 New Jersey primary, U.S. Attorney Chris Christie issued a letter saying that Joseph DiVincenzo was "not a subject or target of the grand jury investigation."
New Jersey Globe Read more
Obamacare: NJ Lawmakers Vote to Bring Back Health Insurance Mandate
Murphycare could look a lot like Obamacare.
The Record Read more
Murphy and Sweeney: NJ Politics Great Divide
The Murphy-Sweeney divide got a little wider Thursday after Senate President Steve Sweeney pulled two cabinet nominations from Thursday's Senate board list.
NJTV News Read more
I Had Breakfast With George Norcross and Here's What He Told Me
I took a seat at the Marlton Diner across the table from George E. Norcross III.
"This is all about Camden," he announced.
Philly.com Read more
Comey's New Book Sets Off Fresh, Angry Spat With Trump
Former FBI Director James Comey hardly fits the image of a street fighter. But he's landing some powerful punches on the man who fired him, President Donald Trump.
The Record Read more
Senate Approves Muoio for State Treasurer
The 35-0 vote in favor of Gov. Phil Murphy's nomination of former state lawmaker Elizabeth Maher Muoio topped off a busy week for the new treasurer, who's also been making the rounds before lawmakers to explain Murphy's $37.4 billion budget proposal for the 2019 fiscal year.
NJSpotlight Read more
Christie Headed to Harvard to Talk Opioids
Former Gov. Chris Christie will be visiting Harvard University to talk about solutions to the nation's opioid crisis.
NJ101.5 Read more
NJ Firefighter Placed on Leave After Racist Facebook Posts Surface
A Bayonne firefighter has been suspended with pay after racially charged pictures were found on his personal Facebook page.
NJ.com Read more
Tensions Soar Over Building Project Near Atlantic Highlands School
The corner of First Avenue and East Lincoln is a busy, bustling intersection. Within a golf shot's distance there are numerous homes, mom-and-pop stores and Atlantic Highlands Elementary School. The streets are lined with vehicles—parked cars, trucks rumbling through, commuters tooling to and from the Seastreak Ferry terminal five blocks to the east.
Asbury Park Press Read more
EHT Tax Breaks Good for Business, but Residents Unsure of Benefits
For almost two decades, the township's tax-abatement program has encouraged commercial property owners to build and expand their businesses here in exchange for a break on property taxes.
The Press of Atlantic City Read more
'He's Showing Bias,' NJ Weedman Says Trenton Clerk Blocked His Mayoral Campaign
New Jersey marijuana activist Edward "NJ Weedman" Forchion is adding yet another legal battle to his list.
NJ.com Read more
Maritza Davila Only Incumbent in Paterson Council Race
Maritza Davila is the only incumbent among the 14 people running for the three at-large City Council seats up for grabs in Paterson's May 8 election.
Paterson Press Read more
Fatima Bell Wants to Make Paterson City Council More Accountable to Citizens
Fatima Bell began attending City Council meetings after she decided to run for a seat on Paterson's governing body. She said she was shocked at what she saw.
Paterson Press Read more
Police K9 Set To Return To Family
A SEPTA K9 dog removed from the home of his handler has been returned to the family after being retired from active duty.
NJ101.5 Read more
Editorial: Police Salaries Mind-Numbing
Why are property taxes in New Jersey so wildly out of control? Generous salaries and pension benefits for public employees and wasteful layers of government are the two chief reasons. Someone needs to drive that point home to our new governor, Phil Murphy, who seems oblivious to it.
Asbury Park Press Read more
Editorial: After Wrongful Convictions, a Cry for Reform From Murphy's AG
After filing a flood of lawsuits against the Trump administration and seeking to improve police transparency, Phil Murphy's Attorney General is narrowing his eye for justice on a badly bungled murder case in Passaic county.
NJ.com Read more