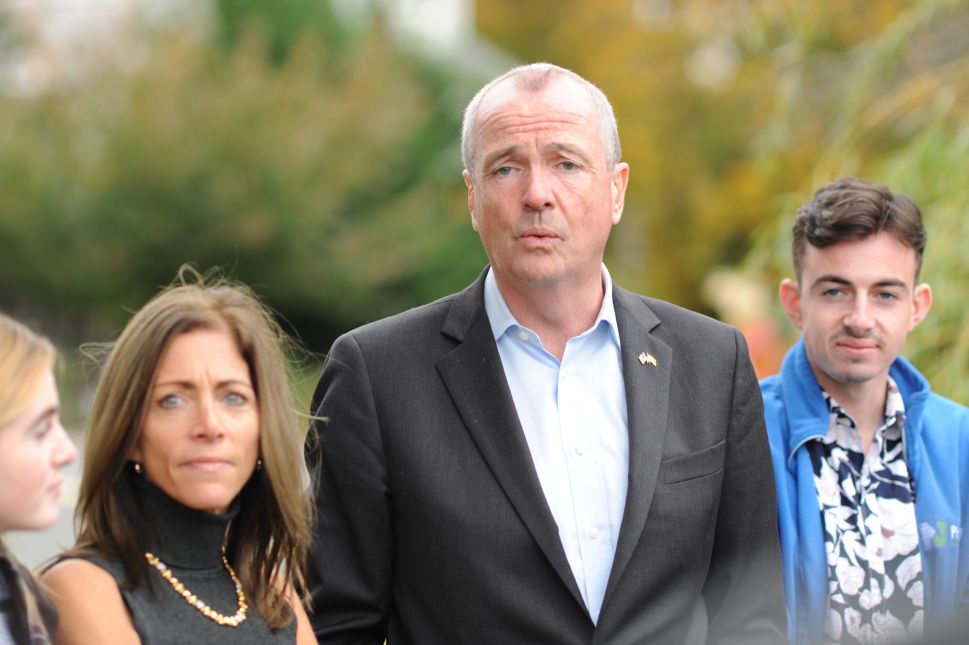 So how much does a door cost in New Jersey?
If you're Gov. Phil Murphy, close to $13,000.
That's how much Murphy has spent to install a new door for his wife's office, according to an NJ.com report.
The money went to installing a doorway, part of efforts to convert a conference room close to the governor's office into an office for Tammy Murphy.
Overall, Murphy—who is proposing hiking the state sales tax and instituting new taxes on internet purchases, ride- and house-sharing services and other items—spent $27,000 to update his office and create a space for his wife and staff.
Murphy representatives told NJ.com that the expenditures were "standard" for a change of administrations.
And, as NJ.com pointed out, Murphy's redecorating is small potatoes compared to some other free-spending governors around the country.
Quote of the Day: "You can still get a religious exemption, you just sort of can't make it up." — Assemblyman Herb Conaway, on efforts to tighten religious-exemption rules regarding childhood vaccinations.
New Jersey's Sports Betting Legal Bills Top $7 Million
The state of New Jersey has racked up more than $7 million in legal bills fighting to legalize sports gambling, a bet that could pay off if the U.S. Supreme Court sides with the state in its sports wagering case.
Christian Hetrick, Observer Read more
New Jersey Lawmakers Expand Automatic Voter Registration Bill
New Jerseyans would automatically be registered to vote when they visit a Motor Vehicle Commission office and many other state agencies under a bill moving through the Democrat-controlled legislature.
Christian Hetrick, Observer Read more
Gov. Phil Murphy Details Free Community College Plan
Gov. Phil Murphy outlined his plan on Thursday to offer free community college to all New Jersey students within three years.
Christian Hetrick, Observer Read more
Murphy Just Spent $13K to Install a Door for His Wife's Office… What's Going on Behind It?
If you need a metaphor for the first 80 days of Gov. Phil Murphy's governorship, consider this the one.
NJ.com Read more
Crackdown on Religious Exemptions for Vaccines Advances After Stormy Hearing in NJ
More than 10,000 students—two percent of New Jersey's school-aged population—now have religious exemptions to vaccines for diseases like measles, mumps, whooping cough, chickenpox and polio, more than six times the number from a decade ago.
The Record Read more
New Jersey Could Soon Outlaw Marriage For Anyone Under 18
New Jersey could become the first state in the nation to outlaw marriage for anyone under the age of 18.
NJ.com Read more
Sweeney Wants $750M Bond Issue to Fund Expansion of Vocational Education
John Kennedy said he was thrilled that more than 150 manufacturers attended the first session of the New Jersey Manufacturing Extension Program's second annual State of the State on Wednesday at the Trenton War Memorial.
ROI-NJ Read more
Phil Murphy Faced Anger and Tears Over School Funding at a Town Hall… Here's How He Reacted
The town hall crowd showed up Wednesday night in Willingboro to lambaste Gov. Phil Murphy over how New Jersey will dole out aid to public schools in his first state budget proposal.
NJ.com Read more
Charter Schools Are Expanding to New Turf in NJ and Bringing the Same Bitter Debate
Deep in South Jersey, on the sprawling grounds of a summer camp surrounded by rolling farmland, Upper Pittsgrove Township is about to have something in common with the state's big cities.
NJ.com Read more
State Senate Committee Amends Out-of-Network Bill
The state Senate Commerce Committee amended Senate Bill 485 on Thursday to give more power to out-of-network doctors in price arbitrations with insurance companies.
NJBiz Read more
JCP&L and Other NJ Power Companies Could Soon Face Fines Up to $2M for Storm Response
Power companies may soon face stiff fines for failing to restore electricity in a timely fashion after a bill was approved by a committee Thursday in response to Jersey Central Power & Light's much-criticized response to recent snowstorms.
The Record Read more
NJ Spending Millions to Keep Roads Snow Free
The calendar says spring, the birds are chirping but some parts of the Garden State could see more snow Friday night into Saturday.
NJ101.5 Read more
NJ Schools: How Your Kid Will Pay for 2018 Snow Days
Saturday school. Shortened spring break. Class time extended into the depths of summer.
Asbury Park Press Read more
NJ Drug Deaths up Sharply in 2018, Attorney General Says
Suspected drug deaths in New Jersey have risen to 765 through April 1 and are on pace to top the 3,000-mark for the first time, according to a new data from the Attorney General's Office.
Asbury Park Press Read more
Armed Guards, Drills, Mental Health: NJ Lawmakers Talk School Security After Parkland
Post armed first responders in schools. Upgrade security systems. Improve mental health services. Those were among the recommendations New Jersey lawmakers heard Thursday to improve school security in the wake of the deadly shooting in Parkland, Florida.
The Record Read more
Making Sure Murphy Administration Prioritizes Environmental Justice
Environmental and urban community activists met with officials from the new administration in Trenton on Wednesday in an effort to ensure that Gov. Phil Murphy's priorities for New Jersey lead to environmental improvements in urban and low-income communities.
NJSpotlight Read more
Spring Lake Heights Official Resigns—Then Unresigns—After Arrest in Neptune City
A borough councilman was arrested and charged with having a hypodermic needle in his car, setting off a confusing chain of events where he resigned from office and then changed his mind.
Asbury Park Press Read more
NYPD to NJ Muslims: We Won't Spy on You Based on Your Religion
The New York City Police Department will not engage in surveillance of people in New Jersey based solely on their religion, ethnicity or race.
NJ.com Read more
OPRA Complaint Targets Palisades Park
A Sussex County resident with a history of open public records activism has set his sights on Palisades Park.
The Record Read more
Morris County Mobile Addiction Outreach Program Turns One
Akash spent Monday night in a Newark shelter. He lost his home when he relapsed after being alcohol-free for months.
Daily Record Read more
How Bayonne Mayoral Candidate Plans to Revamp Parking
Jason O'Donnell, a former Assemblyman running for mayor, has released a full parking plan that would attempt to revamp the current parking situation in the Peninsula City.
NJ.com Read more
Stockton University to Sell Seaview Hotel and Golf Course
The Stockton Seaview Hotel and Golf Club could have a new owner soon, as the university will consider selling the property at a Monday meeting.
Press of Atlantic City Read more
Lawsuit Targets Fulop's Action on 'Bayonne Box' Homes
Four companies seeking to build residential homes in the Jersey City Heights want a judge to declare Mayor Steve Fulop's home-demolition executive order invalid.
NJ.com Read more