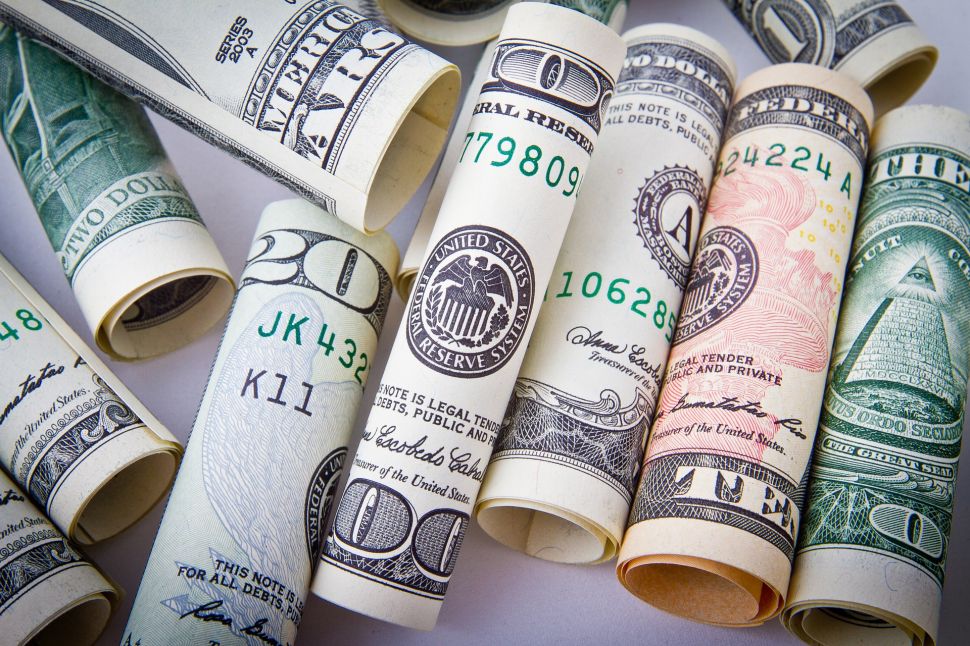 Yikes, the economic outlook in New Jersey is pretty grim—and it's not going to get any better.
While that might be the gut feeling of many in the Garden State, a new report puts numbers to their fears, according to a piece on ROI-NJ.
According to the "Rich States, Poor States" report by the American Legislative Exchange Council, New Jersey is ranked 49th out of 50 in economic performance and 46th for economic outlook.
The economic performance rank is based on cumulative GDP growth and non-farm employment growth between 2006 and 2016 and the number of people leaving the state between 2007 and 2016.
"These variables are highly influenced by state policy," the report notes.
The ecomomic outlook ranking is based on 15 "important state policy variables," including various tax burdens, the ratio of state employees to residents and debt service as a share of tax revenue.
In the ROI-NJ report, representatives of state business groups say the rankings are no surprise, given the state's notoriously high tax burden and regulations on business. They point to the 516,326 people fleeing New Jersey in the nine years covered by the report and warn things will only get worse as state Democrats plan new tax hikes and business regulations.
"At the same time as this very negative economic report is released, our legislators are piling costly labor mandates on the backs of small businesses such as paid leave, and a proposal for a $15 minimum wage," Laurie Ehlbeck, state director of the National Federation of Independent Business, told ROI-NJ. "Ill-advised policies like these will only make the Garden State die on the vine as other states bear fruit."
As Gov. Phil Murphy pushes for the $1.5 billion in new taxes included in his budget, NJ.com on Sunday tried to break down what those increases might mean for New Jersey residents.
The report cites figures from New Jersey Policy Perspective on how increasing the state sales tax back to seven percent—it was cut to 6.625 percent when legislators raised the state gas tax by 23 cents per gallon—would impact families. The median household income in New Jersey was $76,126 in 2016, meaning the average family would pay about $86 more per year, according to the calculations.
Murphy's other tax proposals include hiking taxes on high earners, on internet purchases, e-cigarettes and regular tobacco, ride and house sharing services.
Murphy, who contends people won't mind paying more taxes if they feel they are getting their money's worth, wants to use some of the new tax money to increase school funding, which should help reduce the property tax burden in some districts.
Quote of the Day: "So they sent the superintendent of the Port Authority to Newark to meet me for lights and sirens into Manhattan to make sure I got there in time." — Radio host Rush Limbaugh, bragging about the special treatment he claims to have received when scheduled to speak at the Marine Corps Law Enforcement Foundation gala earlier this month.
Phil Murphy Signs Bill Banning Offshore Drilling in New Jersey
New Jersey Gov. Phil Murphy signed a bill into a law on Friday to ban offshore drilling in state waters, hindering President Trump's plan to open up oil and gas production off the Atlantic coast.
Christian Hetrick Read more
Phil Murphy wants to raise taxes $1.5B. How much would that actually cost you?
Gov. Phil Murphy got an earful from some taxpayers at a town hall Thursday night, the third road show for his $37.4 billion budget.
NJ.com Read more
Craig Coughlin Proposes Tax Amnesty Program to Raise Revenue for Budget
New Jersey Assembly Speaker Craig Coughlin is proposing a three-month tax amnesty program to raise revenue for the upcoming budget.
Christian Hetrick Read more
PARCC's Long Goodbye Won't End Standardized Tests in NJ
Standardized testing season is now well underway in New Jersey schools, with students setting aside their regular schedules for a few weeks of the Partnership for Assessment of Readiness for College and Careers exams.
NJ101.5 Read more
Economic report slams N.J.'s performance, outlook
A new national economic report ranks New Jersey near the bottom of the barrel in economic performance and outlook.
ROI-NJ Read more
Studios 'lining up at the gate' to film in New Jersey once tax credit bill is signed
With the state's film tax credit bill now past the Senate and the Assembly, production companies are eager to work in the Garden State, say those in the industry.
The Record Read more
Students rally to save teacher who faces death sentence in Egypt
Ahmed Abdel-Basit Mohammad knows that if he is sent back to Egypt, he will die.
The Record Read more
Group says gun violence a $1.2 billion drain on New Jersey
Gun violence not only kills and injures hundreds of people every year in New Jersey, it causes a reverberating sense of fear that affects tourism, the way people shop and forces some businesses owners to reduce their hours or relocate, all of which stifles the state's economy.
NJ.com Read more
Murphy told tearful mom 'help is on the way' for schools. She says those are just lines
When pressed for an answer, Amy Jablonski said Friday she'd know the exact date at which she might start questioning her vote for Gov. Phil Murphy.
NJ.com Read more
Di Ionno: Veterans bring 'country first' mentality to politics
It doesn't take a political historian or analyst to see the correlation between long-time partisan stalemates in Congress and the declining number of veterans in the Senate and House.
NJ.com Read more
Moran: Lance roars at Trump again. MacArthur purrs in his lap.
I bet that Sen. Mitch McConnell wears a seat belt, even though a car crash on any given day is unlikely.
NJ.com Read more
Politicians from states that mooch off N.J. launch new push for Trump to kill Gateway tunnel
Republican lawmakers representing 16 states — all but two receiving more money from Washington than they pay in federal taxes — have launched a new effort to block federal funding for the Gateway Tunnel project that runs between the two states that get back the least.
NJ.com Read more
How hard is the anti-Trump wave crashing New Jersey? Here's a close look.
Want to know how Jersey Democrats' efforts to hand President Donald Trump a big midterm election defeat is going?
NJ.com Read more
Did Rush Limbaugh get rush-hour police escort from Newark to NYC to attend gala?
The Port Authority is looking into claims that the agency provided a police escort for Rush Limbaugh who was hustling from Newark Liberty Airport to downtown Manhattan to make an evening event earlier this month.
NJ.com Read more
Cory Booker tapped for speech, honorary degree at Temple
One of New Jersey's most influential political figures will take the stage at Temple University next month to address its newest class of graduates as they head out into the post-college world.
NJ.com Read more
Jersey mom fights for her daughter inside a congressman's D.C. office
Armed with a photo of her eldest daughter and a personal story to tell, Kristin Camiolo sat down with her congressman and his aides to seek support for the bill that brought her to the nation's capital.
NJ.com Read more
Ocean County's first charter school: Crucial or crushing for Lakewood kids?
On a recent morning, Diane Oxley led a group of kindergartners in light blue polo shirts through a reading and writing lesson. For some of these township students, the lesson was doubly difficult because English isn't their first language.
Asbury Park Press Read more
FERC Reviews Policies for Approving Natural Gas Pipelines
The federal government is opening a review on whether its policies governing approval of interstate natural-gas pipelines should be revamped, an issue often raised by critics of the rapid expansion of industry infrastructure in New Jersey.
NJSpotlight Read more
Murphy open to tax amnesty program but worries about 'one-off solutions'
Gov. Phil Murphy said Friday he is open to creating a temporary tax amnesty program that could potentially raise hundreds of millions of dollars in revenue for the upcoming budget.
Politico Read more
As banks hesitate, credit unions wonder if cannabis could be key growth opportunity for them
David Frankil has heard more about marijuana over the past year than he ever expected to as CEO and president of the New Jersey Credit Union League.
ROI-NJ Read more
These New Jerseyans took their campaign against legal weed to Washington on 4/20
High-profile opponents of Gov. Phil Murphy's proposal to allow marijuana for personal use brought their case to the nation's capital on Friday — 4/20, an informal marijuana holiday.
NJ.com Read more
NJ marijuana legalization: Lawyers say weed is good for you
Why would using a substance that promotes health be criminal?
Asbury Park Press Read more
Bill Dowd, former Assemblyman dies at 74
William F. Dowd, a smart and gregarious former Assemblyman and longtime Monmouth County Chairman, passed away on Saturday night. He was 74.
New Jersey Globe Read more
Paterson police officer dead after serious one-car crash
A Paterson police officer was pronounced dead after a one-car crash on Getty Avenue late Sunday morning, according to the Passaic County Prosecutor's Office.
The Record Read more
Lakewood, Toms River cops want your help with surveillance cameras
Police in Toms River and Lakewood are going high-tech, and they are asking for help.
Asbury Park Press Read more
This mayoral debate had a lot of football metaphors and a lot of squabbling, too
If there's one word to encapsulate Thursday night's mayoral debate in Newark, it'd be — touchdown.
NJ.com Read more
Exotic tick found on Hunterdon County farm was first in country
An exotic tick species not known to the United States was found on a farm in Hunterdon County—and there could be more.
The Record Read more
Editorial: Get NJ back on track for road safety reforms
Driving in densely-populated, high-traffic New Jersey can seem like a fast-paced carnival ride with no safety rails. While some strides have been made over the years to prevent traffic fatalities, the number of deaths from road and highway accidents remains stubbornly high—a fact not lost on traffic safety activists who have mobilized to push for greater reforms in the state to prevent these needless deaths.
The Record Read more
Editorial: Gov. Murphy's first 100 Days delivers . . . normalcy
New Jerseyans pretty much agree that tens of thousands of women who cannot afford mammograms and cancer screenings should have access to them.
NJ.com Read more