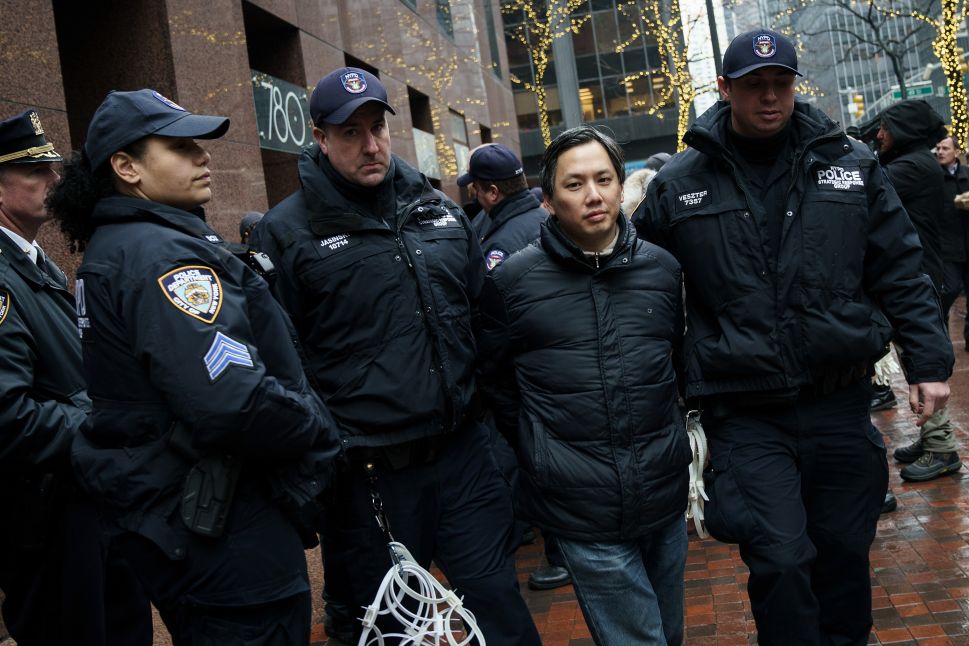 The Civilian Complaint Review Board (CCRB) says the number of allegations of misconduct against members of the NYPD increased in 2017 for the first time in eight years.
CCRB said there is no way to determine whether the increase means that there is a higher rate of misconduct or that people are reporting more but noted it held more informational events (expanded outreach) in 2016 and 2017 than in the previous three years altogether.
The mayor thinks the uptick in complaints is likely due to expanded outreach and maintained that NYPD's disciplinary system is solid, while police reform advocates say the system is still flawed.
In 2017, CCRB received 4,487 complaints from civilians about allegations of force, abuse of authority, discourtesy (rudeness) or offensive language by members of the NYPD—a five percent increase from 2016, according to the report. This marks the first increase in the annual number of CCRB complaints since 2009.
De Blasio told Observer on Thursday afternoon that the overall trend with CCRB complaints has been "very, very positive" over the last several years.
"We've seen a steady reduction in complaints against officers," he said. "We did have a little uptick here but not a very substantial one in the scheme of things, and second, this has been the same time frame in which there was an expanded CCRB outreach program… so that may have well been part of why you saw more complaints."
Indeed, he says he prefers to look at the "big picture."
"The reduction in complaints has been so steady for so long and clearly there's a changing relationship between police and community," de Blasio continued. "That's what I'm focused on. We'll watch going forward, but at this point, I don't see it as a major indicator."
Earlier this month, Saheed Vassell, a 34-year-old black man with mental health issues was fatally shot by officers who mistook a metal shower head he had for a gun.
When asked about the city's policy for handling allegations of misconduct against cops, he said he's happy with the approach the city is employing.
"I am satisfied that we have a robust situation now where we have a CCRB that's functioning better than ever in the past, that NYPD takes those concerns very seriously, and we have a disciplinary system that's working," the mayor added. "I'm comfortable that we've struck the right balance."
Of the allegations closed in 2017, 58 percent were allegations of abuse of authority like unlawful searches of premises, refusals to give a name or shield number and threats to arrest a civilian, according to CCRB.
The substantiation rate for complaints (validating a complaint) of all types of police misconduct, 20 percent, falls within the range of substantiation rates from the last five years, which ranged from 15 percent in 2013 to 24 percent in 2015, the agency noted.
"In addition to conducting investigations as the nation's largest independent civilian oversight agency, the CCRB is one of few entities that provide data on complaints of police misconduct to the general public," Fred Davie, CCRB's acting chairman, said in a statement. "As our city continues seeking ways to improve police- community relations, clear data that provides insight into the current state of affairs is essential."
For the first time since since CCRB's Administrative Prosecution Unit (APU)–which includes a chief prosecutor, two deputy chief prosecutors and 16 prosecutors—started prosecuting cops, the report now makes a distinction between the concurrence rate (the extent to which the NYPD imposes a form of discipline that matches what CCRB recommended) for APU cases and that of all other cases.
The police department disciplined cops in some way in 73 percent of non-APU cases, but the concurrence rate for those cases was 42 percent. For APU cases, that rate was 27 percent, the report found. The top reason for this occurrence was a "not guilty" verdict by the assigned trial commission at 36 percent for cases in 2017.
And the agency was able to make a determination about 55 percent of allegations for which there was video evidence last year, compared to 38 percent for allegations for which there was no video evidence.
The city announced that all cops on patrol will have body-worn cameras by the end of the year. The substantiation rate for complaints for which there was video was 31 percent—double the rate for complaints that did not have any video, which was 14 percent.
Josmar Trujillo of the Coalition to End Broken Windows told Observer that when CCRB complaints drop, the mayor touts the success of programs such as the neighborhood policing initiative that pairs officers with residents. Now that the numbers are up, he is looking for another explanation, he argued.
"His inconsistency shows that his refusal to acknowledge any wrongdoing by the NYPD at this point makes New York City look like a laughingstock," Trujillo said.
Another issue, he contended, is that CCRB's 13-member board is politicized.
The City Council appoints five board members—one from each borough. The mayor chooses five members, including the chair, while O'Neill picks three who have law enforcement experience. De Blasio makes the official appointments to the board.
Trujillo also noted that the former CCRB chairwoman, Maya Wiley, used to work directly for the mayor's office.
"It's really never been independent," Trujillo continued. "It's a highly political agency."
He said noted the few times the agency substantiates claims, it does not result in "real punishments," adding that that CCRB investigators will try to get people to mediate with officers involved in a complaint.
"You could have 100 percent more allegations every year and if it's not being addressed, I think that that's the bigger problem," Trujillo added.
Cynthia Conti-Cook, a staff attorney in the Special Litigation Unit of Legal Aid Society, a not-for-profit legal services organization, told Observer the public has a "very strong interest and a very strong right" to know information about what police officers—including their names—are being charged with, the type of misconduct as well as NYPD's response.
She referred to a recent BuzzFeed report that found that between 2011 and 2015, at least 319 cops who committed offenses like assaulting civilians were able to keep their jobs.
"So far, we're not seeing a significant difference in the types of arrests that neighborhood coordination officers are making as opposed to the conditions unit officers that supposedly were replaced by community officers," Conti-Cook said. "But the point is open data, and we can make these decisions for ourselves."
Indeed, she says de Blasio has tried to push the perception that, in the last four years, he and former Police Commissioner Bill Bratton—and subsequently Police Commissioner James O'Neill—have cured the decades-long problems that existed in the police department.
"It's not reasonable to expect for it to occur that fast," Conti-Cook continued. "And even though there are a lot of improvements being made, it still is missing the most fundamental pieces of transparency and accountability that really would go so much further in making the communities more open to trusting police officers."
Conti-Cook said CCRB is limited.
"I know the CCRB has certainly been and should get credit for working very hard to make their institution more respected and well know throughout the city, but I really think that they can only do so much," she added.