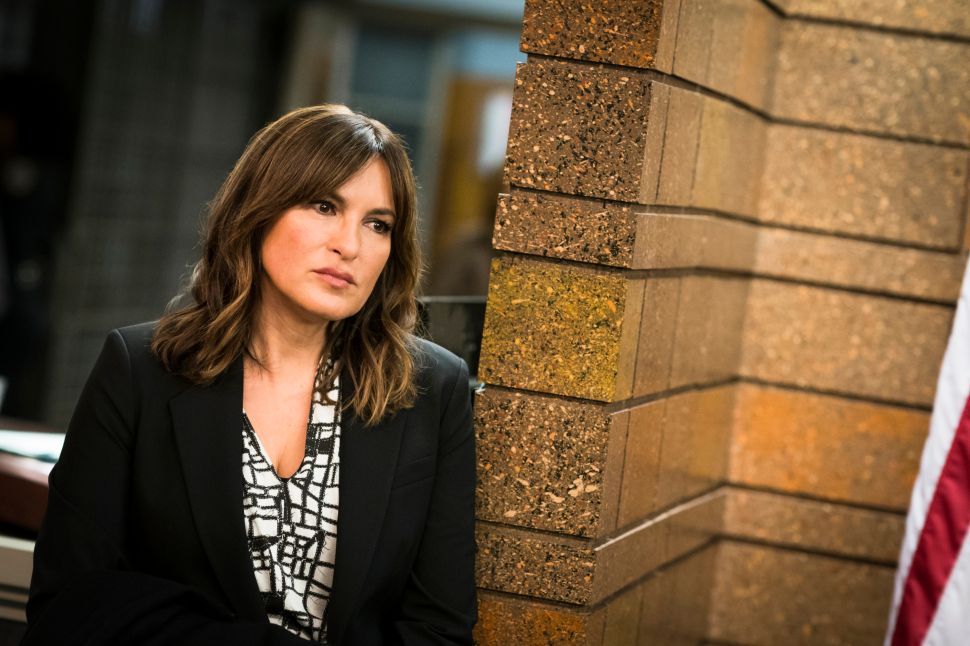 It looks like the NYPD's Special Victims Unit (SVU) isn't as sharp as Law and Order makes them out to be.
The New York City Council is looking to reform the NYPD's Special Victims Division (SVD) amid a scathing report finding substantial understaffing and under training—but the NYPD is objecting to such reforms and maintaining that the division is well-equipped.
Last week, the city's Department of Investigation (DOI) released a report that found that the NYPD has understaffed and under-resourced SVD for at least the last nine years—despite recommendations from an NYPD working group in 2010 and warnings raised by SVD leadership since that time.
In March, NYPD's homicide squads had 101 detectives with 282 homicides in 2017, according to the report. During that same time period, SVD's adult sex crime units had only 67 detectives overseeing 5,661 cases.
The report also notes that internal documents reveal that "stranger rape" and high-profile cases are given priority for limited resources over "acquaintance rape" and other adult sex crimes, which were instead handled by precinct-level detectives who are not trained in sex crimes investigations.
In response, Police Commissioner James O'Neill committed to a "top-to-bottom scrub" of SVD, which would entail the NYPD's Chief of Detectives examining SVD leadership and the division as a whole. He also said 20 extra detectives will be added to the unit.
And on Friday, he announced "The Call is Yours," a program that encourages sexual assault victims to come forward, whether their allegations are new or old.
"The underreporting of sexual assault is a crisis, but in light of the Department of Investigation's report on the NYPD's handling of sexual assault investigations, I'm afraid that unless we address the root causes of the underreporting, a campaign like this simply won't matter to survivors," Manhattan Councilwoman Helen Rosenthal, chairwoman of the Council's Committee on Women, said during a Council hearing on Monday morning.
At a joint hearing of the Women's Committee and the Committee on Public Safety, the Council discussed four pieces of legislation.
One bill, sponsored by Brooklyn Councilwoman and Majority Leader Laurie Cumbo, would mandate trauma sensitivity training for all cops. Another bill, sponsored by Rosenthal, requires specialized training for SVD investigators before they interact with victims of sexual violence.
Staten Island Councilwoman Debi Rose is sponsoring legislation that would require the NYPD to use evidence-based models to come up with staffing levels for SVD. Manhattan Councilwoman Carlina Rivera is sponsoring a bill that would require SVD to use a modern case management system (digital and searchable).
Terence Monahan, the NYPD's Chief of Department, said the NYPD is required to issue a formal response to the DOI report in the next 90 days.
The NYPD, Monahan explained, increased the headcount for the adult sex crimes unit by 47 percent from 149 to 218, with 75 percent of that increase occurring over the last four years. And he added that as of this morning, an additional 24 uniformed members were transferred to SVD, bringing the overall headcount to 238.
"We accept only 24 percent of those applying to SVD," he said. "We are looking for details-oriented, proactive individuals who have the temperament to communicate with and empower survivors."
In 2017, he said, the NYPD had twice as many uniformed members transferred into the division than those leaving. And he said the average experience of an investigator coming into SVD is 6.6 years—and 8.1 years for supervisors.
SVD investigates both misdemeanor and felony sex crimes. The majority of the crimes SVD receives are misdemeanor cases while roughly one-third are felony cases.
And he added SVD members participate in a two-week criminal investigation course as well as a five-day special victims investigative course on topics such as sequence of DNA and drug-facilitated sexual assaults.
"There is always more to do and the department remains committed to constantly improving how we respond to sex crimes," Monahan continued.
Oleg Chernyavsky, the NYPD's legislative affairs director, said the DOI report has "serious omissions" and that the Council has based its assessment of the NYPD's response to sex crime cases on it.
Chernyavsky announced that the NYPD opposes the bills proposed by the Council, insisting the police department already conducts sufficient training and that O'Neill should be making such decisions. He also said he was disappointed that the Council made legislative proposals only 48 hours after the DOI report was issued.
"It is the police commissioner's duty to determine the proper staffing levels… this responsibility cannot and should not be legislated and any agency head cannot be so constrained," he said.
Queens Councilman Donovan Richards, chairman of the Public Safety Committee, told Chernyavsky the hearing was scheduled before the DOI report came out and that he was "concerned" by Chernyavosky's testimony. He also said victims "don't have 90 days" to wait and questioned why the NYPD was disputing its own internal memo.
"We've looked at your internal memo," Richards said, expressing confusion. "So are they pulling staffing issues out of the air if your own internal memos reflect the need for more staffing?"
Chernyavosky noted quarterly assessments conducted by O'Neill and the executive staff have led the NYPD to increase staffing by roughly 49 percent, including the 24 additional investigators. The first quarterly assessment, he explained, helped the police department determine that a cold case unit needed to be created and allocate staffing for that unit.
The second quarterly assessment, he added, showed that one-third of complaints are more than five years olds.
"What the department is doing on a regular basis is evaluating its staffing, its training and all of the needs of every bureau," Chernyavsky maintained.
Richards also expressed concern about the fact that white-shield officers—cops who have not yet attained the rank of detective—are allowed to serve in SVD but not in the homicide squads.
"This is delicate," he warned. "We're dealing with people who are in a vulnerable state."
Chernyavosky reiterated SVD members' experience levels and noted they receive Forensic Experiential Trauma Interview (FETI) training.
"To keep repeating that these individuals are inexperienced or ineffective is wrong," he shot back.
Richards maintained his point of view.
"We can disagree," he responded.
And as to the DOI report's claim that "acquaintance" and "domestic" rapes are not prioritized in the same way as "stranger" rapes, retiring NYPD Chief of Detectives Robert Boyce maintained that they are treated equally.
"A rape is a rape," Boyce said.
Richards remained unconvinced, noting internal documents cited in the DOI report indicate that while SVD leadership previously estimated that five percent to 20 percent of sexual assaults were reported to the police, the actual rate is five percent or lower—compared to a 70 percent reporting rate for most other crimes.
"We can say we don't want to look back to before 2016 or 2017, but your own internal memos show that there is a serious gap and a serious need not only for new training and enhanced training but more staffing and your facilities need to be updated," he said.
During her introductory remarks, Rosenthal noted that the Prummel model—looking at the average required time to probe certain categories of cases and the portion of a work shift available to be spent on case work—is one national standard used to calculate the staffing level needed to investigate sex crimes used in cities like Austin, Texas and imposed as part of consent decrees in Cleveland and New Orleans.
"The Prummel model suggests that in order to devote adequate time in each [case] in 2017, SVD would have needed an additional 73 detectives—effectively double the number they actually had," she said. "Even by the NYPD's own standards, this deficiency should be obvious."