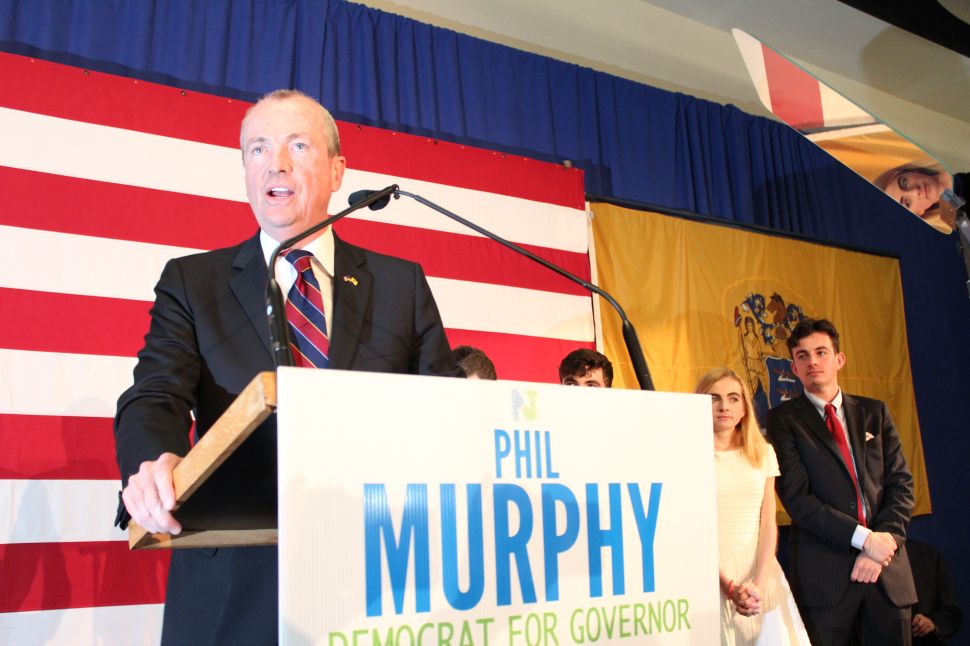 Gov. Phil Murphy said Wednesday that he's already "changed New Jersey's attitude" after 100 days in office, but said he needs to raise taxes in order to fulfill his progressive agenda.
Murphy marked his 100th day as governor with a 35-minute speech at Rutgers University. He touted his early accomplishments—highlighting the bills and executive orders he's signed so far—and promoted his plan to raise taxes, calling the tax hikes "the right thing to do."
"Today, we are 100 days closer to a stronger, fairer New Jersey. The Garden State today is on the move," he said in his speech. "The changes we have made are already having an impact on peoples' lives."
The Democratic governor said he inherited a mess from his predecessor, Republican Gov. Chris Christie, and said the state needs to make investments in infrastructure, education and the middle class in order to clean it up. That means raising taxes on millionaires and large corporations and restoring a cut to the sales tax, Murphy said.
"These are simply not ends unto themselves, but rather these are tools—the right tools—with which we can build a stronger and more resilient state," Murphy said of the proposed tax hikes.
State lawmakers are skeptical of Murphy's plans to raise $1.7 billion in taxes as part of his $37.4 billion proposed budget. Senate President Steve Sweeney—the top state lawmaker—has called tax hikes a "last resort." Murphy and the legislature must agree on a spending plan for the next fiscal year by June 30.
"We know the people of New Jersey are with us," Murphy said. "We know they support ensuring that millionaires pay their fair share. And, we know they understand that investing in our state will take new revenues."
Murphy has sparred with Sweeney over taxes and school funding, and the rocky relationship between the two has come to define the first few months of Murphy's administration. Brigid Harrison, a political science professor at Montclair State University, said Murphy still needs to foster a better relationship with the legislature if he wants to be successful.
"What perhaps he was underprepared for was the extent to which he will have to cooperate with the legislature if he expects to succeed in getting most of his policy proposals through," Harrison said. "It's great to travel around the state and talk about these programs and initiatives, but the reality is he is dependent on the legislature to fund those programs."
In his speech, Murphy touted his early actions, such as signing a sweeping equal pay bill, installing new leadership at NJ Transit, banning offshore drilling in state waters and making New Jersey the 12th state with an automatic voter registration law.
Senate Majority Leader Loretta Weinberg, whose bills to fund Planned Parenthood and promote pay equity were signed by Murphy after getting repeatedly vetoed by Christie, said the new governor has "done a tremendous amount in a short length of time."
As for Murphy's relationship with Sweeney and the possible budget battle ahead, Weinberg (D-Bergen) said the governor and Senate president respect each other—and need each other.
"There's a lot for us to negotiate, but that's what the process is about and that's what we're supposed to be doing," she said. "We can't get anything passed that the governor doesn't sign. And he can't sign anything that we don't pass."