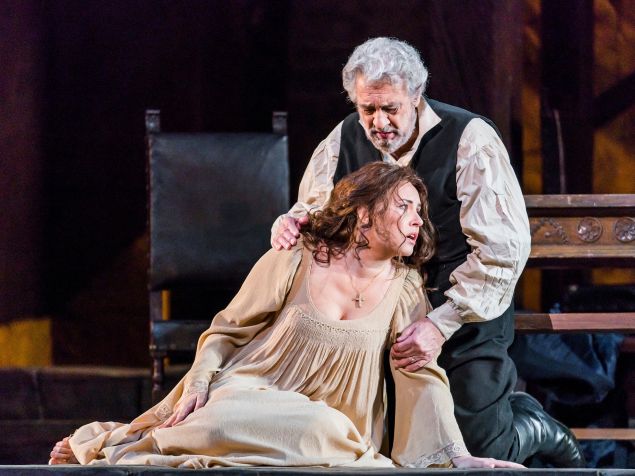 Though Giuseppe Verdi's 1849 Luisa Miller predates his celebrated "middle period" works Rigoletto, Il Trovatore and La Traviata by a couple of years, the opera is in some ways a more fascinating piece than these later, more frequently performed ones. The music wrangles with Italian opera conventions as if to reflect the libretto's harrowing depiction of class struggle.
If the revival of Miller that opened Thursday night at the Met is a lot tamer than the material deserves, it does offer a thrilling performance by Sonya Yoncheva in the title role. She threw herself into the part of a middle-class good girl betrayed by amoral aristocrats with frightening intensity.
Her complex, haunting soprano seemed to presage doom from her very first entrance, faltering only on a few exposed high notes in the long and demanding final act.
Her ferocious sense of commitment made almost everything around her seem a little tame. Tenor Piotr Beczala sang Rodolfo's showpiece aria "Quando le sere al placido" with lyric grace and sweep. But it's hard to believe such a nice and easy-going guy would really force poison down his girlfriend's throat.
Singing the baritone role of Luisa's father for the first time on any stage, veteran tenor Plácido Domingo demonstrated an ongoing mastery of Verdian style with what is now not much more than a memory of a voice.
In fact, the only other member of the cast who rivaled Yoncheva's fervent performance was Alexander Vinogradov as the scheming Count Walter, his basso cantante an elegant snarl in his tormented solo "Il mio sangue la vita darei" and various ensembles.
At least he got to sing all the music Verdi wrote for the character. Elsewhere, conductor Bertrand de Billy followed the sloppy tradition of the 1950s in omitting half of the brisk, concluding cabaletta section of each of the the main arias. This barbaric type of cut was particularly disfiguring in Yoncheva's performance of the defiant "A brani, a brani, o perfido," which hardly had time to smolder, let alone catch fire.
These snips shortened the evening by perhaps 10 minutes—or less than half of the time the audience spent sitting in the dark waiting for Santo Loquasto's gigantic earth-toned sets to be noisily wheeled into place. For no good reason I could see, Elijah Moshinsky's production transposed the action from 17th century central Europe to rural England in the Victorian era.
So, for the sake of truth in advertising, shouldn't the Met retitle this opera Luisa of the D'Urbervilles?