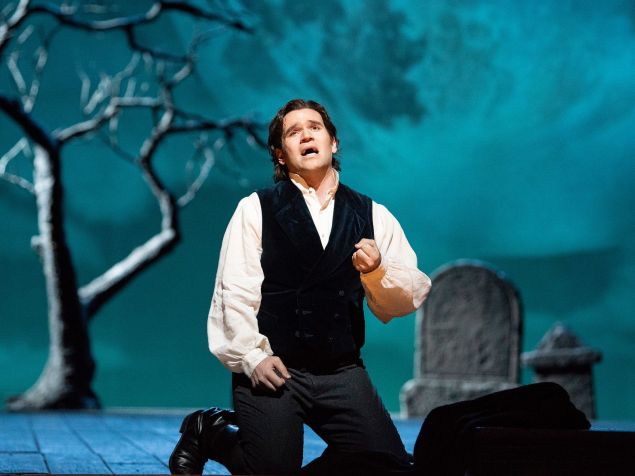 Like most opera fans (or, let's be accurate, opera queens) I have specialist tastes, with the soprano voice at the top of the list. But the final weeks' offerings at the Metropolitan Opera, revivals of Lucia di Lammermoor and Roméo et Juliette might very well convert me to a tenor fanatic.
It's not just that the high males voices were finest among their respective generally fine casts; the two young American tenors boasted vocalism on a level comparable to the best singing the Met has offered all season.
The most immediately arresting of these artists is Michael Fabiano, who is Edgardo in Lucia through May 10. At his first performance on April 25, his bold, vibrant voice exploded into life in the second act of this Donizetti opera, when his character bursts in on his lover Lucia's wedding to another man.
Here Fabiano seemed to transmute into a personification of rage, this whole body quivering and his tenor pulsing with fury. The scene peaked with his great cry "Vi disperda!" (literally, "God damn you all!) before he collapsed to the floor floundering in confusion. Lucia is the one who officially goes mad in this opera, but Fabiano's Edgardo made her seem downright stable.
True, Roméo suffers just as much as poor Edgardo, but in Gounod's sentimental take on Shakespeare's tragedy, Charles Castronovo took an elegiac approach, refining his dark, haunting tenor to delicate piano tones.
There's power in his instrument as well, as he revealed in a superbly shaped build-up to full cry in the second act ensemble "O jour de deuil!" Throughout the long role (as heard April 27) he balanced aristocratic elegance and youthful charm. And it certainly doesn't hurt that, like Fabiano, he is tall, trim and easy on the eyes.
The leading ladies in these operas were lovely to look at as well, but neither seemed in top vocal form. In Lucia's music, Pretty Yende's coloratura soprano darted accurately to glistening high E-flats, but the midrange seemed to flicked in and out of focus unpredictably.
The voluptuous lyric voice of soprano Ailyn Pérez, all insouciant ease in the elusive role of Thaïs earlier this season, proved problematic in Roméo.  Juliette's mildly florid opening solos left her sounding labored and even slightly out of breath. She pulled herself together for a gripping performance of the Potion Aria, complete with blazing high notes.
The legions of supporting male characters in this opera—identically and bizarrely costumed as gay pirates (puffy shirts, black leather frock coats, etc.)—were mostly a blur. In Lucia, though, baritone Quinn Kelsey galvanized interest from his first phrase. Both his intriguing slightly veiled tone and noble musicality are so noteworthy that the barbaric cut in his first act aria stung even worse than usual.
Curiously, Bartlett Sher's production for Roméo, new just last season, looks even drearier than Mary Zimmerman's decade-old Lucia, though they share the dubious quality of seeming to take place during a permanent solar eclipse.
Roberto Abbado's vivid conducting made Lucia crackle, but Plácido Domingo, who first led Roméo at the Met in 1986, demonstrated that even 30 years of experience cannot transform a tenor into a maestro.